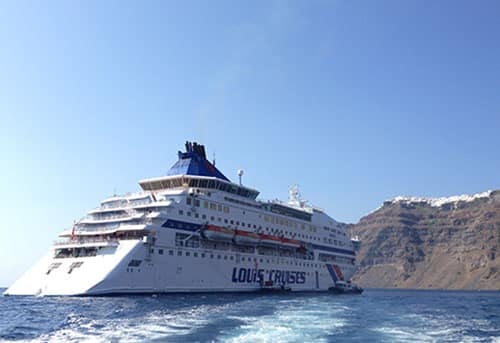 This is part 2 in Caitlin Martin's recap of her 7-day Aegean adventure with Celestyal Cruises. Check out part 1 here, and part 3 here.
Are you a cultural junkie but yearning for some relaxation? Do you want to experience some local off-the-beaten path spots in addition to the hot spots but don't want to spend time planning it? If so, a cruise could be a great option for you.
Not just any cruise.
I'm not talking about the booze cruise you took over college Spring Break (however, I bet I just took you back to some epic memories). I'm talking about a cruise across the Aegean Sea that lets you experience ancient history and the beauty of countries like Greece and Turkey. Cruise companies are coming out with unique cruise itineraries to lure that cultural seeking, off-the-beaten-path traveler to cruising and it's catching on.
I thought planning a trip to see hidden Greek isles meant spending a lot of time researching everything from transportation to restaurants and hotels. However, taking the right cruise seems to take away the need for all of that research while still giving you access to lesser-known spots. You only have to worry about getting yourself to the ship each night and unpacking once!
Below, I'll tell you about my experience with one cruise line, Celestyal Cruises, its cozy ship the Cristal, and why they have a good thing going. As you know from reading my post on Greece, I was invited by Celestyal Cruises (formerly Louis Cruises) on this journey but my opinions are my own.
1. Access to lesser-known islands
Smaller cruise ships like the Cristal can dock in smaller ports. Smaller port access means hello to hidden islands, like my favorite little gem, Ios!
2. Maximize your travel time
Sleeping time equals transportation time! You'll maximize your time in Greece and Turkey because the ship typically travels at night to the next port. I felt relaxed when I woke up instead of worried about getting to the next island.
3. Charming ship
The Cristal has character and charm. It's a floating full-service hotel with all the amenities. The ship has restaurants, cafes, a buffet, lounges, bars, shops, a casino, a pool, a gym, a salon, a conference room, and an internet area with computers. All of this was plenty to keep busy with when I was on the ship in the evenings.
4. Greek hospitality
With a total of 1,200 passengers aboard the ship in 480 cabins, I didn't feel like a number. The employees were well-trained, knowledgeable, and downright nice people. Every day, Sozon (our waiter pictured above) would bring our favorite food without us having to ask. I spoke with other travelers and they had similar stories of employees going the extra mile.
5. Diverse itineraries
The idyllic Aegean 7-day cruise was perfect because it combined off-the-beaten-path excursions with iconic historical experiences. For those that want one or the other, Celestyal Cruises has itineraries for that too.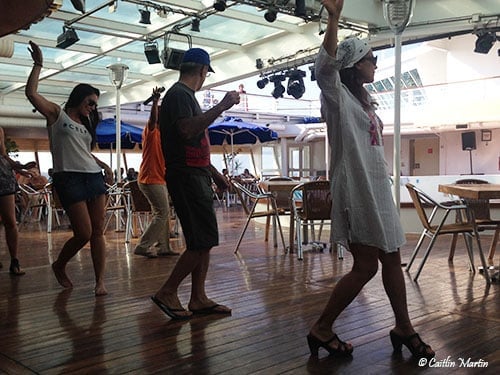 6. Top deck dancing
Traditional Greek dancing lessons are offered during the day and the nightclub on the ship's top deck comes alive at night. Most nights the dance floor was filled by midnight. Opa!
7. Greek culinary experience
The ship served a yummy Greek cuisine and I recommend eating lunch and dinner in the Olympus restaurant on deck five. Each port stop, the chef goes out to buy more fresh items to develop special dishes that appear on the menu here. I also noticed the chef grilling during BBQ day. He was personally flipping the kebabs himself in the center of the cafe!
Tip: Greeks love their long meals so just allow for extra time because it's not a quick meal but it's a very delicious meal!
8. Expertise with their sea
Celestyal Cruises is the only home-porting cruise line in Greece so these guys know the sea better than anyone. There was only one night I had trouble sleeping due to the ship rocking.
9. You get to do this (above) on the ship… 
…and eat (as much) as you want on the ship…
…see this view from your lounge chair on the ship…
…and wander off for this little gem.
Before you sail away:

Best rooms: In speaking with a few travelers aboard, they preferred the SB balcony suite for the fresh sea breeze. I stayed in an XF outside cabin ocean view room and it worked for me. I was barely in my room and I was right next to the outdoor deck on deck seven. However, I checked out a balcony suite and I agree if you can splurge, do so!
Wi-Fi: The Wi-Fi on aboard is available in common areas and dining areas when the ship is docked. I recommend going to the top deck for the best signal if you want to use your own device. When the ship is moving, you can always check your email and social channels from computers in the lobby.
Before and after cruise: Do yourself a favor and don't fly into Athens on the same day as you board the cruise ship. There could be flight delays, and imagine the benefits of resting after a long travel day. I loved the Athenaeum InterContinental Athens and stayed there a day before and after my cruise. Request a north-facing room and the Acropolis view you'll get from your room is amazing during the day—and lit up at night!
How to book:
In 2015, the Cristal began sailing under Celestyal Cruises. Reservations can be booked online at celestyalcruises.com or through most major tour operators in the U.S. and Canada. For more information call (877) 568-4787.
Returning home:
When I returned home, a frown swept upon my face as I opened my refrigerator to see the tiny green plastic container of Athenos feta cheese sitting in my frig. No fresh Greek feta!? Needless to say, I had dreams of the big feta cheese block in front of Sozon.
This is part 2 in Caitlin Martin's recap of her 7-day Aegean adventure with Celestyal Cruises. Check out part 1 here, and tune in next week for part 3!