American Airlines (AA) just sent me an email (screenshot below) encouraging me to buy back my AAdvantage Executive Platinum status. I appreciate them giving me ample notice, but the offer was absurd.
I've been on the fence about staying loyal to American Airlines and its Oneworld partners. This year, I just crossed the million-mile mark on AA and it was a big letdown (there was no acknowledgement, and the lifetime perk of gold isn't worth much). And after attending United's Media Day, I feel that United is the better airline and going in the right direction. But I don't like its new frequent flyer program since I'm not a big spender. Also, my United frequent flyer friends say that their upgrades rarely clear.
One thing I really like about American is that my upgrades do clear. Since I don't have a traditional 9-to-5 job, I can be flexible with my schedule and take flights when I know my upgrades will most likely clear (like early morning or late at night on a Tuesday, Wednesday or best of all Saturday). American also flies to almost all the places I tend to go the most, like: Miami, New York, Hawaii, Chicago, London…
American also flies the 777 on its LAX-Miami route, which I do the most, and it has an excellent business class. The 52 seats are lie-flat and configured 1-2-1, making it a real premium product (photo above). When I get upgraded I can sleep like a baby, which makes the flight seem short.
Even when I can't get upgraded, I usually can secure a premium economy seat (photo below), which is better than domestic first class with the exception of on the A321T plane.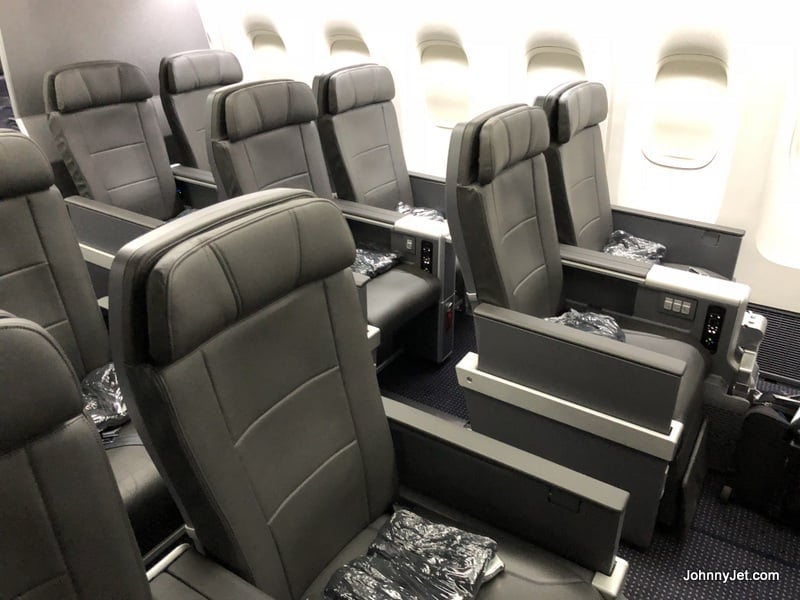 So how does one qualify and what makes American Airlines AAdvantage Executive Platinum status so great? First of all to qualify, members need to fly either 100,000 Elite Qualifying Miles (EQM) or 120 Elite Qualifying Segments (EQS) AND spend $15,000 in a given year. The latter part was implemented last year and is a real obstacle for me, since I tend to buy the cheapest tickets.
What does AAdvantage Executive Platinum status get?
4 one-way systemwide upgrades*
Complimentary auto-requested upgrades*
100-hour upgrade window
120% elite mileage bonus
Complimentary Main Cabin Extra and Preferred Seats*
3 free checked bags
Additional rewards starting at 150,000 Elite Qualifying Miles (EQMs)
My buy-back offer
As you can see from the screenshot below, so far this year I'm at $12,206 Dollars (EQDs), 99,096 Miles (EQMs) and 39 Segments (EQSs).
The craziest thing is my buy back offer (see screenshot below) is—get this—$2,995 or 299.5K miles!
Has AA lost its mind? Why would I or anyone ever spend that kind of money or miles for a level of status that's not much better than the previous level (Platinum Pro) that I've achieved? To qualify for Platinum Pro, you need to fly either 75,000 Elite Qualifying Miles (EQM) or 90 Elite Qualifying Segments (EQS) AND spend $9,000 USD. Here's what it gets you:
Complimentary auto-requested upgrades*
72-hour upgrade window
80% elite mileage bonus
Complimentary Main Cabin Extra and Preferred Seats*
2 free checked bags
The bottom line
It's the beginning of November so it's a little presumptuous of AA to think that its frequent flyers are done flying for the year. Secondly, if it had better technology (or used it better), it would know that I have a bunch of trips already booked before December 31 that will put me past the minimum requirement. This is just another lame way that AA's sales department is trying to squeeze more money out of its most loyal flyers. And no, I'm not paying up for AAdvantage Executive Platinum.
What's your AA buy-back offer?
To check your own renewal price, check this link. I'm curious what your buy-back offer was, so please post in the comments below how much AA wants to charge you and how many miles/dollars you've accrued so far in 2019.