This post contains references to products from one or more of our advertisers. We may receive compensation when you click on links to those products. For an explanation of our Advertising Disclosure, visit this page.
When you have more than a couple credit cards, it can be difficult figuring out which card to use. There are many reasons why you would spend on a specific credit card. These might include hitting a minimum spend, receiving bonus points, or earning extra benefits. Read on as we discuss how to decide which card to use when buying something at the store or online.
How do you decide which credit card to use?
Credit cards are a valuable piece of my travel strategy. They allow me to earn travel rewards faster, easier, and less expensive than if I were to pay for flights and hotel rooms.
But which card is the best card to use?
It all depends on what your goals are and what benefits you want to use. We will walk you through some of the common reasons why you should select one credit card over another.
1) Hitting the minimum spend for a bonus
For me, the number one reason to use a credit card is if I am working towards meeting the minimum spend on a new credit card. Sign-up bonuses give you the largest number of rewards in the quickest amount of time. But, you need to spend a certain amount on the credit card to earn that bonus.
Minimum spend requirements generally range from $1 to $10,000 in the first 90 days, depending upon which credit card you signed up for. Most credit cards require you to spend about $3,000 to earn these bonus miles and points.
However, if you fall short of the minimum spend requirement, all of that effort will be for nothing. There's no prize for almost getting there.
2) Extended Warranty or Price Protection
When I'm buying something that has a propensity to break or fluctuate in price a lot, I reach for a card that offers an extended warranty or price protection. I do that even if that credit card is only earning 1 point per dollar that I'm spending. Peace of mind is way more valuable than a few extra points.
For example, my Platinum Card® from American Express offers $1,000 in purchase protection for 90 days from the date of purchase. This benefit covers me in case the item is lost, stolen, or damaged. Additionally, the extended warranty coverage provides up to $10,000 in protection for up to 2 extra years after the original warranty expires.
3) Primary Rental Car Insurance
We all know to decline the car insurance offered by rental car companies because the preferred travel credit cards offer secondary insurance. This insurance offered by the credit cards will cover any out of pocket expense not covered by your regular car insurance.
Certain credit cards have even better rental car insurance. This is known as primary rental car insurance. With this benefit, if there is damage to your rental car, your car insurance is not involved. Simply submit a claim to your credit card and they'll take care of the rest.
The Chase Sapphire and Business Ink credit cards offer primary rental car insurance. American Express cards do not, but they do offer a flat-rate premium rental car protection that covers every rental you book using your registered Amex card.
4) Earning Rewards Towards a Specific Redemption
No matter how many bonus points you are earning from one credit card, it doesn't matter if you aren't planning to use the points soon. Sometimes you are just a few thousand miles or points away from booking your next vacation. In situations like this, I recommend focusing your spending on credit cards that can earn those rewards, even if they aren't earning the most rewards.
The best miles and points are the ones you're actually using.
Just keep in mind that the card you think you should spend money on isn't always the right one. For example, if you need Southwest Rapid Rewards points to book a trip, the Chase Southwest Rapid Rewards cards aren't always the best card to use. When you're booking flights, hotels, and paying for meals, a better bet is the Chase Sapphire Reserve credit card which earns 3x points on dining. You'll also earn 3X points on travel immediately after earning your $300 travel credit. Once the Ultimate Rewards points post to your account, convert them into Southwest Rapid Rewards points and book your flight.
5) Additional Perks
Miles and points are not the only reasons why you want to spend on a certain credit card. Some credit cards offer additional perks when you spend certain amounts on them in a calendar or anniversary (the date your card was opened) year.
Spending on the Chase Southwest Rapid Rewards Visa cards will earn points that you can use for flights. But, the money you spend on the credit card also counts towards earning the coveted Southwest Companion Pass®. This benefit requires 135,000 points earned in a calendar year from flights, credit card spending, and qualified partner transactions. I know people who have earned the Companion Pass without paying for a single flight!
The Hilton Honors American Express Surpass® Card provides Hilton Honors Gold status to all cardholders. However, if you spend $40,000 in a calendar year, you'll be upgraded to Diamond status.
You can even earn free hotel nights. The US Bank Radisson Rewards Premier Visa Signature Card will award you a free hotel night at any US property when you spend $10,000 in an anniversary year. Big spenders can earn up to 3 free nights every year!
6) Bonus Categories
Each credit card will incentivize you to spend with certain types of merchants. Some popular categories are travel, dining, entertainment, groceries, and gas. For business credit cards, they will give bonus points for categories like office supplies, shipping, internet advertising, and cell phone & internet service.
Ideally, whenever you spend money, you will use a credit card that offers additional rewards for that merchant category. Because I cannot remember what each card specializes in, I affix a small sticker on the back of my cards. Then I write which categories of spending where that credit card offers bonus points.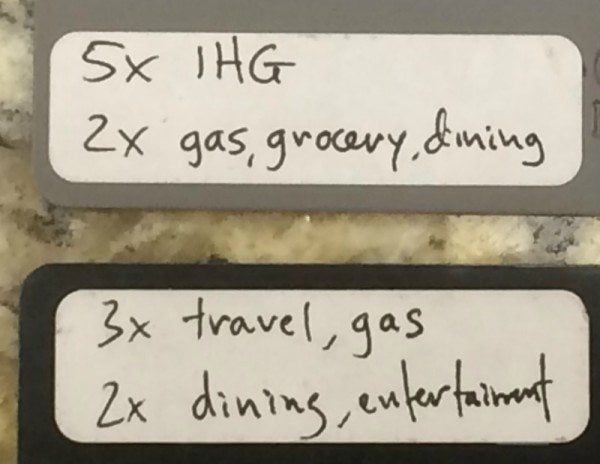 Some people go a step further. If they know they'll be spending at a store that doesn't offer bonus points, they will buy gift cards at stores that do (i.e.: grocery or office supply stores). This way you can turn non-bonus spend into extra miles and points.
7) Extending the Due Date When You Have to Pay Off The Balance
If your cash flow is tight or if you like to maximize the interest you earn on your money, it pays to know when your statement date is. When you time your purchases just right, you can put off paying for your purchase for almost 60 days.
Most credit card billing cycles are 28 days. For example, the statement closes on the 3rd with the minimum payment due on the 1st. Starting with a credit card with a zero balance, if you make a big purchase on September 4th (the day after the statement closes), you won't have to make a payment or pay off the balance until November 1st.
Of course, the standard disclosure applies. Don't make purchases that you can't afford to pay in full. The interest charged on credit card accounts is not worth the rewards you'll earn.
Which Credit Card Will You Use?
The best way to determine which card to use when making a purchase is to know what your goals are. I listed the reasons why to select one card over another in the order I think you should make your decision. Ensuring you earn the sign-up bonus is one of the top reasons why you should pick a new credit card over an existing one, even if it means giving up a few bonus points.
Surprisingly, bonus categories are near the bottom of the list. There are many more important reasons why you would pick a different card, even if it means earning fewer points on that one transaction.
How do you pick which credit card to use? Do you agree with how I ranked the credit card selection? Let me know in the comments below.
For rates and fees of the Hilton Honors American Express Surpass® Card, please click here.