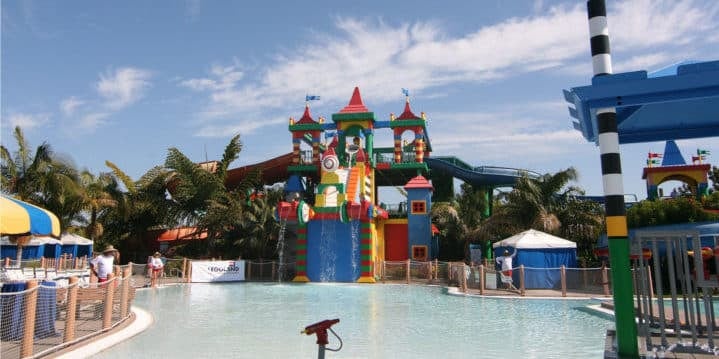 NINJAGO-themed rooms, racing waterslides, and fun around every corner. And did I mention thousands of LEGOs? If this sounds like fun for your kids, you must visit the LEGOLAND California Resort this summer to check out the new attractions!
My family was recently invited to LEGOLAND California Resort's "Splash Out to Summer" event to celebrate the opening of LEGOLAND Water Park on May 26. As soon as we checked into the hotel, our girls (ages seven and nine) were so excited to see our room.
The rooms, pool and food
The hotel offers various themed rooms: Pirate, Kingdom, Adventure, Lego Friends, and all-new NINJAGO. It's a good thing we're an adventurous family because we ended up in an Adventure room. We hopped into the elevator and were greeted with a dance party and disco ball! We soon discovered that every room has a locked treasure chest with a special treat for each child. My girls enjoyed answering the questions included in the treasure hunt, but especially loved unlocking the secret code. They didn't waste a minute as they ripped open their gifts and put together a special LEGO surprise.
After we got settled, we were able to tour a brand-new NINJAGO guestroom, available to guests as of March. The room came to life with 3-D elemental weapons coming out of the headrest, the massive LEGO NINJAGO models (each room has 11) displayed throughout for kids to touch, and a large interactive maze that you can take for a spin. My girls had fun trying to spot Kai on a poster on the wall.
The bunkbeds and trundle beds are a "dragon cave" where ninja dragons are waiting for battle. Book a night with characters Cole, Nya, Kai, and Lloyd in a new NINJAGO room and your little ninjas will have a night they won't forget. These 18 rooms and two suites fill up fast, so make sure you plan far enough in advance or you might find yourself losing out on a fun night.
After a quick swim in the pool filled with floating LEGO bricks, we headed into Brick's Family Restaurant, which is conveniently located in the LEGOLAND hotel. It offers a full breakfast and dinner buffet. There's a kids' station where they offer plenty of kid-friendly options such as pizza, chicken nuggets, carrot sticks, buttered noodles, mac n' cheese, and lots more. The colorful and creative decor didn't go unnoticed. My girls were captivated by all the LEGO details splattered throughout the restaurant: LEGO pies splattered on the walls, LEGO characters slipping on banana peels, and some even stuck in a big bowl of LEGO mashed potatoes. The dinner was a little pricey for a family restaurant, but you do get your breakfast buffet for free!
LEGOLAND Water Park, and more
The next day we were up early to check out the new Surfers' Cove beach expansion at LEGOLAND Water Park. This was a pretty special morning, as LEGOLAND invited 50 families from the Ronald McDonald House to "Splash Out to Summer." They started the event with an $80,000 donation to the Ronald McDonald House charity to help both the Los Angeles and San Diego chapters with their programs to strengthen families during difficult times. It was great to see all the smiling faces on the kids as they were splashed by 300 gallons of water.
We heard exclusive information about the new water park expansion, Surfers' Cove, which will open on June 30, 2017. It's going to be bigger, wetter, and faster than ever. Riptide Racers, an attraction within Surfers' Cove, is a competitive water raceway. Standing 17-feet high, it has six slides side by side. Every slide has a timer so you can race against your family and friends. There are mist-ers that create an illusion of going through a wave of water. There will also be an epic "spray ground" at Wipeout Lagoon with water jets splashing on and off. The new LEGOLAND Water Park is set to be the ultimate water wonderland!
My kids were bummed that the park was under construction, so we'll definitely be going back to see who will be named champion of Riptide Racers. The water park opened on May 26 with the expansion set to debut on June 30, just in time for the 4th of July weekend. Be sure to bring towels and a change of clothes, as there are no towels provided at the water park.
Playing in the sun and climbing stairs up to the waterslides will make everyone hungry—but that's no problem. Try the new taqueria-style Beach Street Tacos, where seared carne asada, crispy carnitas, and hand-battered mahi mahi tacos are served daily. The carnitas are a must-try! There's also craft draft beer for adults.
SEA LIFE Aquarium
We were so busy exploring the water park and theme park that we didn't get a chance to visit the adjacent SEA LIFE Aquarium. There are lots of new programs in store for summer 2017, such as up-close encounters with sharks, octopi and rays. If you're in the mood for a show, they have a new "Fish Tales" show that teaches little ones about different ocean fish, as well as a dive show where marine experts feed rays and other sea creatures. We were disappointed that we weren't able to check out the interactive learning at the aquarium.
Book now to save
Looking for a way to be able to enjoy all the new things LEGOLAND has to offer? Book your visit to Legoland at least seven days in advance, and you can add the water park and a second day for only $5.
---
To see more of our trip to LEGOLAND California, check out our Princess Detectives YouTube channel.