Wales is a country full of serene landscapes, majestic castles, magical quiet, exhilarating adventure, and yes, lots and lots of sheep. A country with more sheep than people (literally 10 million sheep and 3 million people), it offers an escape to a land where time fades, boundaries are broken, and laughs are abundant.
This was my experience on a recent trip that brought together 17 bloggers from around the globe, including the U.S., Spain, Italy, and France. Collectively, we'd make our way from Conwy in the North to Cardiff in the South over the span of a week. The first and last nights were spent together, but for the majority of the week we were split into four groups competing against one another in what was called "the Mini Welsh Challenge." Each group took a different route to the South with a checklist of tasks to be completed along the way and judged on the final night of the trip.
We separated into groups upon arrival. Two would explore Welsh culture, including singing in a choir and learning to make beer. One would eat its way through Wales, tasting and trying everything food-related from harvesting oysters to foraging for mushrooms. My group would put our adrenaline to the test with an adventure theme.
Here is part one of the journey.
Arriving in Wales
Day One started with an American Airlines flight from LAX to JFK, which then connected to Manchester. JFK was incredibly busy so despite an early arrival, we were on the tarmac for over 20 minutes waiting for our gate to be free. With only
30 minutes to make the connection, it was a mad dash to the next gate, which my travel companions and I made just as the gates were closing. I'm not a super particular traveler, but flying transatlantic on a 757 (meaning three seats on either side of the aisle) cramped like sardines on an oversold flight is hardly my idea of stress-free travel. American is dealing with challenging economic times and in economy class, international flight or not, you still have to pay for a glass of wine. Despite a few hours of sleep, when we arrived in Manchester on a beautiful, uncharacteristically sunny day, I was exhausted.
I've found the best solution to combating jet lag is to just plow through and not think about what time it is at home. Our first stop was the town of Conwy, with its majestic castle, one of the most impressive of the 641 castles in Wales with eight massive towers still intact. Conwy Castle was once a medieval fortress, part of King Edward I's plan of surrounding Wales in "an iron ring of castles" intended to protect the English colonies from the vehemently opposed native Welsh population. Even today, the Welsh are offended when considered "English" although "British" is acceptable.
In Conwy, we stopped at a lovely coffee shop to refuel with scones and Bara Brith, a traditional Welsh yeast bread enriched with dried fruit like raisins or currants, before heading to explore the town and castle.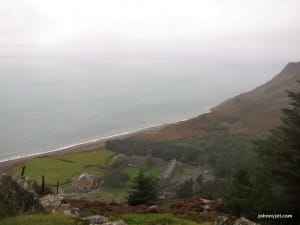 We then headed to the picturesque village of Nant Gwrtheyrn, located on the coast of the Llyn Peninsula. The small village, once an active granite quarry in the 1800s, is now home to a Welsh language learning center (the first of its kind), but is otherwise uninhabited. The peace and quiet is stunning, with views of rolling greens speckled with sheep and the Porthdinllaen Bay to the west, juxtaposed by the peaks of Yr Eifl to the east.
For a nice walk, venture from the village to the Iron Age Hill Fort at Tre-r Ceiri (Town of the Giants) where you'll get a spectacular view of the village and its residential cottages below. It's also a great way to orient yourself, as the remote location is literally in the middle of nowhere, with civilization miles away. In fact, when one of the bloggers accidentally set off the fire alarm that night, it took the groundskeeper 20 minutes to get there to shut it off. (Note: the village's main function today is as a language learning center for adults, so if desiring to stay there, taking a language lesson is the prerequisite).
At Nant, we were given our "croeso" or "welcome" which began with an elementary lesson in the Welsh language, learning words and phrases like "Good morning," "How are you," and my personal favorite – "marvelous!" pronounced "Bendi-GED-ig." (It was a requirement that as you say the word you throw your hands up in the air as a grand gesture.) It was pure humor to hear bloggers from around the U.S. and Europe attempt to speak Welsh, which to me sounds like a mixture of Chinese, German, and perhaps Swedish, with guttural rolls of the tongue and some spitting a necessary byproduct of correct pronunciation.
We had a traditional dinner of cowl (similar to a beef and vegetable stew), and various cheeses with bread, cocktails and plenty of wine, which was accompanied by a band that played traditional Welsh music, followed by a lesson in Welsh dancing. It was a perfect introduction to the trip and the country's vibrant culture. By the end of the night, not having truly slept in over 31 hours, it was time to say "Nos da" (Welsh for "goodnight").
The Adventure Group
Our team of bloggers, led by the enthusiastic Welshman Mike Price of Visit Wales Tourism, consisted of me, Karen Loftus (also from Los Angeles), Carlos Morales (from the Canary Islands in Spain), Jean-Francois "Jef" Fasquel (from Paris), and Eddy Duluc (also from Paris). The five of us would become great friends during the week, as only a theme of adventure can induce the bonds that come with putting your fear and comfort under the gun.
Eddy was a character from the beginning, arriving late due to lost baggage in Manchester, always carrying a tripod for his various cameras, and never in one place for long. Throughout the week, it would be Eddy, a true artiste, who would be found in a tree or on a cliff, the human embodiment of a restless monkey. Karen was the comedian of the group with an infectious laugh, equally passionate and volatile, but an adventurer to the core. Carlos was the social media aficionado, his head consistently down tweeting, giving me a run for my money, as I too, tend to be a tweetaholic. Mike was the intrepid leader of the pack, who kept us on a tight schedule (or at least tried to despite one of us always lollygagging for a photo, a tweet, or a bathroom break). Mike's passion for all things Welsh, including singers Tom Jones and Duffy, was not only palpable but contagious. Finally there was Jef, whose overt Parisian charm and subtle sarcasm, kept him an elegant mystery throughout the week.
From the Seas to the Tracks
While our itinerary had us sailing that morning on a boat called "Bangers and Mash," weather, winds, and rough seas prevented it. Instead, we took a rib boat into the Irish Sea with Abersoch Sailing instructor Mike Maylor. Essentially a large motorized raft, we toured the coast in a rip-roaring ride in the turbulent seas, along the way admiring shoreline cliffs and caves, expansive beaches, gorgeous secluded homes that make one fantasize about a different way of life, and conclaves of furry seals sunbathing.
Later that day, we ventured on to take a ride on the Welsh Highland Steam Railway, the oldest railway in the world still operating trains. Our three-hour roundtrip journey would take us through Snowdonia National Park from Caernarfon to Pont Croesor near Porthmadog.
Sitting in the first class cabin with its grand, cushioned blue chairs with tall backs, feels like going back in time. You find the urge to be proper, sip tea, sit a little straighter, and hold your neck just a little higher. The surrounding natural beauty and chugging sounds of the train, with an occasional whistle and plumes of steam rising from the antique-like train cars, begs that you to leave reality and wireless behind and instead, sit back, relax, and enjoy the ride. (Carlos excluded – he was tweeting…)
I spoke to an older couple sitting next to me, curious as to how or why they came to be on this particular ride. They were from Cardiff and visiting North Wales for their 50th Anniversary. When I asked of their journey, the woman's answer was dignified and matter-of-fact, "My husband loves trains and I love nature, so we're both quite happy. In fact, we may do this again tomorrow."
On the ride back, we chose to sit in one of the open-air cars. The weather was warm and the fresh air was a perfect cure for any jetlag that by that afternoon was virtually non-existent.
Italy in Wales?
Arriving in Portmeirion, which has been described as the oddest village ever conceived, was an adventure in and of itself.
Perhaps best known as "The Village" from its appearance in the 1960s cult television series "The Prisoner," Portmeirion is a collection of Italianate-styled cottages, buildings, and a main hotel that were built into the cliffs and hills above the Dwryrd estuary in Northwest Wales.
Each building is a different vibrant color from a pastel-like palette. Intricately designed gardens surround the property and reflect every hue in the rainbow. It looks more like a movie set than a vacation resort, with whimsical details in every direction. The realized dream of a single architect, Sir Clough Williams-Ellis, it took him 50 years to see it come to fruition. He began the project in 1925 when he purchased the remote promontory, and completed it when he was in his nineties, in 1975.
My accommodations were in the Neptune Suite, part of a cottage that overlooked the waterfront from one window and the expansive gardens and fountains from the others. Furnishings were country-chic, traditional, comfortable and adorable.
Castle Dining
Dinner that evening would be a short drive up the hill to the on-site castle, Castell Deudraeth. The hotel offers free shuttle service around the property, with the castle easily walk-able in about 15 minutes up the hill, but hard to find in the dark. We all arrived at the castle at different times, Karen not realizing that the van came by in 10-minute intervals and none too pleased thinking she had been left behind. As we waited to convene at our table in the main dining room, we enjoyed a glass of wine by the lobby's fire while we perused the menu and discussed the day's adventures.
For dinner, although this was just the first complete day together, we were already comfortable with sharing, tasting and trying each other's food choices. For appetizers we sampled three dishes: pan-seared scallops, served with a cauliflower puree, golden raisins, and a caper vinaigrette; smoked duck breast, served with a walnut spread and black pudding, which Mike made everyone try – only Eddy was bold enough to say he liked it; and Menai mussels, cooked in cider, smoked bacon, and tarragon. All were delicious but the mussels were the clear favorite.
For entrees, almost everyone chose the Welsh lamb with braised vegetables, potato dauphinoise, and rosemary jus. Jef chose the chicken breast with braised lentils, colcannon, and a tarragon & whole grain mustard sauce. I had the filet of Welsh beef, served with grilled tomato and mushrooms, a watercress salad, hand cut chips (fries), and a side of béarnaise sauce.
Thoroughly stuffed like a turkey on Thanksgiving and marinated in wine like fruit in Sangria, we indulged in dessert: sticky toffee pudding with vanilla ice cream and Bara brith and butter bread pudding with ice cream. I didn't know it then, but these desserts would go down as the best during the entire trip. The Bara brith bread pudding alone is worth a pilgrimage to Portmeirion to experience the celebration of taste buds. With each bite, mine literally engaged in a Studio 54-like disco in my mouth. As a suggestion for what to imbibe while eating dessert, I highly recommend the Coffi Cymru, coffee with Penderyn Whiskey, the only true Welsh whisky. Not typically a whisky drinker, I found Penderyn to be quite mild and pleasurable.
Click here for a full menu and pricing.
Post dinner, we gathered in the hotel's bar down the hill (minus Carlos who was in wireless-withdrawal and went back to his cottage to wire-up). There, we had a nightcap, tweeted to our friends and other bloggers, getting the scoop on how their first day of adventures were going, and head to bed for a good night's rest. The next day we'd head to Machynlleth, Wales' mountain bike mecca.
*** To be continued….***

WEB RESOURCES
This trip was sponsored in part by Visit Wales.
About the Author: Lindsay Taub is an award-winning journalist with over a decade of experience as a writer/editor/photographer covering travel, lifestyle, culture, arts, food, health, and all facets that make life a journey. Follow her on twitter @lindsaytaub58.