Looking for the best Buffalo wings in Buffalo? I found their birthplace.
I must have driven through Buffalo a few dozen times getting to and from Toronto and Erie, Pennsylvania but I've never stopped before – not even to get gas. This trip, I was determined to change that pathetic footnote so I asked my friends and followers on Facebook and Twitter where Natalie and I should go to get some local food. I specifically asked for "local food" recommendations because I know that Buffalo isn't only famous for their chicken wings, but for beef on weck sandwiches, too … and I wanted to see which one would come out on top. The winner by a landslide was Buffalo wings in Buffalo from the Anchor Bar. While there, I learned that it's the birthplace of spicy chicken wings, known outside the Buffalo area as just Buffalo wings.
I checked out their website for directions and then called their takeout line since they weren't quite clear. It was located just eight minutes out of our way and close to the Canada/US border. We got off at the Peace Bridge Exit like we always do, but instead of going to the border crossing we took a right (not sure of the street name), then a left on Porter Ave, and went straight. Once we got to the roundabout Porter Avenue changed to North Avenue. From there, it was just a few more minutes until we reached Main Street. Anchor Bar is situated right on the corner of Main Street and NorthAvenue –  you can't miss it! Anchor Bar, 1047 Main Street, Buffalo, NY 14209.
The neighborhood looks a little sketchy but there's plenty of parking. It was 2pm so there was no line; I'm not sure if there ever is, but it seemed like a popular spot. The bar area is dark, filled with license plates from Canada and the United States and the walls have photos of famous celebrities who have eaten there. Most were football players since Buffalo is a big pigskin town.
The dining rooms were basic with tables situated close together and practically on top of each other. Our server was awesome, super friendly, and asked where we were from. When I said California, she told me that the guys at the table next to us were from San Diego. We exchanged pleasantries and she handed us a newspaper-style menu, which included the story of how wings came about.
Of course, Natalie and I ordered wings, which come in mild, medium, hot, or spicy Bar-B-Que. The prices are as follows:
Single (10) – $11
Double (20) – $17
Bucket (50) – $37
They also offer Suicidal for $2 more. Note: They don't mix and match sauces and they are all served with traditional celery and bleu cheese dressing, just like the owner of the place served them on that now notable night in 1964.
We had a single order of the spicy BBQ, which were darn good. We were going to split one of their Buffalo chicken sandwiches but when we asked our waitress what she recommended, she suggested the roast beef on weck ($7) served with horseradish sauce. Bingo! We just killed two birds with one stone. I'm not a fan of the horseradish sauce so I asked for a side of the spicy BBQ, which our server thought was a brilliant idea. Hmm … maybe they will offer a Johnny Jet beef on weck sandwich?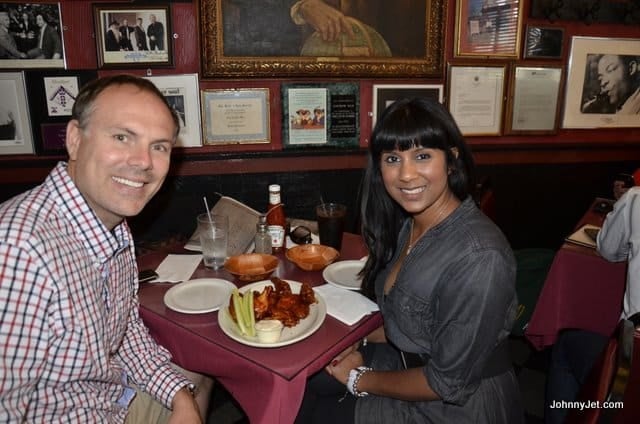 If you're looking for Buffalo wings in Buffalo I highly recommend the Anchor Bar on your next visit.