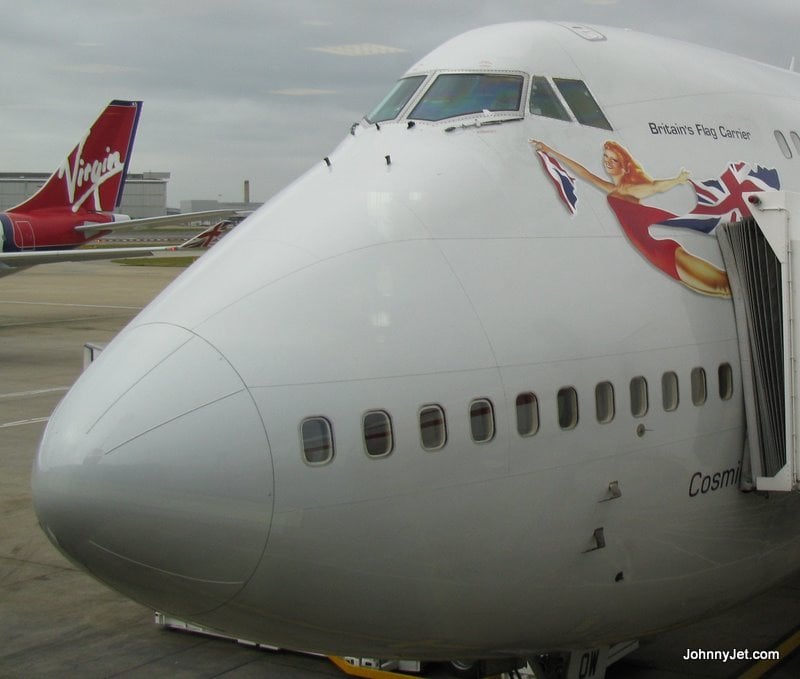 Staying in an airport hotel overlooking the runway and then seeing all the flight crews in the lobby really got me all fired up to get on a plane (like I need any extra help). I saw airlines I rarely get to see such as Air Mauritius, Air Seychelles, South African Airways, Sri Lankan Airlines, and Kuwait Airways, and planes I couldn't even identify–that's how great the plane spotting is at Heathrow. My crew and I were flying from London to New York's JFK on Virgin Atlantic. We were booked in Premium Economy, which comes with some great benefits even before you get on the plane. For starters, there's a dedicated check-in line at the ticket counter and then again at the gate (where they double-check passports) so there are no long waits. You get two free checked bags instead of one, which means a lot when you are with a camera crew (or if you're a serious shopper). You also get to board first to guarantee optimal overhead bin space and no crowded jetways. What's nice about Virgin Atlantic is that at each of their gates they offer a slew of popular magazines (like Wallpaper, Hello…) and newspapers for passengers to take for free.
Premium Economy on Virgin Atlantic
On board is really where the perks kick in, the biggest perk being the seat. Regular economy-class seats on Virgin Atlantic's 747-400 (Seatguru website) have 31 inches of pitch and are 17.5 inches wide. Premium Economy gets 38 and 21 inches, which is a huge difference. Each seat also has an electrical outlet so your laptop/iPad battery won't die. And then there's the good food and fine service. Shortly after takeoff, they served lunch (I had chicken), and then a couple hours before landing came afternoon tea. You have to love how the British are so refined. Flight time was only 7 hours and 5 minutes, and Virgin Atlantic's personal entertainment system, which is available for free in every seat no matter the class, is loaded with music and movies to help pass the time. Fine Print: Our captain's name was Howard Hughes. How appropriate is that name for a pilot?
New York City
We landed at JFK's Terminal 4, which is surprisingly really nice. Since I hustled on the long walk to passport control my wait to clear was only 15 minutes, but they were understaffed and the agents were slow. They really need to come up with a better system so it's not a chore to come home–or more importantly, to arrive as a visitor. We rented a van from Hertz, and they need some help too–their staff moves way too slow for New York. At least on the drive into the city we were greeted with marvelous views of the Manhattan skyline. Every time I see it, it just takes my breath away.
Downtown Marriott
We spent the night at the Downtown Marriott, which used to be called the New York Marriott Financial Center. It had to close after 9/11 since it was right next to Ground Zero. The hotel went through an extensive renovation and they did a fine job on designing the 497 rooms. Obviously, the location is excellent for financial workers and tourists. It's easy access to the Statue of Liberty, Ellis Island, South Street Seaport, and SoHo and across the street from the 9/11 Memorial. Since I only spent one night and our editor, Amy Scott, was there for three nights, I will let her tell you all about it. Here's Amy's review. But I must tell you that the views are fantastic and that they have a concierge who is a star–no matter what we threw at her, she could help. But the one who was working the following day, not so much.
John's Pizzeria
Dan and Adam, our camera crew, wanted to go to their favorite pizza place in the city, John's Pizzeria. Since I've heard so much about it and I love the name, I jumped in the taxi with them (it was about 20 blocks and cost $8). We would've walked if it hadn't been 35 degrees out, and it's a good thing we didn't as the line to get in would've been even longer by the time we arrived. I really wasn't keen on standing out in the cold, but it went by fairly fast thanks to the fact that we had a party of six and one of their larger tables opened up so we were able to jump on it. The pizza was darn good and not that expensive: $14 for a large (16 inches, 8 slices). Keep in mind they only take cash, it's first come first served, they don't sell by the slice, and they don't deliver. And they don't have a lot of Italians working there. I saw only one, and he was counting the money, not making the pizzas. John's Pizzeria, 278 Bleecker Street, New York, NY; (212) 243-1680.
The 9/11 Memorial
The highlight of my trip besides taking the train out to Connecticut for a few hours to wish my adorable nephew a happy first birthday was visiting the 9/11 Memorial. The Memorial is a block from the Downtown Marriott hotel and is a national tribute of remembrance and honor to the 2,983 people killed in the terror attacks of September 11, 2001, and February 26, 1993. It's free to visit but you need to make advance reservations–you can do it online and occasionally even get same-day passes. I wasn't expecting the memorial to be so beautiful. They really did an incredible job on the design. There are twin reflecting pools that are each nearly an acre in size and feature the largest man-made waterfalls in North America. The pools sit exactly where the Twin Towers once stood. Inscribed into bronze panels edging the memorial pools are the names of every person who died in the 2001 and 1993 attacks, including my friend Cesar Murillo, who took a job at Cantor Fitzgerald just three weeks before September 11. To locate a loved one's name, you can use the 9/11 Memorial mobile app or website. It makes it much easier since they are not listed alphabetically. Also, not too many people know that you can ask one of the staff members for a free remembrance kit, which is four pieces of cloth paper and a black crayon so you can trace your loved one's name.
NYC Tip: Did you know the most difficult time to get a taxi in New York City is between 4 and 5 p.m.? That's when the shift changes and only 10 percent of cabbies are working. That's according to my taxi driver, who told me as much after it took me an unusually long time to flag one down that didn't read "off duty."
New York to Toronto
What I love about American Airlines is that they make it so easy to book standard award tickets. It cost me just 12,500 miles and $2.50 to fly last-minute from New York's La Guardia Airport to Toronto's Pearson. If that wasn't good enough, when I arrived at LGA at 5 p.m. there was no line at check-in or at security so the agent put me on an earlier flight. Ten minutes after arriving to the gate we were boarding, and the agent upgraded me to business class just for being nice to him. Then we had the shortest taxi ever at LGA–just 14 minutes before shooting up into the sky. The only downer about the flight is that I had to ring the flight attendant call button on the descent since I was so parched and the flight attendant was MIA. She only served drinks (water for me) once. The last few times I made this trip the flight attendants had been excellent and filled my water glass at least four times on the hour-long flight. But overall it was a great trip and I made it door to door (my place to Natalie's) in just over three hours.
Autumn in Canada
The worst part about going to Canada, besides their pathetic traffic and cold weather, is dealing with their unfriendly customs agents. They are nasty to everyone, not just Americans in retaliation for our agents. I don't know what it is about them, but rarely do I find a friendly one. It's so crazy because for the most part Canadians are genuinely friendly people. Oh and for the record, in my experience in dealing with customs and border agents, I find that they are really cool once you make nice small talk with them–especially the ones not based in the U.S.
One thing that is undeniable is that autumn in the suburbs of Toronto is picturesque.
Toronto to Detroit to Los Angeles
To get back home to Los Angeles from Toronto, I usually fly nonstop on American, United, or Air Canada. But buying a ticket less than seven days in advance is crazy expensive: One-way was going for over $1,700, while a flight making a stop was just under $400. So naturally, I chose to make a stop, and since most of the shorter hops are on uncomfortable regional jets I picked the shortest route I could find–Detroit. It's just 214 miles from Toronto with a flight time of 43 minutes.
I flew back on Saturday evening because before buying my ticket I looked at the flight loads (view seat map) and noticed that the Sunday flights were all packed but Saturday's flights weren't. A half-empty plane makes flying that much more enjoyable, which is exactly how both my flights were. On top of that it, took me under five minutes to check in and go through U.S. Customs (they have pre-clearance in Canada) and security. And I got upgraded on the Detroit to Los Angeles portion! Gotta love being flexible while traveling.
BTW: I keep forgetting how incredible the Detroit Metropolitan Airport is. It should (if it's not already) be ranked in the top three best North American airports.
HHonors New Rewards
I needed to be back in L.A. for a number of reasons; one of them was to fulfill my duties for my newest gig. I was just brought on for a two-month stint as the spokesperson for HHonors. I will share budget holiday travel tips for them. HHonors is the loyalty program for Hilton Worldwide's 10 hotel brands (Waldorf Astoria Hotels & Resorts, Conrad Hotels & Resorts, Hilton Hotels & Resorts, DoubleTree by Hilton, Embassy Suites Hotels, Hilton Garden Inn, Hampton Hotels, Homewood Suites by Hilton, Home2Suites by Hilton, and Hilton Grand Vacations). One of my tips will include the three new ways that you can use points to book rooms.
-Premium Room Rewards: For the first time, HHonors members can use their points to book premium rooms and suites at hotels worldwide, with no blackout dates. This new reward option opens up more than 200,000 additional rooms and suites that were previously unavailable for point redemption. Members who select this reward option have more available rooms to choose from and can now stay in the portfolio's most spacious and luxurious rooms and suites.
-Points & Money Rewards: Members can combine points with money to book a standard room. This is a great option for HHonors members who have not yet accumulated enough points for a free stay or prefer to save points for future free stays.
-Room Upgrade Rewards: HHonors points can also now be used to upgrade an existing reservation to a premium room or suite at hotels worldwide, with no blackout dates.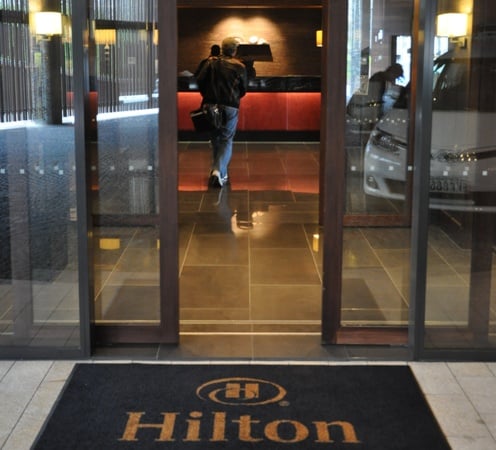 Note: Visit HHonors.com for more details or to become a Hilton HHonors member.