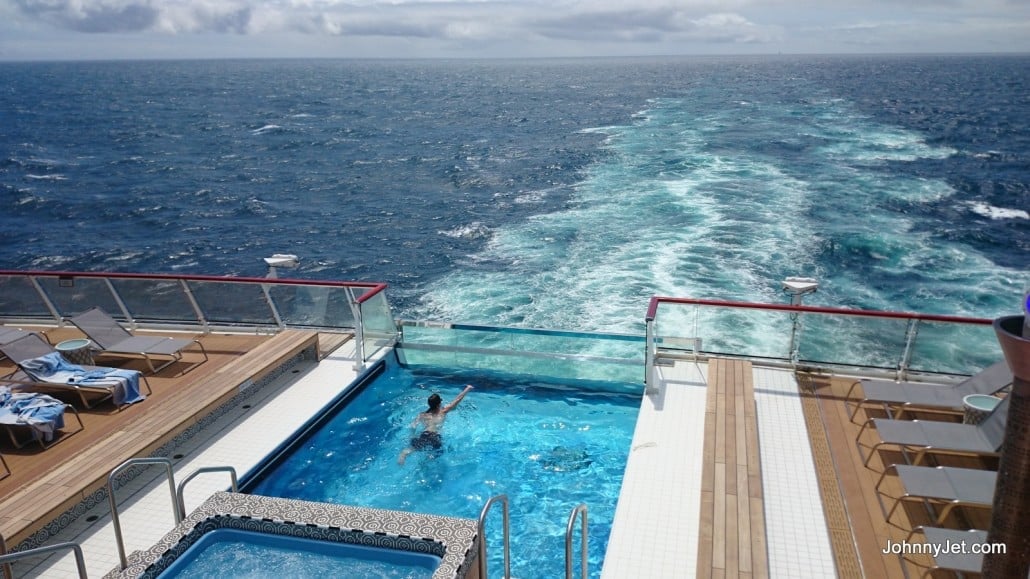 Viking Ocean Cruises has just announced that its fourth ship, Viking Sun, will take travelers on an incredible 141-day world cruise to five continents, 35 countries and 66 ports, with 12 overnights at different ports. How amazing does that sound?!
Right now: Our own Johnny Jet is currently cruising on the company's second ocean ship, Viking Sea, which will be christened in Greenwich on the Thames River on May 5!
The Viking Sun will set sail on December 15, 2017, from Miami to London, with a whole world to see in between the two cities. Guests will trek through Cuba and the Caribbean, the Panama Canal and the South Pacific, Southeast Asia and India, Oman and Jordan, Spain and Italy, and more. They'll explore Asia—from Hong Kong to Ho Chi Minh City—and sail on the Arabian, Red and Mediterranean Seas. See the below image for the exact route or this page for the itinerary for all 141 days!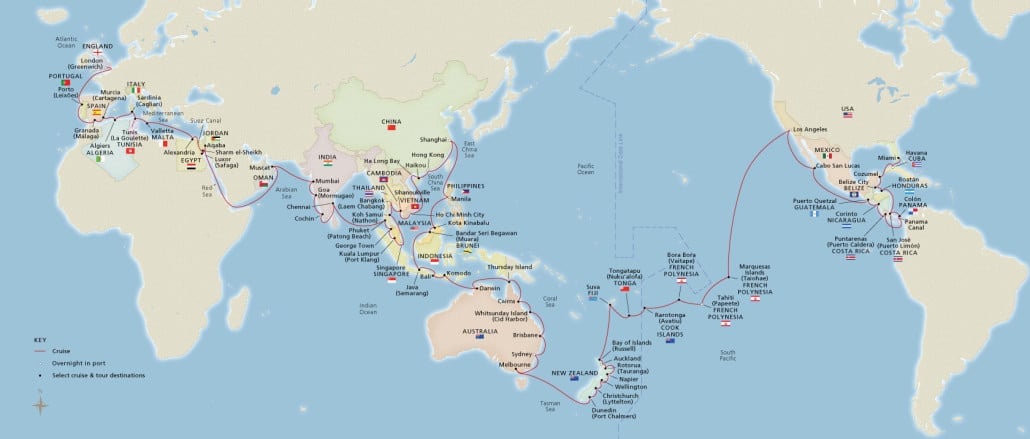 The once-in-a-lifetime opportunity includes complimentary shore excursions in each of the 66 ports on the itinerary (it's rare to receive free excursions on cruise ships). Passengers will also score free Wi-Fi and business class airfare.
Prices for the Viking World Cruise start at just under $45,000 a person and include business class air, transfers to and from the ship, all gratuities and service fees, a beverage package covering virtually all drinks onboard and includes all medical services. Guests can choose the 141-day cruise from Miami to London, which includes 21 days of sailing from Miami to Los Angeles, or a shorter, 120-day cruise from Los Angeles to London.
There are so many reasons—like these 23—to love Viking Ocean Cruises. Their ocean fleet of smaller ships is elegant with a modern Scandinavian design. Everyone aboard gets a balcony and gets a chance to take a dip in the glass-backed infinity pool. Rooms come with king-size beds, luxury linens, large showers, luxury toiletries, heated bathroom floors (yes), and large interactive flat-screen TVs. Sounds like floating paradise to me!
---
For more details on the Viking World Cruise, visit vikingcruises.com/oceans/world-cruise.html.