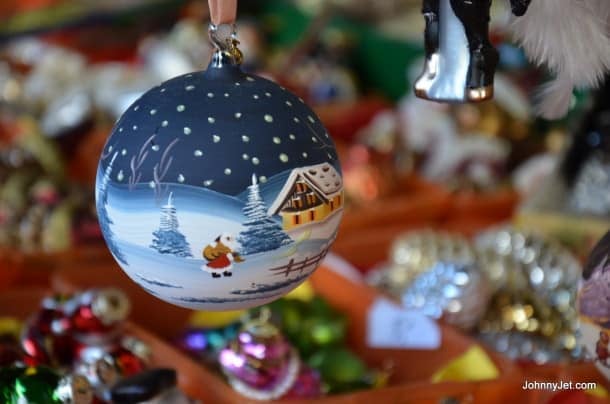 DAY 3: Salzburg, Austria
Tuesday
We woke up in Linz, Austria and after breakfast aboard our boat, we boarded one of the four tour buses headed to the city of Salzburg. It's a scenic two-hour drive through the Austrian countryside and about 80 minutes into the trip, we made a 30-minute pit stop at a popular rest stop. Tip: The woman's bathroom lines get really long so go to the bathroom first, then admire the view or browse the gift shop. There's also a handicapped bathroom at the top of the stairs that no one was using.
Bus Tip: For the best view of Salzburg, sit on the left-hand side.
Salzburg is known as the location for the film The Sound of Music. Surprisingly, most Austrians have never seen the movie and the ones who have, don't care for it. Each bus has their own guide and they use individual audio headsets so don't forget to bring yours from your cabin. You might want to bring earplugs because our guide talked the entire bus ride on the PA and not the audio system so you are part of a captive audience.
The walking tour is optional and takes a couple hours but you visit all the major sites including Salzburg's Old Town area, which is a UNESCO World Heritage Site. You will also see the birthplace of Wolfgang Amadeus Mozart and the Hohensalzburg Fortress from afar. Did you know:  Joseph Mohr, the lyricist behind the famous Christmas Carol 'Silent Night' was also born in Salzburg?
After the tour you can explore on your own. We went to lunch at Europe's oldest restaurant, St. Peter Stiftskeller, which opened in 803 AD! Afterwards, we walked around the market which is one of Europe's oldest markets. The Salzburg Christkindlmarkt is located in front of the Salzburg Cathedral and ran from November 21 – December 26, 2013. I bet it would be a lot more charming at night but the bus back to the ship departs around 4pm. What to get? Hand-painted ornaments and a pretzel the size of a kite.
Visiting Europe's Christmas Markets on a Viking River Cruise: