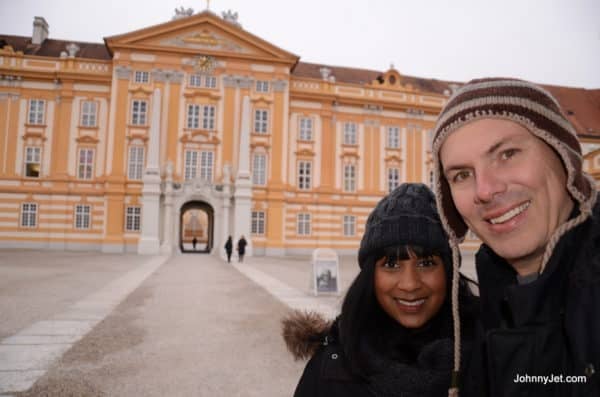 DAY 4: Melk, Austria
Wednesday
This was the one day we overslept, which was a bummer because we missed the morning tour of the 900-year-old abbey at Melk. We later walked up there (about 20 minutes from the boat) but they wouldn't let us into the Benedictine monastery without a guide and during the winter months there are very limited tours (unlike the summer when there's one every two minutes). So we missed seeing what was originally one of Leopold II's castles. We did go into the church to see the spectacular wall and ceiling frescoes but missed the library's comprehensive collection of medieval manuscripts.
The Melk Christmas market is small and only takes place on the weekends so while Natalie perused the shops, I got a much-needed haircut for 14 euros. We then boarded the ship and had lunch as we sailed through the picturesque Wachau Valley. FYI: Last summer, I biked between these towns and it was the highlight of that trip (see story).
Visiting Europe's Christmas Markets on a Viking River Cruise: