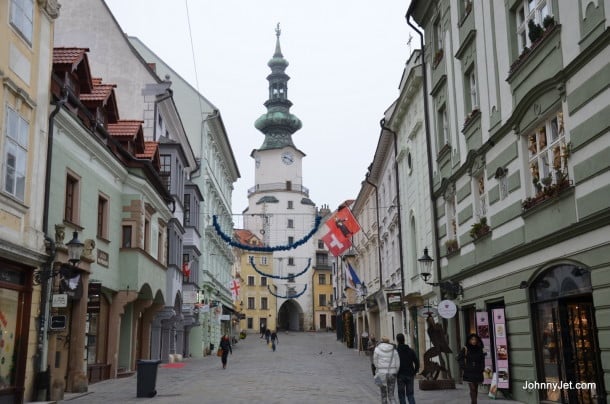 DAY 6: Bratislava, Slovakia
Friday
Bratislava is only a 40-minute drive from Vienna so it doesn't take long to get there by boat. Bratislava is the capital Slovakia and is the only national capital that borders two other countries, Austria and Hungary. We arrived early and skipped the walking tour to explore the city on our own. To get to the old town is just a short walk and it feels like you are on a movie set. There was hardly anyone around at 8:30am so we had the medieval Town Hall complex to ourselves.
We found our way to Bratislava Castle (Bratislavský Hrad) and snapped some photos from up there before returning to old town where the Bratislava Christmas market is located. The market opens at 10am and closes at 10pm daily, from November 22 – December 23, 2013.
Culinary Specialties
The Bratislava Christmas Market is well known for their original culinary offerings of gastronomic specialties like cabbage-filled potato pancakes (lokše) and sauerkraut Christmas soup (kapustnica).
We bought some cookies and knick knacks, watched the kids ice skate and made it back to the ship before it departed around 11:30am.
Visiting Europe's Christmas Markets on a Viking River Cruise:
Passau, Germany | Linz, Austria | Salzburg, Austria | Melk, Austria | Durnstein, Austria |  Vienna, Austria | Budapest, Hungary