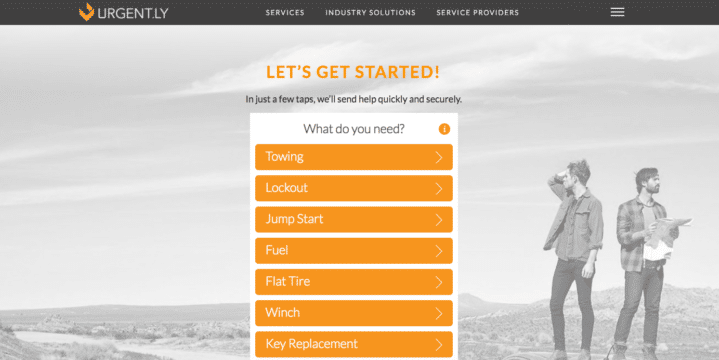 I've been an AAA member for over a dozen years, but since I've only used them once in that time and my new car comes with roadside assistance included in the lease, I can't justify the annual fee.
That's why I've downloaded this new on-demand roadside assistance app called Urgent.ly. It's free and supposedly provides fast, safe, and innovative roadside assistance experience—all without a subscription or membership fee. You just pay for the service you need. Available services include tows, tire changes, fuel delivery, jump starts, and lock-out help. They have flat-rate pricing and take cashless payment. They're available in all 50 states in the major cities and in parts of Canada (currently just the province of Ontario).
After you sign up you will get an email with the following info:
1. Assistance In a Snap
It's embarrassingly simple—just tap to select your vehicle and the service you need. We do the rest, locating and connecting you with the closest available assistance.
2. Visual Proof
You'll want to know who's coming and when—who doesn't? So we'll show you the driver's photo and phone number, and you'll be able to track his progress on a map. No mysteries here.
3. Payment Logic
Roadside insurance clubs make you pay dues even if you never get towed. Not cool. With Urgent.ly, you only pay once your service is complete and you're 100%, all-the-way happy. Then, we simply charge your on-file card (or Apple Pay if you have an iPhone) and email you a receipt. Ingenious? No. Commonsensicle? Yes.
4. Family Friendliness
Because you take care of your own, we offer FamilyView—a quick, easy way to hook your people up to your Urgent.ly account. No payment worries for them and, since you can watch in real-time on your phone as their help arrives, no scary-roadside-scenario worries for you. To sign up family members, just head over to Settings (under the orange humanoid icon) and tap on Family Members.
Signing up takes no time as you just input your email; your phone number; the make, model, and year of car; and your payment method. Urgent.ly even asks if you want to enable the accident detection, which can automatically detect if you've been in an accident at speeds greater than 30 mph and can send a text notification to a contact of your choosing.