Beginning October 25, United is moving their p.s. service— the New York-Los Angeles and New York-San Francisco premium transcontinental service—from New York JFK to Newark Liberty. These flights will be will be operated by Boeing 757s. Therefore, this will completely remove operations from JFK. If you are already booked on a p.s. (premium service) flight departing after October 25, in a few days (the company says by the weekend of June 19) you will be rebooked to a Newark flight.
It's a move that makes sense for United as additional competition, like jetBlue's Mint, on the premium service has moved into JFK. Beginning October 25, Newark-Los Angeles and Newark-San Francisco flights will offer:
United BusinessFirst cabin Flat-bed seats
Premium in-flight service
More extra-legroom in Economy Plus seats (more than other carriers)
In-flight Wi-Fi, modern interiors and in-flight entertainment with individual monitors and power ports
With this new move, for the first time United BusinessFirst cabin passengers will get flat-beds for their entire trip when connecting to and from flights across United's trans-Atlantic and trans-Pacific networks.
United's Terminal C at Newark
Today, United also announced plans to renovate it's Terminal C lobby and bring its new airport lounge design to all United Club locations at Newark. This means a multi-million dollar investment in addition to the already $2 billion invested at Newark, where the airline is offering chef-driven restaurants, redesigned "lounge" gate areas and improved United Club locations.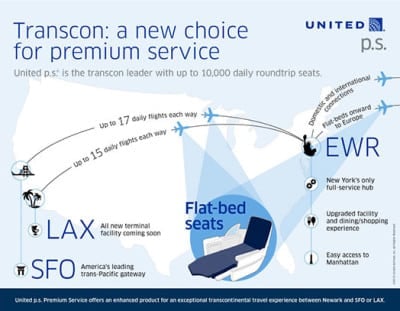 What this Means for United
In addition to cost savings of moving to Newark, the airline will improve it's ranks in transcontinental flying because for the New York market, United will have the most daily flat-bed seats at 1,250 seats. This is a 44 percent increase in flat-bed seats year-over-year. The airline will fly up to 17 daily round trips Newark-San Francisco and up to 15 daily round trips Newark-Los Angeles.
What this Means for Passengers
While overall this is a smart move for United, it won't be good for passengers on cost as we may see an increase in fares in the coming months on these routes. It will also be a huge problem for those passengers connecting to other Star Alliance flights.
How do you feel about United's move?