I recently got my son a subscription to The Week Junior, a magazine for young children that covers a wide range of timely news topics, suitably presented for kids. He gets so excited every week when it arrives in the mail and we both look forward to sitting down with it together and perusing the kid-friendly, newsworthy stories of the week. RELATED: 12 Things in Travel You Need to Know Today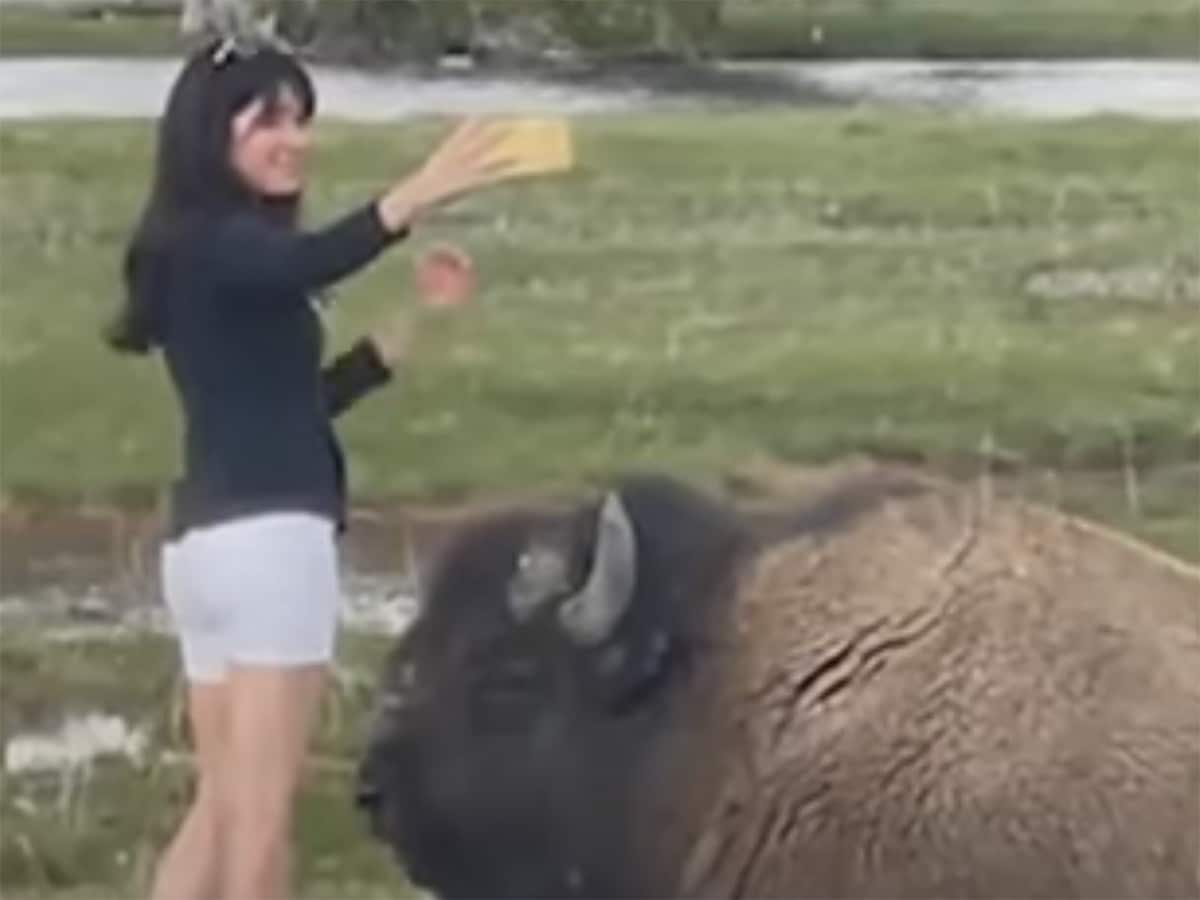 In a recent issue, a question about whether selfies are bad for nature was posed. Selfies? How harmful can a selfie be? If you're asking yourself that same question, it turns out selfies can be far more damaging than we think. And if you really stop to think about it, it makes sense (great discussion topic with kids, BTW.) From overcrowding at protected areas and trampling wildflowers at California's superbloom, for example, to getting too close to dangerous wildlife, selfies are more and more putting nature, animals and humans at risk.
We're seeing it with increasing frequency as people take greater chances to get 'the perfect shot' and many have paid with their lives for the sake of a photo. In fact, it's such a sad and shocking phenomenon that Wikipedia has a page that lists known selfie-related injuries and deaths.
One of the latest incidents, which fortunately did not end tragically, involves a young woman who blatantly ignores the advice of experts. In a video shared by ABC7 Chicago, the woman poses dangerously close to a bison in Yellowstone National Park, casually trying to capture her perfect selfie. Watch the video below:
According to the news report, the person who shot the video of the selfie-taking woman says they were in disbelief about what she was doing, that she could have been gored and the animal likely would have had to be euthanized through no fault of its own.
The report goes on to say, "The National Park Service advises people to stay at least 25 yards away from bison, warning they are unpredictable and have injured people in the park more than any other animal."
Unpredictable is right. In a widely shared video from late last year, a woman was solo hiking at Caprock Canyons State Park & Trailway in Texas when she was charged and gored by a bison. The video, which you can watch below, is frightening but a sober reminder to be careful around wild animals, respect the advice of experts and park officials and ultimately, just keep your distance. No photo is worth your life.
@rebeccaclark Solo hiking at Caprock Canyons State Park & Trailway in Texas. I was charged and gored by a bison because I was to CLOSE to be passing them on a trailway They are beautiful creatures protected by the Texas Parks & Wildlife Department (TPWD) and are a part of the Texas State Bison Restoration Project where the park has restored the historic Charles Goodnight Bison herd (The Official Texas State Bison Herd) to a portion of its former range in the park. I am posting to support safety while enjoying Texas State Parks #TPWD #bisonetiquette101 #hikingsafety #llbean #chaos #rei ♬ dumb dumb – sped up – mazie

And in case you needed further evidence of people engaging in risky behavior with animals, bison specifically, there's this incident, when a tourist attempts to pet a bison:
View this post on Instagram
While we can all appreciate that witnessing large, majestic animals in their natural habitats is fascinating, common sense must prevail and precautions must be taken to protect yourself and the animals. The National Park Service says that bison can run three times faster than humans and stresses the importance of keeping your distance, at least 25 yards (23 m) away. The NPS also offers these tips, regarding bison:
Give bison space when they are near a campsite, trail, boardwalk, parking lot, or in a developed area. If need be, turn around and go the other way to avoid interacting with a wild animal in close proximity.

Approaching bison threatens them, and they may respond by bluff charging, head bobbing, pawing, bellowing, or snorting. These are warning signs that you are too close and that a charge is imminent.

Do not stand your ground. Immediately walk or run away from the animal. Spray bear spray as you are moving away if the animal follows you.
For more tips for keeping yourself and the wildlife safe in our beautiful national parks, visit the National Parks Service's safety page.
KEEP READING
Want more travel news, tips and deals? Sign up to Johnny Jet's free newsletter and check out these popular posts: The Travel Gadget Flight Attendants Never Leave Home Without and 12 Ways to Save Money on Baggage Fees. Follow Johnny Jet on MSN, Facebook, Instagram, Pinterest, and YouTube for all of my travel posts.