Long known for being a four-season outdoor getaway, Ulster County, NY, is fast becoming a world-class hub for competitive endurance athletes and running enthusiasts of all levels. Perfectly suited for all-terrain training, the region offers more than 500 miles of multi-use trails on municipally owned lands and nature preserves that traverse through and around streams and rivers—and which feature elevation changes with spectacular views of the Catskill Mountains. The area's most popular races are the Kingston Classic, HITS Hudson Valley, and Rock the Ridge 50-Mile Endurance Challenge.
Getting to Ulster County
Getting there is easy. Straight off the NY State Thruway it's a mere 90-minute drive from NYC. In June, ChargeNY's EV tourism initiative installed nine free-of-charge charging stations (two cars per station) throughout Uptown Kingston, making it a very popular destination for EV drivers. And if you're car-less, Trailways offers buses every hour from Port Authority to locations throughout the county: Kingston, Rosendale, Woodstock at roundtrip prices of around $50.
So imagine, if you're a Manhattanite with only a backpack and two hours to spare, you could trade in your urban life for a wilderness experience for a day. Leave your apartment, catch the bus to Rosendale, borrow a bike from the 1850 House Inn, take a short ride to the Wallkill Rail Trail, and then continue biking on this 22 mile linear park. The natural surface trail runs along the former Wallkill Valley Railroad corridor.
Your adventure will take you through bio-diverse woodlands, farms and orchards, and you'll cross over rivers and streams on numerous footbridges—truly, a reprieve from the concrete jungle you wake up to every day.
Where to explore
The Wallkill Valley Rail Trail (WVRT) first opened its path to hikers, joggers, cyclists, horseback riders, cross-country skiers, and snowshoers in 1983 when New Paltz began removing the tracks. It expanded to 12 miles with a local land trust purchase in 1991 and then doubled its length in 2009, extending the walkway north from Rosendale through Ulster to Kingston. This acquisition included the Rosendale Trestle. A large portion of the Kiwanis Kingston Classic marathon route is on the WVRT.
The Rosendale Trestle, the WVRT's centerpiece, spans across Route 213 and Rondout Creek from a dizzying height of 150 feet. Over 900-feet (940) long, this continuous truss bridge carried trains from New Paltz to Kingston in 1872 until 1977 when Conrail closed it due to safety concerns. For a short time the trestle operated as a bungee platform in the 90s and was later renovated for use as a pedestrian walkway.
Today, it's crossed by parents pushing strollers, runners, cyclists, and even equestrians brave enough to walk their horses across—though riders must dismount and lead their ponies.
Northwest of the trail and eastern most corner of the Catskill Park is the Ashokan Reservoir, the oldest and deepest of the New York City-owned reservoirs that helps meet the daily needs of the city's 8 million+ residents. One of the last truly handmade reservoirs, thousands of stone cutters, bridge builders, tunnel diggers, and mule drivers completed its construction in 1915. Long-established villages, farmland and railroads had to be relocated before being flooded by water up to 100-feet deep. This resulted in local animosity that lingered for generations.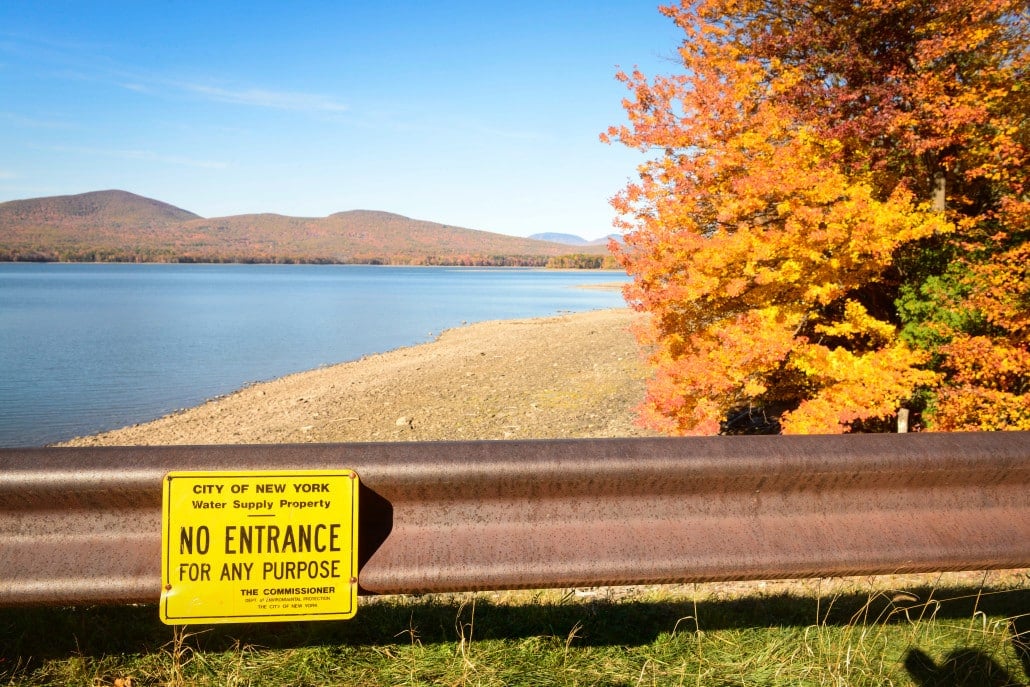 Today, locals and visitors enjoy the reservoir as a scenic place to picnic near, stroll through and bike across. For security reasons arising after 9/11, the 2.5-mile south spillway road, now known as the Ashokan Walkway, was permanently closed to vehicles. It's now open to pedestrian and recreational use only. The bicycling portion of the July HITS Hudson Valley Triathlon circles the entire body of water as part of its 112-mile route.
Located in the southernmost region of Ulster County lies the Minnewaska State Park Preserve. Its 21,106 acres lie along the Shawangunk Ridge, and the park contains three sky lakes: Lake Minnewaska, Lake Awosting and Mud Pond.
I personally walked the carriage road that circles Lake Minnewaska. It took about an hour and on my way I crossed paths with lots of retirees on this brisk autumn mid-week morning. In some places the path opens up and runs along craggy white cliffs that overlook the mile-long lake below. An awesome sight, but no side rails (personally, I was relieved to not see kids on the trail that day). From across the lake I did see a bride and groom perch close to the edge for their photographer, who apparently they trusted.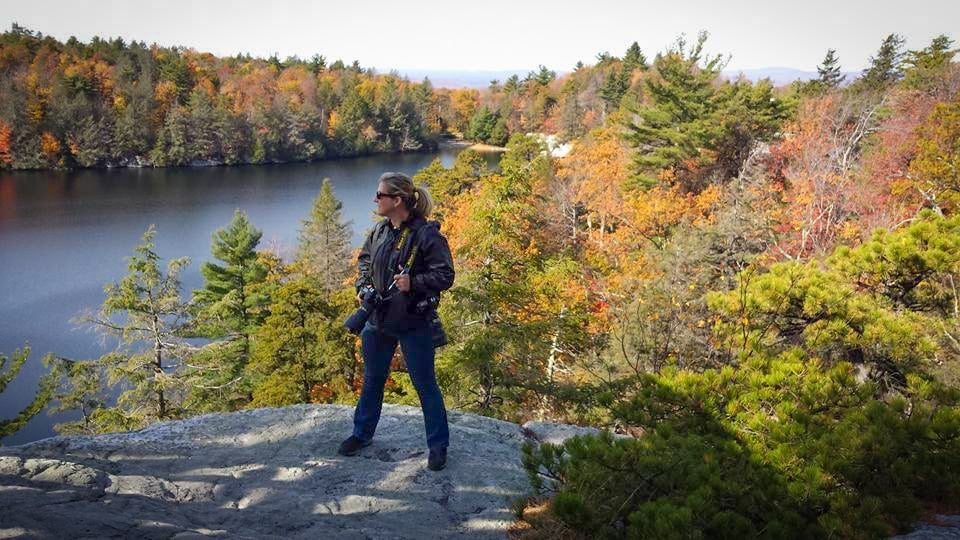 During its hotel heyday (the Cliff House was built in 1879 and the Wildmere in 1881, across the lake from each other), the lake was popular for swimming. Long after both buildings closed and burned down, the state of New York purchased the preserve and banned swimming all together. In 2002 the Minnewaska Distance Swimmers Association (MDSA) was formed after petitions, proposals and persistence in fighting successfully opened up swimming again. Now, at over 700 members, the MDSA tests for ability and maintains the swim program.
In September, Survival of the Shawangunks takes place. It's an eight stage triathlon which features swimming in two of the lakes as well as the Mohonk, just north of the preserve. Admission to the preserve is $10 per car.
Adjacent to Minnewaska is the Mohonk Preserve, 8000 acres of land that have been passionately protected and managed by members, supporters and volunteers since 1963. Outside magazine named it as one of the five best city escapes. What to do? Annually, over 165,000 visitors enjoy the 30 miles of hiking, biking and running on carriage roads, as well as trails, forests, fields, and horseback riding on the Shawangunk Trails.
The Mohonk Preserve also offers world-class climbing on the Gunks, white cliffs overlooking the Hudson River Valley. The Gunks includes over 1,100 climbing routes, the majority of which fall into the easy-to-moderate category—attracting climbers of all levels.
In April the Preserve holds the ultimate, all-inclusive, endurance event: the Rock the Ridge 50-Mile Endurance Challenge. The environmental fundraiser challenges participants of all abilities to cover 50 miles on its trails within 24 hours. Last year's winner—ultra-marathoner Ben Nephew—broke his own record of finishing in just under six hours as all of the athletes finished in under 20 hours.
Where to stay: Diamond Hills Hotel & Tavern
Whether you're competing in an event or visiting as a spectator an ideal place to stay is Diamond Mills Hotel & Tavern, a 30-room luxury boutique hotel perched above the west side of the headwaters of the Esopus Creek in Saugerties, NY.
Each room has a balcony that looks out on the Esopus Falls, over which flows the very water that winds its way south to the Ashokan Reservoir (perhaps inspiration if you're a competitor in the HITS Hudson Valley Triathlon or any other of the region's races). 
Diamond Hills Hotel owner Thomas Struzzieri is also founder and CEO of HITS, Inc—the largest equine show jumping production company in the world—as well as the HITS Triathlon Series. Their tagline, "A distance for everyone," reflects the fact that they design courses for competitors of all levels. Three personalized triathlon training camps are held in the spring, summer and fall at the hotel. The one-week custom training program includes five-day accommodations at Diamond Hills with two gourmet meals per day ($3,000 for double occupancy and program participation).
Whether you're an elite endurance athlete hoping to up your training game or someone simply craving a stroll down a mountain trail, Ulster County, NY, covers it all and makes it easy to get to.