By:  Dave Zuchowski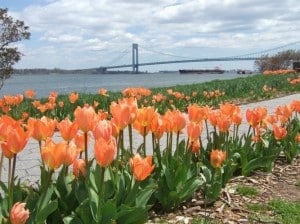 New York City probably has more museums than any other metropolitan region in the United States. However, Staten Island, one of the city's boroughs not known for its museums or normally not thought of as a travel destination, can justifiably boast two often overlooked gems that are definitely worth a visit.
The Jacques Marchais Museum of Tibetan Art
With holdings of 1,200 to 2,000 rare artifacts that include sculpture, Tibetan manuscripts, textiles, jewelry, musical instruments, ritual objects and historic photographs, the Jacques Marchais Museum of Tibetan Art sits on the side of a hill in a relatively affluent residential neighborhood. The unique building with loads of eye appeal opened in 1947 as the first building with a Himalayan-style architecture in the United States.
"The museum is built of fieldstone found on Staten Island and resembles a rustic Tibetan temple," said curator, Dr. Sarah Johnson. "Although other museums may have a Tibetan collection, we were the first in the nation dedicated solely to Tibetan art."
The museum's originator, Jacques Marchais, was born in Ohio in 1887. While still a child, she cultivated an interest in Tibetan culture after discovering a collection of 13 small Tibetan figurines in a trunk in her attic that were purportedly given her maternal great-grandfather by a friend. Her desire to learn more about these intriguing objects sparked a life-long research into the culture of Tibet and a passion for collecting artifacts from the lands bordering the Himalayas.
After moving to New York's Greenwich Village in 1916, Marchais immersed herself in that colorful enclave's arts community and eventually opened the Jacques Marchais Gallery in Manhattan in 1938.
"Jacques never visited Tibet but did all her collecting through agents and other dealers," said Johnson.
In 1921, Marchais and her husband, Harry Klauber, moved to Staten Island. It was here, close enough to her Manhattan gallery yet far removed from the city's hustle and bustle, that she later decided to design two Himalayan-style buildings to hold her prized Tibetan collection.
Construction started in 1941 but was interrupted by World War Two. When the museum finally opened in 1947, it was fronted by seven tiers of gardens which led down the hill. Currently, only the top tier is open to the public, although plans are being made to restore the lower gardens.
Unfortunately, Marchais passed on four months after the museum opened, and her husband died a few months later.
"Marchais never referred to herself as a Buddhist but held to some of its beliefs such as karma and reincarnation," said Johnson.
Visitors enter the museum through the library, a repository of some 2,000 volumes in English, primarily on subjects like Tibet, Tibetan Buddhism and other Asian nations. From there a garden patio connects to the museum proper, designed with a three tiered altar along the back wall where many of the prime artifacts are displayed.
In addition to sculptures of deities and religious objects, the altar also displays several large incense burners and is fronted by a Bhutanese sand mandala, a sacred or cosmic diagram created by Bhutanese monks in 2005.
"Currently, there is no other Bhutanese sand mandala on display in the U.S. and perhaps the world," said Johnson.
Note: On October 12, 1991, the 14th Dalai Lama visited and blessed the museum and commented on how very Tibetan the museum buildings are and praised the collection.
Currently, the museum is mounting a special exhibit titled "Tibetan Portrait: The Power of Compassion," photographs, interactive displays and objects that spotlight Tibet's people and rich culture.
"Throughout the year, we also have a robust schedule of programming including talks by Tibetan monks, films and music," said Johnson. "We also stage a Tibetan Festival every October with Tibetan artists, singers and craftspeople. Fortunately for us, the greater New York area has quite a significant resident population of people native to the Himalayas."
If You're Going
The Jacques Marchais Museum of Tibetan Art, 338 Lighthouse Avenue in Staten Island, New York, is open from 1 to 5 p.m. Wednesday through Sunday. Admission is $5 for adults, $3 for seniors and students. Docent tours are available. To view a recent video, click on You Tube – On The Beat – The Jacques Marchais Museum of Tibetan Art. For more information, phone 718-987-3500 or visit website TibetanMuseum.org.
Clear Comfort – The Alice Austen House

Location, location, location! Arriving a half hour before the scheduled 11 a.m. opening of the Alice Austen House, I had a chance to explore the grounds and exterior of the domicile of one of America's first and most prolific female photographers.
Originally a Dutch-style cottage built in 1690, the house was enlarged and improved by John Haggerty Austen, the photographer's grandfather, who purchased the property in 1844 and transformed the structure into a Gothic cottage known as Clear Comfort. The rustic dwelling sits on the northern shore of Staten Island close to the Verrazano-Narrows Bridge with a stunning view of Manhattan's skyscrapers across the harbor.
For a half hour, I enjoyed the peaceful landscape of lawns, old trees, bushes and flower tracts as I listened to the waves of the harbor lap against the nearby beach. Then, at the back of the house, I sat and relished the tranquillity of the setting and surveyed the two-story, white clapboard house with green shutters.
Precisely at 11, visitor services rep, Sara Signorelli, greeted me at the door. In the midst of participating in "5 Dutch Days," a series of events in all five of New York's boroughs, Signorelli still had time to show me around.
I started my tour with signage near the Dutch-style entrance door where I learned that Austen was born in 1866 into a socially prominent family. Although she went on to become a skilled sailor, a creative gardener and a master tennis player, her great passion was photography, an avocation that took root at age 10 when her uncle Oswald, a seafaring captain, brought home a camera.
"Photos in the entryway of Clear Comfort are like a family tree," said Signorelli, referring to numerous family portraits that covered the walls. "Here, you'll find 40 of Alice's photos with another 350 in binders that visitors can peruse. And, during "Open House New York, held annually in mid-October, home movies made by Austen in the 1930s are screened for visitors."
Starting as a teenager and continuing into her 70s, Austen was one of the first woman photographers in the nation to work outside the confines of a studio and is best known for her "street photography" that captured subjects like New York street sweepers, snow cleaners, rag pickers and peddlers.
In her lifetime, she produced close to 8,000 negatives, of which approximately 4,000 still remain. Today, she's recognized as among the early great photographers, and her work is included in exhibits in North America, Europe and Asia with reproductions of her work printed in numerous books and articles.
Self-guided tours of the house usually begin with a 20-minute long film narrated by Helen Hayes about Austen's life and work. Guided tours, which cost $5, can also be pre-arranged by phoning 718-816-4506, ext. 10.
Visitors can walk through five rooms on the first floor which include the parlor and dining room, furnished in period. Items that Austen actually owned include the eagle-shaped whale oil burning lamp on the parlor mantel and the silver tea service and chocolate set in the dining room.
Two of the rooms are reserved for four contemporary photography exhibits scheduled each year, including one with an international theme. At the time of my visit, "Russian Archive," a collection of photographs by Donald Weber chronicling daily life in post-Soviet Russia, was on display (through December 31).
During a brief conversation with curator, Paul Moakley, I discovered that Austen photographed for her own enjoyment and undertook only a single commercial project – illustrating a book titled "Bicycling for Ladies," a copy of which is on display in a case in Clear Comfort's entranceway.
"Austen is a social historian who brings back to life another time, said Moakley. "Her photos recreate a lost world at a time when Staten Island looked much different than it does today."
Unfortunately, Austen, who never married, lost much of her inheritance during the stock market crash of 1929. She was able to linger on at Clear Comfort by selling off household items and antiques, but, in June 1950, she was admitted into a Staten Island poor house, where she languished for three years.
Eventually, the quality of her work was rediscovered, and the sale of her photographs enabled her to afford a move to a decent retirement home in which she died peacefully on June 9, 1952.
If You're Going
Clear Comfort, a National Historic Landmark and a 2002 inductee into National Trust for Historic Preservation, is open Thursday through Sunday from noon to 5 p.m. Closed January and February. Admission is by donation. The house is located at 2 Hylan Boulevard in Staten Island. Phone 718-816-4506, ext. 10.
For a place to stay, the Staten Island Hotel, 1415 Richmond Avenue, has 187 guest rooms and two Jacuzzi suites, free local calls, complimentary shuttle service to and from the Manhattan ferry, a complimentary continental breakfast and an on-site restaurant. Phone 718-698-5000 or visit website StatenIslandHotel.com.
For another place to stay, the Harbor House B & B is located at 1 Hylan Avenue, Staten Island, N.Y. 10305 at the foot of Staten Island with magnificent views of Manhattan and the Verrazano Narrows Bridge. The B & B is a quick eight minute bus ride to the ferry dock, then another 25-minute boat ride to Manhattan that passes by the Statue of Liberty.
The Harbor House is located across from the Historic Alice Austin House, and a hearty Continental breakfast is served daily in doors or on the porch overlooking New York Harbor. The rooms tend to be large and simply furnished and one major advantage of staying here is the awesome vistas.
Phone (718) 876-0056 or visit website NYHarborHouse.com.
ABOUT THE AUTHOR
Dave Zuchowski has been writing about travel for twenty years and his articles have made the pages of many newspapers and magazines across the country, including AAA, Pathfinders, West Virginia Magazine, Southsider, and Westsylvania. Currently, he is the travel correspondent for the New Castle News, a daily in the Pittsburgh area. In his spare time, he also puts his horticultural interests to good use on his 15-acre farm located near Centerville, PA.