RailRiders clothing is marketed as "the toughest clothes on the planet." So when a safari in East Africa was on my calendar, it was time to research the best safari clothes on the planet!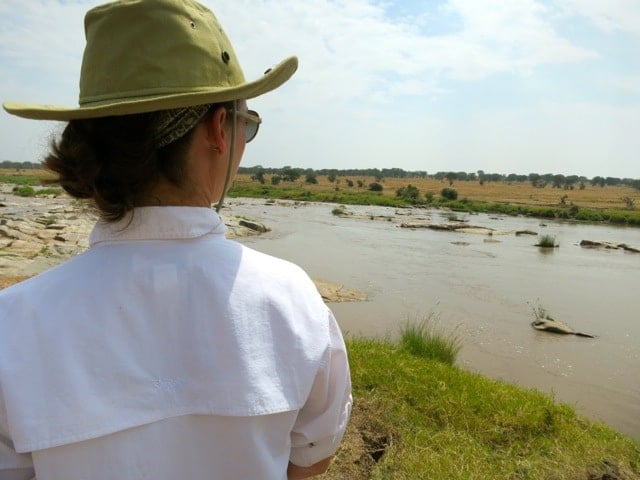 RailRiders came up in my search for one main reason — it came already equipped with "insect shield" meaning no time or effort wasted in having to treat the clothes with permethrin, the synthetic chemical that repels insects on contact. About to be in a malaria zone meant no messing around. Mosquitos love me so the more protection I had the better.
I ordered my clothing online, as there were no retailers in the Greater Los Angeles area. Go figure — this clothing is sold in places you equate with outdoor adventure: Colorado, Montana, Vermont, and even a few international retailers in the UK and Canada. Get the full list here.
I was pleasantly surprised when the clothing arrived that it not only fit perfectly, but was also super comfortable – lightweight, practical, easy to pack, and most importantly, had buttons and pockets with plenty of versatility. It made my anticipation and excitement grow as I tried it on and imagined being in the middle of the wilderness rocking the toughest clothes on the planet. But the true test was on safari.
The weather varied between the cold of high altitudes in Tanzania to the dryness and dust in the Serengeti to the heat of the plains in the Masai Mara in Kenya. Despite being white, my RailRiders shirt and khaki pants kept up with the toughest of conditions, even through a sudden rainstorm that came out of nowhere on a nighttime game drive. It dried quickly and was ready to be worn again the next day.
Safaris can be rough and tumble depending on where you are and how much off-roading you do. We did plenty of that including a walking safari through the bush with nothing but a guide with a gun. The clothes got dirty, saturated with animal dung, prickly thorns from the high grass, and were put to the test! And despite it all, with one wash, they were back to pristine condition, no worse for the wear.
The line of clothing was actually not developed specifically for safari. It was in fact conceived at sea in the prestigious Edgartown-Round-the-Island yacht race, off Martha's Vineyard by President and Founder John d'Arbeloff, who says "whether you're trekking in the farthest reaches of Nepal or caught in a squall on an afternoon sail, you should expect your clothing to not only survive, but to thrive. These are clothes that go places. They are made to last."
And to that, I have to agree. In fact, I look forward to wearing them hiking, kayaking, and for any other outdoor activity in which I find myself exposed to the elements and nature's whims.
For full disclosure, clothing and fashion mean very little to me. What matters to me is comfortability and practicality. This clothing holds true to its name. Through multiple washings, packing and unpacking, dust and even the red Kenyan dirt, they were in perfect condition. And while it may be the dry season, I left Africa with only a few fly bites that were on exposed skin so I have every reason to believe the insect shield indeed worked as I could be surrounded by people with blood as sweet as mine and still be the only one to get bit.
What I liked: the clothes didn't wrinkle, packed well, were lightweight, great for layering, had strong pockets (for cameras or other heavier items like binoculars), the insect shield built in, and were comfortable and soft.
What I didn't like: I still do not understand the logic that all on safari must wear white or light clothing. I realize it keeps you cool and the bugs away, but after awhile you start to feel like one of a human herd, all dressed in uniform. I'd love to see a company like RailRiders design an insect shield line that has a bit more color and character. Maybe not dark clothing, but something that adds a little style to the safari. My friend, for example, wore a vest she found at the army surplus store. It had just the right amount of practical combined with style in a flattering shape and fit. However, she had to spray it with permethrin before departing which is a messy annoyance.
RailRiders makes both women's and men's clothing and accessories for any adventure. Hint for women: check out the men's clothing as well – you'll find some styles (like my friend Lanee did in the photo above) that aren't made for women but if you get a size or two smaller, it might be just right!
I've tried plenty of other outdoor clothing that is much pricier or better known, and have to say that in this case, big brand name doesn't make it better. For more information, retail locations or to order, visit RailRiders website.
Lindsay Taub is a writer/editor, producer and photographer covering travel, lifestyle, culture, arts, food, health, and all facets that make life a journey. She calls Los Angeles home when she's there, but prefers to leave the city for the mountains and open spaces as often as possible. She loves cooking, gardening, live music, hiking with her three rescue dogs, and nothing beats cheese and wine during a spectacular sunset. If you can't find her, she's trekking through a jungle, seeking a seeker, admiring wildlife, or on a plane, quite possibly jumping out of it when the adrenaline junkie is at her best. Follow her on twitter @lindsaytaub58.