As any mendocino will tell you in words and wild hand gestures, quality is not something that can be rushed. In the cradle of the crackling Andes, where the air is thin and the sun is intense, a slow and measured approach has helped Mendoza, Argentina, mature into one of the world's finest places to unwind. Pours of the famed malbec are heavy, and the moment is always ripe for a meandering argument about proper asado technique.
I came to love Mendoza and its opinionated eaters in October, when I was hosted at the InterContinental Wine Expo (see below) at the InterContinental Mendoza (from $119/night). Carve out a week to see it for yourself, knowing these 14 things before you leave. First, a primer of Mendoza basics:
Where is Mendoza?
The name Mendoza designates both the seventh-largest of Argentina's 23 provinces and that province's capital, a wine-loving city of 100,000. It sits a half-mile above sea level, where the air is thin and prickly. To its west the land lists skyward with the first ripples of the Andes. To the east are low, sun-flattened wilds. Further east, it is 13 hours driving to Buenos Aires.
What's the local currency?
The Argentine peso (ARS). $1 USD = ~$44 ARS (today's rate here).
What's the weather like?
Summers (Dec-Feb) bring highs near 90ºF. Winter days (Jun-Aug) rarely dip below 45ºF. The altitude invites sunlight that burns skin quickly. Sensitive physiologies may need a day to acclimatize.
Is English spoken? What's Argentine Spanish sound like?
Functional English is pretty easy to find if you need it, but the primary language in Argentina of course is Spanish. Note that:
The ll is pronounced "zh"/"sh" (not "y") as in calle ("street")
The second-person plural (vos) is used
Che: "hey" or a mark of familiarity when tacked to a sentence
Dale: conveys affirmation or "ready"
Do you need a visa?
For stays in Argentina under 90 days, Americans do not need a visa nor any specified vaccinations.
And now, some more things you might not know about Mendoza:
1. It's one of the best places in the world to drink wine



Mendoza's bodegas (English: "wineries/vineyards") have housed wine genius since the colonizing Spanish arrived clutching vines in the 16th century. With a jolt from a relatively recent surge in global demand for malbec, the landscape today is a wine machine with few equals, generating awards and international investment on the power of its reputation as one of the world's ten Great Wine Capitals. At the end of 2018, it supported nearly 1,000 bodegas—930 of the 1,050 currently producing wine in Argentina—localized in three main regions:
Maipú (~15 minutes for the city): small and the closest to the city
Lujan de Cuyo (~45 minutes driving): home of Mendoza's oldest bodegas
Uco Valley (~75 minutes driving): currently blossoming and one of the highest growing regions in the world
Grapes born in the sun-baked terroir of Andean Argentina grow fat on the same diet of environmental alchemy that is the claim of history's greatest wine regions, from Napa to Tuscany to Bordeaux. The climate is warm and stable. The Andes supply glacier melt and altitude, plus sunlight of intensity and thinned, cushioning air. "It's the same as California without the ocean," in the words of a staffer at Bodega Tapiz, a parallel perhaps drawn too broadly but nonetheless with effect.
Malbec especially has access to the tools it needs to thrive: "Malbec expresses itself very well with broad temperature ranges and calcareous, clayey or sandy soils as those found at the foot of the Andes," writes Wines of Argentina. "These geographic and climatic features make Argentine Malbec stand out particularly for the quality of its tannins: sweet, silky and mouth-filling."
Drink more than malbec: The primary varietals in Mendoza are malbec (red) and torrontes (white) in that order. Others to try: cabernet sauvignon (red), merlot (red), cabernet franc (red), bonarda (red), syrah (red), chardonnay (white), sauvignon blanc (white), and viognier (white).
A week spent in Mendoza is years short of enough time to taste it all, but it's a start. Plucked from the 930 bodegas you'll have to choose from, here are ten to visit in the three regions of distinction. Consider contacting each at least a month in advance to ensure there's tour availability and space at the table (nearly all serve food).
Getting between wineries: Bus Vitivinícola runs hop-on/hop-off coaches with plush seats over the hills between wineries every day but Monday. You can pay for a full-day (up to four vineyards) or half-day (up to two) seat and build an adventure around the bus schedule. Note that most vineyards will charge an entrance fee not included in your bus pass.
2. Malbec is king…and was once a French grape



Mendoza is the single best place on Earth to drink malbec. The harmony between geography and grape is unchallenged, a delicious truth, and that is why 90% of the malbec-growing vineyards in the world's top malbec-producing country have propped up operations atop its soil.
But once, that was not true. The malbec grape was previously known as the cot grape and native to southwestern France. In the 1850s, a French agronomist packed up a handful and dropped them at the feet of the Andes on a government assignment. The grape responded remarkably well, and then phylloxera razed the French winelands, and suddenly the world had shifted. "This was when the great difference began," says one French winemaker now working in Argentina. "The French were replanting with an inferior quality cot, whereas Argentina became a treasure trove of…supreme cuttings [brought over by the agronomist]."
World Malbec Day: April 17 is World Malbec Day.
3. Good asado is the height of food

A seriousness grips Argentines on the subject of asado, which as a word refers to the grilling of meats and the culture around for christ's sake not rushing the grilling of that meat. Sunday most of all is a day to slow-cook carne (generally "beef"), plus pork sausage and thick vegetables to taste, at home, as the malbec pours. For mendocinos of envy, this may happen indoors on a smoke-stained grill installed in a kitchen wall. The same seriousness creeps into Argentine restaurants, including in Mendoza, and so a cut of meat with racks of fire-roasted vegetables is almost without fail a good order. I was told more than once that Francis Mallman's Siete Fuegos, noted below, is one of the best places to eat asado in Mendoza. Closer to the city center, El Asadito is another winner.
Asado is not barbecue: From The Real Argentina, "The fastest way to make enemies in Argentina is to compare the asado to a barbecue. It's the same, right? No, the locals will tell you, through gritted teeth, it is not the same. Your gas-fueled blow-torching of conveyor-belt beef patties has nothing in common with our sacred asado. They've got a point. Asado is cooking in its purest form—just fire, grill and meat—so it's important that you get it right. Otherwise, you've got yourself a barbecue."
4. Fernet con Coca is cheap and popular
Fernet is an herbal, licorice-flavored bitter alcohol that arrived in Argentina on a wave of immigration from Italy more than a century ago. It's not for everyone, but it is everywhere. In a fernet con Coca (literally: "fernet with Coke"), Fernet Branca, king of the fernet brands, is poured with Coca-Cola on ice in 1:1 proportion. It's sipped through straws across the country once the sun is up and until long after it's slipped over the horizon. You may not like it as much as I did, but it's almost always cheap, and it has a place atop the boulevard-side tables of Mendoza's leafy Avenue Arístides Villanueva.
5. For a beer, you should go with Quilmes

On a warm day in Mendoza, you'll see cans of Quilmes, named after a neighborhood in Buenos Aires, flickering royal Argentine blue in the sun. The classic lager pairs well with a lomito, a sandwich built of thin steak, lettuce, tomato, onion, chimichurri sauce, a fried egg, and cheese.
6. Francis Mallman has two restaurants in Mendoza
The name of Argentina's most famous chef is stamped upon an entire school of open-fire cooking technique, as well as two places to eat truly outstanding meat:
1884, Belgrano 1188, Godoy Cruz, Mendoza
Siete Fuegos, Ruta Provincial 94 (km 11), Tunuyán, Uco Valley, Mendoza
7. Alfajores Super Roly are very good
Alfajores are sandwich cookies built of two buttery, corn-starch (maicena)-laden biscuits and a sweet filling that is most often dulce de leche. They are beloved in Argentina, and if you look for them, you'll find them everywhere, bagged in crinkly plastic in supermarkets (like Discos), at gas stations, at roadside retailers en route to the Andes…
Super Roly's famously good alfajores were once sold by an enterprising man on a bike. In 2019 this man's (Andrés Neculqueo) operation bakes in ovens of a different scale, and packs of his fluffy, lemon-accented alfajores are stuffed 12 to a bag, each sticky with dulce de leche and rolled in coconut. Pull a pack off a shelf somewhere.
Make alfajores at home: The New York Times offers a recipe here.
8. There are llamas
Outside of South America, llamas are sometimes thought of as exotic, cartoonish beasts. In Argentina, the landscapes of the high plains and steppes are practically draped in them, overstocked, tangled in fluffy clumps of boring old llamas. The area encircling Mendoza is therefore a place to see them, including at wineries like Bodega Tapiz, where 45 on-property llamas idle like dopes for visitors.
Llamas v. alpacas: Llamas and alpacas (and lesser-known cousins guanacos and vicuñas) share an ancestry but are not to be equated. In short: The llama is larger than the alpaca and has longer ears, a longer face and slightly coarser fur. This is a pretty comprehensive guide if you want to go deeper on this.
9. It hugs the Andes…
West of Mendoza, the topography of Argentina goes brilliantly haywire. In this direction, the province sits flush with the Chilean border and its underlying logic: the mighty Andes, which for 25 million years have drawn the contours of life in west-central Argentina. Mendoza, therefore, is a city of foothills, valleys, and premonitory undulations. It is a final port of call for journeys into the oceanic toil of the longest mountain range on Earth.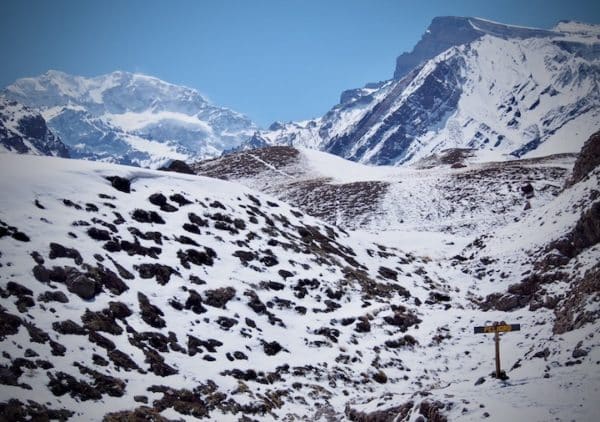 10. …and is a half-day trip from South America's tallest mountain
At 22,841 feet, Aconcagua's (top-left, above) is the highest peak in the Western Hemisphere. Summiting is a non-starter for all but serious mountaineers. To see it, however, you must only wind your way west from Mendoza toward the Andes along Route 7 on a clear, non-winter day. I took the photo above not 50 feet from the slow creep of mountain traffic, a mingling of sightseeing vans and commercial trucks, and maybe three hours from the InterContinental Mendoza.
In Aconcagua Provincial Park, you may hike toward base camp (which is about a six-hour return trip) or, with less time, haul a camera about an ancient sprawl of wilderness which the likes of Viator and Kahuak bombard with tours. Consider renting a car and driving to the park ($300 pesos to enter or $20 pesos to walk to the trailhead) as Goats on the Road did.
11. The air will dry out your sinuses
In the thin and dry pre-mountain air, my sinuses were put through the ringer. Two days in Mendoza (never closer to sea level than 2,449 feet) returned at least seven of leaky nose grief. In the context of Mendoza's many joys I feel that is a good exchange rate, but that said, hydration is essential if you are to maintain proximity to good health, to say nothing of sobriety in this city-sized barrel of malbec. You might consider bringing a portable humidifier like this one.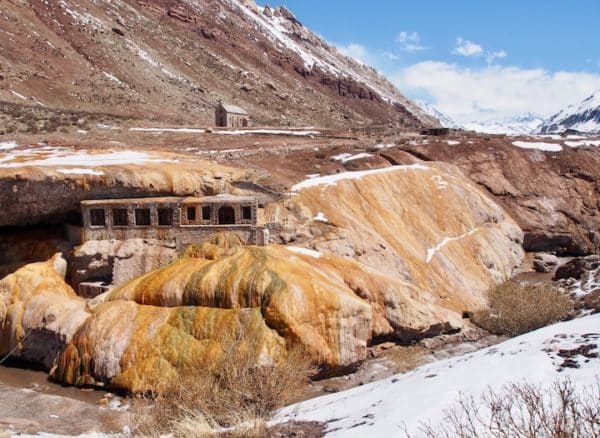 12. Puente del Inca is weird and worth a stop
About 120 miles west of Mendoza city limits is a bizarre splash of melted orange known as Puente del Inca. Once, this was a spa of famed and healing hot springs. A towering spring flood of snowmelt later squashed the operation. Today, it is a ruin of recent history glazed in shimmering minerals that crowns a road stop off Route 7, not far from an Aconcagua viewpoint. Hand-sewn clothes and wares are for sale just outside of frame above, as are frosty cans of Quilmes and hot lomitos. Atlas Obscura has more here.
13. From the U.S., the best flights connect in Panama City
The four-gate airport serving Mendoza, Argentina, is Governor Francisco Gabrielli International (MDZ), which sits beside a vineyard. In the months of the growing season—roughly October to April—it is possible to walk from the rickety baggage carousel at MDZ into rows of ropey green and wrap your fingers around tight, fat grapes sucking down sun.
Out-of-country direct flights to MDZ arrive from Bolivia, Brazil, Chile, Panama, and Peru. Not one, as of 2019, links the United States directly to Mendoza. If you're flying from the U.S., Panama-based Copa Airlines runs daily flights from 13 U.S. cities that connect once in Panama City (PTY), no airport transfer necessary (see the next item on this list), and continue on for 6.5 more hours to Mendoza's vineyard-side airport. Here are those 13 U.S. cities:
Boston
Chicago
Denver
Fort Lauderdale
Las Vegas
Los Angeles
Miami
New Orleans
New York City
Orlando
San Francisco
Tampa
Washington, D.C.
Getting to Mendoza from the airport: In the absence of a hotel shuttle (the InterContinental team arranged my transport), a taxi from MDZ to the city center will run you around $10 U.S. Uber is available in Mendoza, as well.
14. Connections in Buenos Aires require a change of airports
More than a dozen daily flights drop into Mendoza from Buenos Aires, most of them operated by Aerolíneas Argentinas. Runway to runway, the trip is an hour and a half. American travelers are therefore commonly routed to Mendoza via the wonderful capital. Though less direct than the Copa Airlines trip through Panama City, if you covet time in Buenos Aires to see its world-best bookstore or whatever, this routing makes some sense.
But here's the thing: On the B.A. side, flights to/from Mendoza are anchored at domestic-only Aeroparque Jorge Newbery Airport (AEP). International flights, meanwhile, fly to/from Ministro Pistarini International Airport (EZE). A journey of nearly 25 miles separates the two. If either leg of your journey between Mendoza and the U.S. hinges around a short B.A. connection, you'll have to budget time and pesos (here's a transfer service) to cover those 25 miles between flights.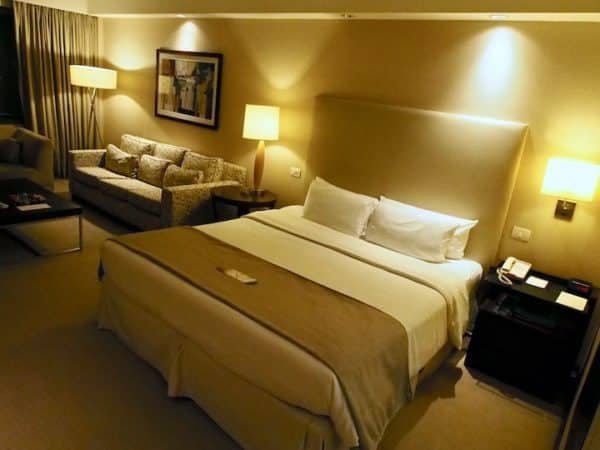 Where to stay
As noted above, rooms at the InterContinental Mendoza start at $119/night. Buses run to and from a street adjacent to the hotel and the huge mall/shopping center (with ATMs) that sits on its hip. Inside, the amenities meet the threshold set by the InterContinental brand worldwide. The beds are soft and cozy.
Maybe the best reason to stay at the InterContinental Mendoza, however, is that the hotel plays host to the annual InterContinental Wine Expo each fall (in 2018, it ran October 11-12). A one-day pass (it's a two-day event) returns access to more than 100 Argentine winemakers and more than 400 labels, which you can attempt to drink before morning out of the provided glass, 4oz or so. The pass comes with ten tear-off drink tickets, but when I motioned to hand one over for my first pour, I was waved off. A guy I didn't know slapped me on the back and told me to pocket my passes and "Have fun." Later in the evening, we spoke about asado for about 25 minutes over empanadas in the food hall. It is a truly great event.
---
For more on the InterContinental Mendoza, visit intercontinentalmendoza.com.