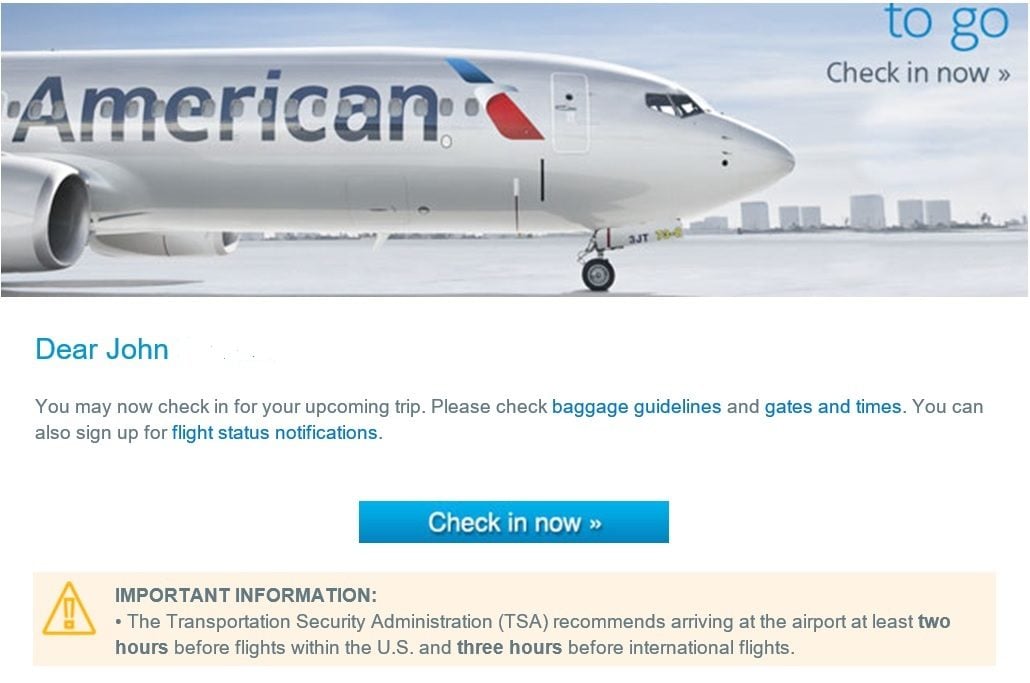 How Early Should You Show Up to the Airport?
Without a doubt, you've heard about the horrors of the TSA security checkpoint lines. Everyone is up in arms, including the airlines who are losing a lot of money as tens of thousands of their customers continue to miss flights. Now, when you get your 24-hour check-in reminder, the airlines tell you (at least American Airlines does; see screenshot above) that: "The Transportation Security Administration (TSA) recommends arriving at the airport at least two hours before flights within the U.S. and three hours before international flights."
I personally think it depends on what airport, terminal, day, and time you're flying. If you have TSA PreCheck or Clear and the lane is open, you don't have to show up that early. If you're flying out of small airports like Aspen's in the off-season—like I did a few days ago—two-hours early is way too early. I arrived an hour early and it was still too much time.
However, if you're flying out of Chicago's airports during a busy travel period (there will be many this summer) and you don't have PreCheck, two hours might not be enough (see this video). So factor in all the many variables when making your travel plans. I always ask multiple locals in the area I'm flying out of what they recommend. All that said: Make sure you don't cut it too close because it's better to be safe than sorry!
____________________________________________________________
Tried this tip? Let me know in the comments!
Have your own tip? Email it to whitney@johnnyjet.com!
Want to see more tips? Click here for all 695!
Want even more travel tips? Subscribe to the Daily Travel Tip newsletter! All you have to do is sign up for the weekly newsletter by filling in your email address and checking the Daily Travel Tip box in the top-right corner of the homepage.
If you already subscribe to the newsletter, fill in your email and check the Daily Travel Tip box in the same top-right corner of the homepage and you'll receive an email with a link to update your JohnnyJet.com preferences. On that page, just click the Daily Travel Tip box and Update Profile and you'll have Johnny's best tips, straight to your inbox each day. And don't worry—it's easier than it sounds!