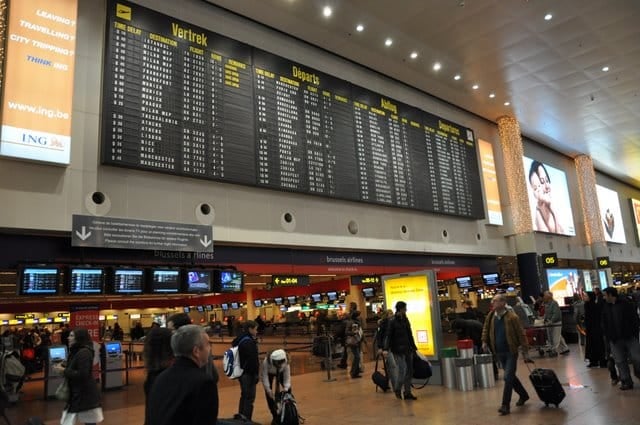 Brussels Reaction & Resources
My wife and I are in Amsterdam, which is only 126 miles (204 kilometers) from Brussels, and we heard about the terrible attacks from our uberX driver. Everyone is obviously upset and thinking about the victims and their families. As our driver said, it can happen anywhere, so anywhere in the world it's important to be constantly on guard and aware of your surroundings.
I wrote a post shortly after the December Paris attacks with information that's very much relevant to Brussels, or any city for that matter. God forbid you're ever in a city where there's a terrorist attack, the advice should help: What to Do in a City Where There's Been a Terrorist Attack.
More on today's events:
The US government advises…
"The US Embassy reminds U.S. citizens that Belgium is at a threat rating of Level 4, or 'serious and imminent attack.' Such events can take place with little or no notice; therefore U.S. citizens are urged to:
Be aware of local events
Follow local authority instructions
Monitor local media further developments and
Take the appropriate steps to bolster your personal security"
The UK government advises…
"You should stay away from crowded places and avoid public transport at this time. The Belgian Crisis Centre has given the Belgian telephone number 0032 2753 7300 for concerned family/friends or 1171 for general enquiries."
Sign up for UK travel advisories
I also advise signing up for email updates from the UK's foreign travel advice page relating to any country you're going to or currently in. It's very helpful, with up-to-the-minute advisories, safety-related news and more. I subscribe and only didn't see their alert this time because I wasn't checking my emails as frequently as I normally do.
If you're in Brussels
As reported by Mashable, the "Belgian government is asking its citizens not to stream music and videos in an effort to avoid slowing down the Internet after Tuesday's attacks at an airport and metro station." Elsewhere, Belgian Prime Minister Charles Michel has urged people in Brussels to "stay where they are."
If you're flying out of, into or through BRU (Brussels Airport)
Brussels Airport is closed, and it will reopen at 6 am local time tomorrow. If you have scheduled flight in or out of Brussels, check with your airline for status updates. American Airlines just issued a travel policy for customers with reservations to Brussels who wish to change their itineraries. Customers booked for travel March 22 and March 23 may request a refund, select an alternate airport or reschedule travel through April 5. It looks like most airlines are offering similar options, which are laid out in this USA Today story.
I hope these tips are useful. If you have any other suggestions, please leave a comment below.
____________________________________________________________
Tried this tip? Let me know in the comments!
Have your own tip? Email it to whitney@johnnyjet.com!
Want to see more tips? Click here for all 640!
Want even more travel tips? Subscribe to the Daily Travel Tip newsletter! All you have to do is sign up for the weekly newsletter by filling in your email address and checking the Daily Travel Tip box in the top-right corner of the homepage.
If you already subscribe to the newsletter, fill in your email and check the Daily Travel Tip box in the same top-right corner of the homepage and you'll receive an email with a link to update your JohnnyJet.com preferences. On that page, just click the Daily Travel Tip box and Update Profile and you'll have Johnny's best tips, straight to your inbox each day. And don't worry—it's easier than it sounds!