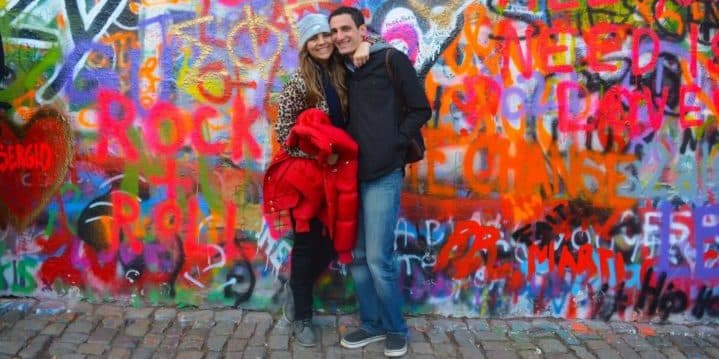 Want to know how to travel in style, just like the pros? We check in with frequent fliers to find out how often they fly, their favorite destinations and what they never leave home without.
Name: Steven Kreimendahl
Occupation: Digital media master and travel writer
Hometown: Boston, MA
College: University of Colorado Boulder/IE University
College major: Jewish Studies and Journalism/Masters in Visual and Digital Media
Website: traveltoblank.com
Twitter: @traveltoblank
Facebook: Travel to Blank
Instagram: traveltoblank
Pinterest: Travel to Blank
YouTube: Travel To Blank
Short bio: Steven was born and raised in Boston, MA. He has traveled extensively around the United States, hitting all 50 states before he was 23. He graduated from the University of Colorado Boulder with degrees in Jewish Studies and Journalism-News/Editorial. In 2016 he received a Masters in Visual and Digital Media at IE University in Madrid, Spain. Steven has many passions that has lead to his traveling lifestyle; hiking, history and red eyes. His favorite way to get to know a new city or culture is over a local beer.
How often do you fly? It really depends on my travel plans, sometimes I fly every weekend, other times it is one flight every two months.
How many countries have you been to? I have been to approximately 42. I also visited all 50 US states before turning 23!
How many continents have you been to? 4; North and South America, Europe and Asia.
Favorite American city: There is no greater city than Boston!
Favorite international city: One international city that really surprised me with how vibrant it is was Budapest.
Country with the meanest immigration officers: The hardest time I had getting through immigration was in Bogota, Colombia, when visiting my wife's cousin.
Aisle or window: Window for sure! Never have to get up for someone going to the bathroom and you can use the wall for a headrest.
Favorite travel credit card: Right now I only use the Bank of America Travel Rewards card, there is no yearly fee and no foreign transaction fee!
Favorite National Park: My favorite National Park in the US has to be Acadia. Its beautiful landscapes always change with the season and it is never too busy.
5 things you bring on a plane: Phone charger, water bottle, camera, travel notebook and a pen.
What do you always seem to forget? I always seem to forget my bathing suit and if I do remember, then I forget my regular shorts! I can never seem to get it right.
What do you like least about travel? The middle seat on an airplane!
Favorite travel app(s): I like Google Trips as it keeps all my reservations and trip plans all in one place, pulling them automatically from my email! At the same time it offers things to do in the area based on my interests.
Worst travel moment: Having our passports and camera stolen has to be the worst travel moment so far. Our passports had our Schengen visa, so we had troubles for the rest of our trip!
What's your dream destination? My dream destination would be a long-term trip to Bali. If I could get remote work that allows me to work from there, I would not mind calling Bali home for a few months!
Best travel tip: Never be afraid to ask a local for help with anything, if you are lost, looking for food, want to learn more of the culture or just a recommendation. Travel books and websites are great, but no one knows the destination better than those who live there!