Want to know how to travel in style, just like the pros? We check in with frequent fliers on useful resources, favorite destinations and what they never leave home without.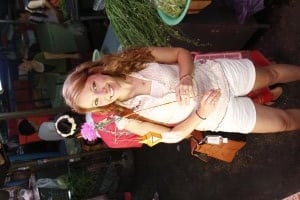 Name: Rachelle Lucas
Occupation: Freelance Writer and TV Spokesperson
Hometown: Laurel, Maryland
Residence: Orlando, FL
Website: TheTravelBite.cm
Twitter: @TravelBlggr  
Facebook: Facebook.com/TravelBlggr
Pinterest:  The Travel Bite 
YouTube: The Travel Bite 
Short Bio: Rachelle is a writer, spokesperson, and travel videographer. She believes the best way to learn about a destination is through its flavors and collects recipes from her trips to recreate them here on The Travel Bite.
As a former innkeeper, Rachelle learned to cook by practicing with chefs she met while managing social media marketing for multiple bed & breakfasts. Rachelle's breakfast blog, Inn The Kitchen, was recognized 5 times as one of FoodBuzz.com's Top 9 Featured Publishers. Her success through social media led to even more opportunities including working for the Travel Channel as a video journalist and appearing as a guest chef on the Home Shopping Network and the syndicated morning show, DaytimeTV.
She's currently the Food and Dining Insider for Visit Florida and in her spare time loves running.  Rachelle's completed the New York City Marathon, The Marine Corps Marathon, and has her sight set on running in the Chicago Marathon in 2013.
How often do you fly: Once or twice a month.  Last month (November) has been a whirlwind though … 8 destinations in 22 days.
How many countries have you been to:  25.  Also, driven across the US to follow the cycling race, Race Across America, and circumnavigated the globe in 22 days on assignment for The Four Seasons.
How many continents have you been to:  5 – Still need to visit South America and Antarctica.
Favorite American city: San Francisco.  I love the food, the culture, and the proximity to Napa Valley and Muir woods.
Favorite International city: Ooooh, that's a tough choice to pick just one.   I love visiting Rome, but I could easily see myself living in Girona or Cape Town.
Least favorite country: India. I loved it, but it's an exhausting assault to the senses.
Favorite World Heritage Site:  iSimangaliso Wetland Park.  It was South Africa's first World Heritage Site and was my first safari experience, so it has a special place in my heart.  There's a variety of wildlife to see as it has the open plains, wetlands, and the ocean.  During a night safari, we watched a giant leatherback turtle make a nest in the sand dunes … it was spectacular!
Favorite airline: Jetblue, Lufthansa
Favorite aircraft type: Haven't flown it yet, but the  Boeing747-8 looks spectacular!  Love the "lounge"
Aisle or window: Window
Favorite airport lounge:  I don't really have a favorite lounge, but I'm really appreciating the mini spas and sleep pods that are popping up everywhere!
Favorite U.S. airport:  Orlando (MCO).  Probably because I know it so well that I can get in and out quickly.  It's also refreshing to come home.  Least favorite is Philly.  Man that airport is a disorganized hot mess.
Favorite international airport:  Vancouver.  Beautiful artwork and free wifi.
Favorite hotel: The Fours Seasons.  Anywhere.
Favorite cruise line: I need to cruise more often!  I've only been on Carnival and Holland America … so I'll have to test out a few more before I pick a favorite. ;)
Favorite island: Amelia Island.  I got married there.
Favorite fancy restaurant: Oh, there are so many.  Depends on where I am.  Back home in Orlando, it's Seasons 52.  I also LOVE Salt at The Ritz-Carlton, Amelia Island.  Also, the Ravenous Pig in Orlando.  There's actually a lot of great food in Florida, so it'd be hard to pick just one.  Internationally, it would be Cellar De Can Rocca in Girona, Spain.
Favorite hole in the wall: Bikes, Beans, & Bordeaux.  It's a small little cafe in Orlando that great for a quick bite and great wine.
Favorite fruit:  Mangosteen or raspberries
Favorite food: Thai food
Least favorite food: Fried American
Drink of choice (In the air and on the ground):  Gin and Tonic with lime.
Favorite travel movie(s): The BBC Planet Earth series, The Way, Under The Tuscan Sun
Favorite travel show(s): Pretty much anything on the Discovery Channel. I miss Samantha Brown's shows on the Travel Channel.
Favorite travel book(s): The Geography of Bliss, From Paris To The Past
Right now I am reading: Deepak Chopra, The Spontaneous Fulfillment of Desire
Top 3 favorite travel newsletters/magazines: National Geographic, Travel + Leisure,
Favorite travel website(s) – besides JohnnyJet.com, of course!:  MatadorNetwork.com, WhyGo.com, and TravelOregon.com (Love the look and feel of this site.  Plus I've been on it quite a bit for trip planning)
Five things you bring on a plane:  I actually make a little "plane kit" that I bring with me when I travel.  It's got more than five things, but the must-have's are lip gloss, Emergen-C, pashmina, hand lotion, grapefruit essential oil scented anti-bacterial wipes (They're uplifting.
What do you always seem to forget:  A nail file.
What do you want your loved one to buy you from an airport duty free store? Coco Chanel.  It's my favorite perfume.
Favorite travel iPhone app(s): The ones I use all the time are Currency Calculator and World Clock.  Word Lens is pretty fascinating too.  It translates signs through photos.
Most embarrassing/worst travel moment: Thought I had ordered two waters in Italy, and instead got two eggs.  Also, I was once taped screaming obscenities while riding an ostrich in South Africa.  Looking back at the video, I can laugh about it now.
What's your dream destination: Internationally, I'm really jonesing to explore South America since I've never been.  Buenos Aires, Bariloche, Mendoza Valley.  I'd like to take Argentine tango lessons, perfect my spanish, and finish the evening with a  churrasco and a fine Chilean or Mendoza Valley Wine. Domestically, Portland, Oregon.  I've never been and it seems to have everything my husband and I love … great food, wine, outdoor sports, and cycling.
Favorite travel charity: Rebuild Globally.  It was started by a friend and fellow UCF alum to help the people of Haiti after the earthquake by creating employment and educational opportunities.  She's looking to expand it into other distressed communities. You can check it out at RebuildGlobally.org.
Best travel tip:  Pack some patience and bring an open mind.  If you surrender to the moment you'll be pleasantly surprised.