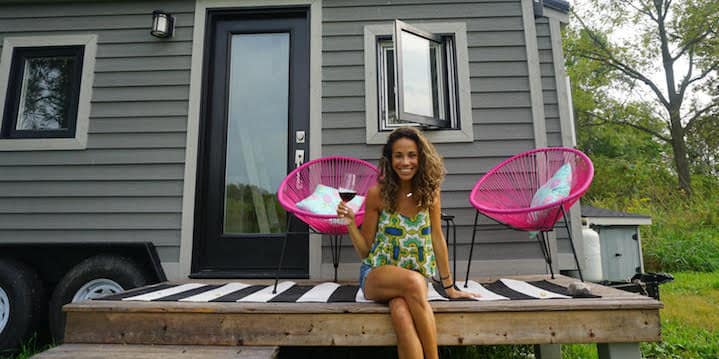 Want to know how to travel in style, just like the pros? We check in with frequent fliers to find out how often they fly, their favorite destinations and what they never leave home without.
Name: Natalie Preddie
Occupation: Travel writer & on-air personality
Hometown: Toronto, Ontario, Canada
Residence: Toronto, Ontario, Canada
College: Goldsmiths College, University of London
College major: English Literature
Website: nattyponline.com
Twitter: @_nattyp
Facebook: The Adventures of Natty P
Instagram: _nattyp
Short bio: I am a new mom to a beautiful baby boy who already shares my love of adventure. From travelling solo in my early years, to travels with my husband later on, I now capture my growing family's adventures on my blog and through pictures on social media. From backpacking to luxury resorts, I have travelled to over 30 countries and look forward to visiting many more with baby in tow. I have worked with Visit Jamaica, Magical Kenya, Four Seasons Resorts, Island Expeditions, and Visit California to name a few, and am currently focusing on the best way to travel and enjoy the world with baby. I am a Sunwing Kidcations Expert and a Huggies #nobabyunhugged mom ambassador. I have been featured in: Toronto Star – Star Touch magazine – PAX magazine – Travel & Style – Travel + Leisure – Drops – CityLine – The Baby Post – CAA magazine – Sunwing Kidcation Expert Panel – CHCH Morning Live – Daytime Ottawa.
How often do you fly? Monthly to bi monthly (with my one-year-old son).
How many countries have you been to? 33
How many continents have you been to? 4
Earliest travel memory: Arriving in Heathrow Airport in London, England, with my mum visiting my aunt.
Favorite American city: New York City.
Favorite international city: London, England.
Least favorite country: China.
I have no desire to go to: New Zealand.
Friendliest people in the world: Canadians.
Country with the meanest immigration officers: USA…Can I say that?
Favorite World Heritage Site: Tower of London.
Aisle or window: Window (for sleeping).
Favorite international airport: Heathrow Terminal 5.
Favorite hotel: So many for so many different reasons: One of my top three is Four Seasons Scottsdale.
Favorite travel credit card: TD Infinite Visa.
Favorite island: Jamaica.
Favorite beach: Sauble Beach, Ontario, Canada.
Drink of choice (in the air and on the ground): Red wine in the air but a gin in the airport beforehand.
Favorite travel movie(s): The Beach, Out of Africa, Shirley Valentine.
Top 3 favorite travel newsletters/magazines/blogs: Travel + Leisure, Conde Nast Traveler, Air Canada enRoute.
Favorite travel website(s)—besides JohnnyJet.com, of course! Ones where I can book a flight!
5 things you bring on a plane: Headphones, diapers, wipes, scarf/blanket, water.
What do you always seem to forget? A pen for immigration forms.
What do you like least about travel? Waiting.
What do you want your loved one to buy you from an airport Duty Free store? Whisky.
Favorite travel app(s): Trip Case, Kayak, Expedia.
Most embarrassing travel moment: When my electric toothbrush went off in my suitcase at the airport and airport staff thought I had a vibrator in my suitcase.
I'm embarrassed I haven't been to: India.
Worst travel moment: When I was held up on the Burmese/Thai border and peed my pants.
What's your dream destination? South Africa.
Best travel tip: Be flexible!