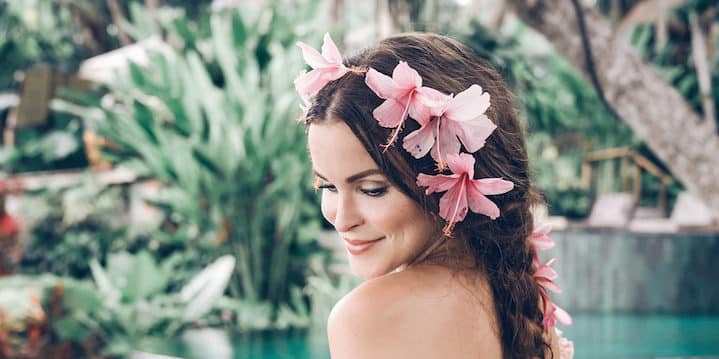 Want to know how to travel in style, just like the pros? We check in with frequent fliers to find out how often they fly, their favorite destinations and what they never leave home without.
Name: Misha Gillingham
Occupation: Luxury travel blogger, social media influencer and host of the Wildluxe Luxury Travel Show
Hometown: Malibu, CA
Residence: I split my time between Seattle, WA and Ojai, CA
College: FIDM—Fashion Institute of Design & Merchandising
College major: Fashion business management
Website: wildluxe.com
Twitter: @Wildluxe_Misha
Facebook: Misha Gillingham
Instagram: wildluxe_misha and luxury_travel_show
Pinterest: WILDLUXE MISHA
YouTube: Wildluxe Luxury Travel Show
Short bio: Misha Gillingham is the owner and operator of Wildluxe, a top luxury travel blog featuring the world's most unique and beautifully designed resorts, vacation villas and yachts. She's also the creator and host of the video-only Luxury Travel Show on Instagram. Not only is Misha the presenter, the writer, the photographer, the model, and the creative planner of her blog and show, but she's also a wife and mother to two teenage daughters and two big German shepherds. When she isn't on location filming a video tour, you can bet that she's planning the next one! You can also catch Misha on TV as a luxury travel expert on a new TV show called Great Escapes, now airing on NBC.
How often do you fly? Every other week.
How many countries have you been to? I lost count after 70…
How many continents have you been to? All except for Antarctica.
Earliest travel memory: Traveling to India with my mother as a child.
Favorite American city: New York.
Favorite international city: Hong Kong.
Least favorite country: I have a great amount of appreciation for almost all countries.
I have no desire to go to: North Korea.
Friendliest people in the world: Canadians.
Country with the meanest immigration officers: Haha! USA!
Favorite World Heritage Site: Taj Mahal.
Favorite airline: Delta.
Favorite aircraft type: A380.
Aisle or window: Aisle.
Favorite airport lounge: Dubai Emirates First Class.
Favorite U.S. airport: Santa Barbara because of its ease.
Favorite international airport: Dubai.
Favorite hotel: Aman Resorts.
Favorite cruise line: I prefer private yachts =)
Favorite travel credit card: Amex Centurion.
Favorite island: Isle of Pines.
Favorite beach: White Bay, Jost Van Dyke.
Favorite National Park: Canyonlands, Serengeti, Banff.
Favorite fancy restaurant: There are so many! Probably somewhere in Tokyo!
Favorite hole-in-the-wall: Any vegan or vegetarian spot, such as Araya's in Bellevue, WA.
Favorite airport restaurant: Real Food Daily in LAX.
Favorite bar: Cliff in Barbados, Coco Maya in Virgin Gorda, Baccarat Bar NYC.
Favorite fruit: Passionfruit–I could eat 10 in one sitting!
Favorite food: Ethiopian and Indian food.
Least favorite food: Basil, I'm allergic—and meat since I don't eat it.
Drink of choice (in the air and on the ground): Tequila mule on the ground, water in the air.
Favorite travel movie(s): Life of Pi.
Favorite travel show(s): Wildluxe Luxury Travel Show, of course!
Favorite travel book(s): I like to read guidebooks.
Right now I am reading: I don't have time to read fiction—I mostly read about travel destinations and gear.
Top 3 favorite travel newsletters/magazines/blogs: Travel + Leisure, National Geographic.
Favorite travel website(s)—besides JohnnyJet.com, of course! TripAdvisor…forever looking at hotel reviews!
5 things you bring on a plane: Chapstick, laptop, compression socks, moisturizer, sanitizing wipes.
What do you always seem to forget? To be honest, I've got my packing down to a science, so I rarely forget much :)
What do you like least about travel? Flying in economy.
What do you want your loved one to buy you from an airport Duty Free store? Camera gear!
Favorite travel app(s): Google Maps so I don't get lost!
Most embarrassing travel moment: Probably when I walked out of the airplane restroom with my dress tucked into the back of my underwear!
I'm embarrassed I haven't been to: Morocco.
Worst travel moment: Getting stuck in customs for hours, resulting in multiple missed flights. Ugh!
What's your dream destination? Patagonia, Chile, or New Zealand.
Favorite travel charity: Amson Education Center.
Best travel tip: Life's one big adventure! Let the journey be the destination!