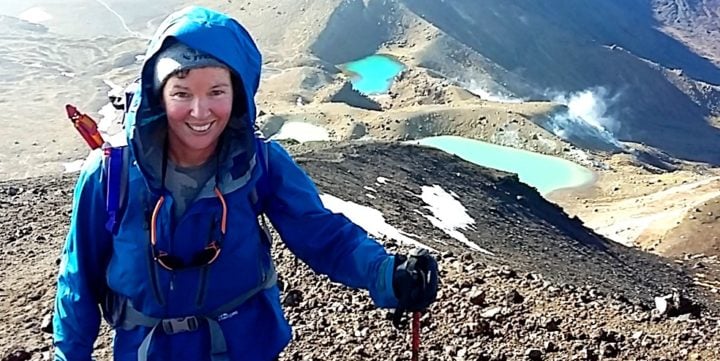 Want to know how to travel in style, just like the pros? We check in with frequent fliers to find out how often they fly, their favorite destinations and what they never leave home without.
Name: Mary Jane Walker
Occupation: Writer
Hometown: Queenstown, NZ
Residence: New Zealand
College: Auckland University
College major: Politics and History
Website: a-maverick.com
Twitter: @Mavericktravel0
Facebook: A Maverick Traveller
Instagram: a_maverick_traveller
Pinterest: A Maverick Traveller
Google+: A Maverick Traveller
YouTube: A Maverick Traveller
Short bio: Mary Jane Walker is a writer of historically well-informed travel memoirs that come with an autobiographical flavour. Mary Jane first experienced world travel as part of the crew on a small Chinese junk named La Dame de Canton, on a heroic voyage from Canton (now Guangzhou) to Paris where it is now a floating restaurant. She has published five travel memoirs and three more are forthcoming.
How often do you fly? About fifteen times a year.
How many countries have you been to? Seventy-one.
How many continents have you been to? All of them apart from Antarctica.
Earliest travel memory: Camping.
Favorite American city: Detroit.
Favorite international city: St. Petersburg.
Least favorite country: New Caledonia, because of the racism of the settlers.
I have no desire to go to: Nauru, where the Australians have their detention centre.
Friendliest people in the world: Sherpas.
Favorite World Heritage Site: Matera, in Italy.
Favorite airline: Qatar Airways.
Favorite aircraft type: Airbus A380.
Aisle or window: Window.
Favorite airport lounge: Dubai (Etihad).
Favorite U.S. airport: Honolulu.
Favorite international airport: Tokyo.
Favorite hotel: Capsule hotels in Japan.
Favorite cruise line: Any boat with sails.
Favorite travel credit card: Mastercard.
Favorite island: Cuba.

Favorite beach: San Sebastián/Donostia, in northern Spain.
Favorite National Park: Te Urewera, in New Zealand.
Favorite fancy restaurant: The Sherwood, in Queenstown, New Zealand.
Favorite hole-in-the-wall: Anything local.
Favorite airport restaurant: Anywhere that sells sushi.
Favorite bar: Ink Bar, Auckland, New Zealand.
Favorite fruit: Oranges.
Favorite food: Japanese.
Least favorite food: Meat pies.
Drink of choice (in the air and on the ground): Piña colada.
Favorite travel movie(s): The Hangover, I, II and III. Cheech and Chong.
Favorite travel show(s): Cirque du Soleil. Travelling indigenous musicians. Stephen Fry, Billy Connolly and Joanna Lumley. 
Favorite travel book(s): Bill Bryson. Books by people travelling in their own country.
Favorite travel music: The Bob Dylan albums "Highway 61 Revisited" and "Slow Train Coming."
Right now I am reading: The poet Hera Lindsay Bird's self-titled book (2016).
Top 3 favorite travel newsletters/magazines/blogs: I research recent blogs on countries I plan to visit, but I do not follow particular bloggers.
Favorite travel website(s)—besides JohnnyJet.com, of course! Lonely Planet threads but not so much anymore. Couchsurfing.com contacts are also very useful, but I do not couch surf, I just say hello to the contacts.
5 things you bring on a plane: E-reader, glasses, smartphone, pen, book.
What do you always seem to forget? Phone charger.
What do you like least about travel? Long flights from New Zealand to almost anywhere else.
What do you want your loved one to buy you from an airport Duty Free store? Roses.
Favorite travel app(s): Travel Visa.
Most embarrassing travel moment: When a contraceptive device fell out of a bag that broke at Heathrow. Put anything like that inside an opaque wrapper!
I'm embarrassed I haven't been to: Antarctica.
Worst travel moment: Missing a flight to India because I had no visa in Japan.
What's your dream destination? Hiking with tigers and elephants in Uttar Pradesh.
Favorite travel charity: Greenpeace.
Best travel tip: To be in the moment and enjoy what is there, free of distractions, perhaps in the manner made famous by Oliver Wendell Holmes Sr.'s famous paragraph on the joys of not being interrupted during a daydream on a train.