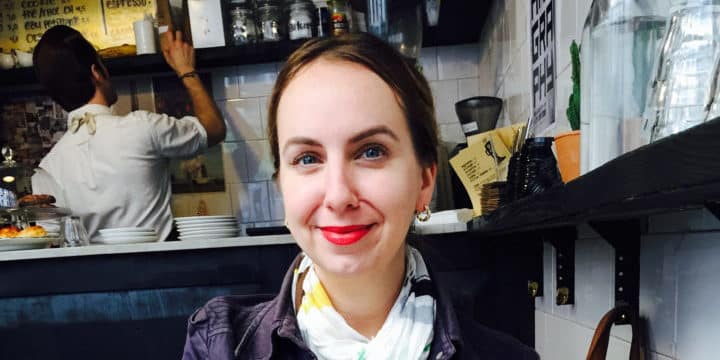 Want to know how to travel in style, just like the pros? We check in with frequent fliers to find out how often they fly, their favorite destinations and what they never leave home without.
Name: Laura Motta 
Occupation: Director of Publishing at ShermansTravel
Hometown: Haverhill, Massachusetts
Residence: NYC
College: Emerson College
College major: Journalism
Website: ShermansTravel.com
Twitter: @guttersniper 
Facebook: ShermansTravel
Instagram: lauramariamotta
Pinterest: Laura Motta
Short bio: Laura Motta had lived in NYC for five years when she quit her life and moved to Paris. While she was in Europe, she cultivated a taste for macarons, got sunburned on many French and Italian beaches, and became obsessed with traveling artfully—and frugally. Before coming to ShermansTravel, where she is currently the Director of Publishing, she worked as an editor at Everyday Health and iVillage. She hails from Massachusetts.
How often do you fly? About 20 times a year.
How many countries have you been to? More than 20, less than 30…
How many continents have you been to? 5
Earliest travel memory: Spending the summer in the New Hampshire lakes region with my family.
Favorite American city: New Orleans.
Favorite international city: London.
Least favorite country: Thailand, but it wasn't Thailand's fault.
I have no desire to go to: I would go anywhere under the right circumstances. I'm sure pretty much everyone says that, right?
Country with the meanest immigration officers: The United States.
Favorite World Heritage Site: The Sagrada Familia in Barcelona.
Favorite airline: Delta.
Favorite aircraft type: A380.
Aisle or window: Window, always.
Favorite airport lounge: The Virgin Atlantic Lounge at London Heathrow and the Qatar Airways business class lounge in Doha.
Favorite U.S. airport: JFK, but only Terminals 4 or 5.
Favorite international airport: Seoul Incheon.
Favorite hotel: The Park Hyatt, Place Vendome, Paris.
Favorite cruise line: So far, Celebrity or Viking Ocean.
Favorite travel credit card: Delta Amex.
Favorite island: Sardinia.
Favorite beach: Balos Beach, Crete.
Favorite National Park: Joshua Tree.
Favorite fancy restaurant: Restaurante Fasano in Sao Paulo.
Favorite hole-in-the-wall: Iggy's on the Lower East Side, NYC, or El Batey in San Juan, Puerto Rico.
Favorite bar: The lobby bar at any Ace Hotel.
Favorite fruit: Watermelon.
Favorite food: Pasta.
Least favorite food: Anything squash—or pumpkin-ish.
Drink of choice (in the air and on the ground): Sparkling anything…
Favorite travel movie(s): Not really travel movies per se, but I love movies that are strongly evocative of place—The Talented Mr. Ripley; Tinker, Tailor, Soldier, Spy; Jiro Dreams of Sushi.
Favorite travel show(s): Old episodes of Rick Steves' Europe Through the Back Door are my ultimate not-that-guilty pleasure.
Favorite travel book(s): For U.S. cities, I'm obsessed with the Wildsam travel guides right now. I love the almanac-style format, and that they include essays about local history and culture. Plus, they look so pretty. I like The Hunt Guides, too.
Right now I am reading: "The Man Who Loved Children" by Christina Stead, which has nothing to do with travel and is totally depressing.
Top 3 favorite travel newsletters/magazines/blogs: Monocle, Travel+Leisure, and the travel features in Elle Decor.
Favorite travel website(s)—besides JohnnyJet.com, of course! ShermansTravel! I also love Tablet Hotels, Design Hotels, and I obsessively use Pinterest to organize travel ideas.
5 things you bring on a plane: Earplugs, Xanax, a wool shawl that's as big as a blanket, at least three things to read, and a tube of red lipstick.
What do you always seem to forget? An international converter. I have four now because I've had to keep re-buying them.
What do you like least about travel? That airlines work very hard to give you very little.
What do you want your loved one to buy you from an airport Duty Free store? Jo Malone French Lime Blossom and a Bottega Veneta Intrecciato bag, please.
Favorite travel app(s): The Delta app, TripIt, HotelTonight.
Most embarrassing travel moment: Realizing I never fully confirmed my reservation at a beautiful boutique hotel in Corsica, so I had to stay at its shady "sister property" across the street in a room with no windows. 
I'm embarrassed I haven't been to: Iceland.
Worst travel moment: Fighting with a friend in front of the Alhambra because I thought he was taking too many selfies. Also, I had food poisoning on the day I visited the Taj Mahal.
What's your dream destination? Right now, Sri Lanka or Albania.
Favorite travel charity: Delta's SkyWish program.
Best travel tip: Starbucks almost always has wifi. Even if it's after-hours, just stand outside and tweet away.