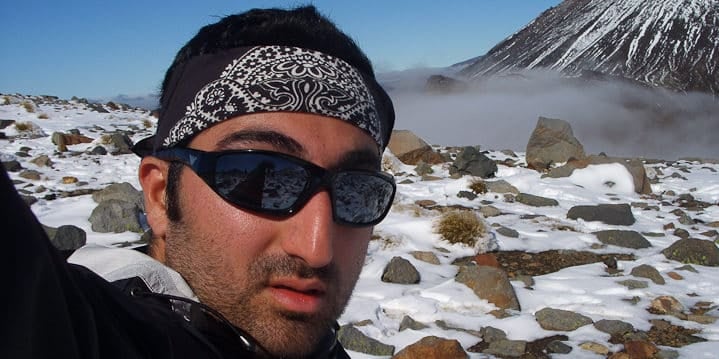 Want to know how to travel in style, just like the pros? We check in with frequent fliers to find out how often they fly, their favorite destinations and what they never leave home without.
Name: Kav Dadfar
Occupation: Professional Travel Photographer
Hometown: London
Residence: Surrey on the outskirts of London
College: University of Arts London
College major: Art Direction and Information Design
Website: dadfarphotography.com
Twitter: @DadfarPhoto
Facebook: Dadfar Photography
Instagram: dadfar_photography
Short bio: I'm a professional travel and landscape photographer. Having spent my formative years working as an art director in the world of advertising, I loved nothing more than photography and travelling and so after a round-the-world trip decided to pursue my real passion. My images are represented by stock agencies such as 4Corners Images, Robert Harding World Imagery, Getty, Axiom Photographic, and Alamy and they have been used by clients such as Condé Nast, National Geographic, Wanderlust travel magazine, Lonely Planet, American Express, Daily Mail, Sunday Times Travel, and many more. I'll also be featured in the upcoming "Travel Photography Notebook" (Kickstarter here).
How often do you fly? Quite a few times a year.
How many countries have you been to? 4
How many continents have you been to? 50+
Earliest travel memory: Going to Istanbul with my parents when I was about seven.
Favorite American city: Austin, Texas.
Favorite international city: London (or Bangkok).
Least favorite country: Can't think of anywhere I have been to that I didn't enjoy.
I have no desire to go to: There is nowhere I don't want to visit.
Friendliest people in the world: Thai.
Country with the meanest immigration officers: USA.
Favorite World Heritage Site: Angkor Wat, Cambodia.
Favorite airline: British Airways.
Favorite aircraft type: Boeing 787.
Aisle or window: Window.
Favorite airport lounge: London Heathrow Terminal 5.
Favorite U.S. airport: Hawaii.
Favorite international airport: Bangkok.
Favorite hotel: Anywhere that I can get a good night sleep and good Wi-Fi.
Favorite travel credit card: American Express.
Favorite island: Fiji.
Favorite beach: Any from the Gold Coast in Australia.
Favorite National Park: Blue Mountains NP in Australia.
Favorite fancy restaurant: Ruth's Chris Steakhouse.
Favorite hole-in-the-wall: Street food stand in London's markets.
Favorite bar: Labua in Bangkok.
Favorite fruit: Kiwi.
Favorite food: Pizza.
Least favorite food: Not a huge fan of avocado.
Drink of choice (in the air and on the ground): Whisky—either neat or with a splash of ginger ale.
Favorite travel movie(s): The Secret Life of Walter Mitty.
Favorite travel show(s): Sacred Rivers with Simon Reeve.
Favorite travel book(s): "Along The Enchanted Way."
Right now I am reading: Lonely Planet guide to Chile.
Top 3 favorite travel newsletters/magazines/blogs: Wanderlust travel magazine, Sunday Times Travel magazine, Nat Geo Traveler.
Favorite travel website(s)—besides JohnnyJet.com, of course! Lonely Planet, Rough Guides.
5 things you bring on a plane: Headphones, pain killers, sleeping pills, a pen, and comfortable clothes for long haul flights.
What do you always seem to forget? I don't forget anything, I'm meticulous in my packing.
What do you like least about travel? Having to come home.
What do you want your loved one to buy you from an airport Duty Free store? Good whisky.
Favorite travel app(s): Hotels.com, Google Maps, Apple Wallet.
Most embarrassing travel moment: First night trying to work out how to hook up power to my campervan in Australia.
I'm embarrassed I haven't been to: South America.
Worst travel moment: Not being able to find a hotel in Australia one night and having to drive for hours in scary weather conditions until 3am before finding somewhere.
What's your dream destination? I have so many…anywhere in South America, Antarctica, Everest base camp.
Best travel tip: To just book it and go…