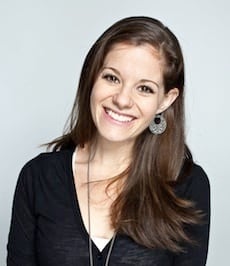 Want to know how to travel in style, just like the pros? We check in with frequent fliers to find out how often they fly, their favorite destinations and what they never leave home without.
Name:  Jodi Ettenberg
Occupation:   Writer, curator, photographer and marshmallow eater.
Hometown:  Montreal, Quebec, Canada
Residence:  Nomadic.
Website: Legal Nomads
Twitter: @legalnomads
Facebook: Facebook.com/LegalNomads
Pinterest: Jodi Ettenberg
Bio: Jodi Ettenberg is the founder of Legal Nomads, which chronicles her ongoing travels and transportation misadventures. Prior to founding Legal Nomads in 2008, Jodi worked for five years as a corporate lawyer in New York. She is currently eating her way around the world, one country at a time.
How many countries have you been to: 55 or so
How many continents have you been to:  6
Favorite American city:  New York
Favorite international city:  Bangkok, Istanbul, Beijing, Quito
Least favorite country:  None. Like people, even countries you don't initially like deserve a second chance :)
Favorite World Heritage Site: Too many to list out!
Favorite airline:  Being celiac, I'd go with Turkish Airlines – they've got the best gluten-free airplane meals I've tried.
Aisle or window: Aisle
Favorite airport lounge:  Porter Airlines, because it's accessible to anyone flying the airline.
Favorite U.S. airport:  Rarely fly in and out of the States other than JFK and I'm not a huge fan of the delays there.
Favorite international airport:  Singapore's Changi, Amsterdam's Schiphol, Seoul's Incheon.
Favorite hotel:  Mingalar Inn, in Inle Lake, Myanmar. Owned by a lovely family, they greet you with lemon juice when you come home from the markets and a bird crapped on my 2x whilst I was staying there so it has to be a good luck location! ;)
Favorite island:  Not technically an island, but El Nido's peninsula on the Bacuit Bay has a string of absolutely gorgeous tiny islands nearby, with karst rock jutting out of the water. If you want to go island hopping, it's an excellent place to do it.
Favorite fancy restaurant:  Not as fancy as others, but well more so than my usual street eats when I'm in Thailand: Soul Food Mahanakorn in Bangkok, a great place serving authentic Thai dishes with some killer signature cocktails to accompany the eats. Owned by a great food writer and chef, Jarrett Wrisley: http://soulfoodmahanakorn.com/.
Favorite hole in the wall:  Just about any Asian street stall your taxi driver ate at for breakfast. You can never go wrong.
Favorite fruit:  Mangosteens.
Favorite food:  I'm pretty obsessed with a lot of difference foods, but I'd say primarily with spices as something to take the ordinary – a basic egg – and transform it into a myriad of wonderful things, just by virtue of those added spices and tastes. It makes the world of food an endless loop of possibilities.
Least favorite food:  Olives. I don't have a tattoo, but if I ever got one I'd want it to be an olive with a red line through it. I've tried eating them in all variations, around the world, and I can't stand them. I'm a lost cause :)
Favorite travel show(s): A tie between Planet Earth and Frozen Planet.
Favorite travel book(s): A Fortune Teller Told Me, by Tiziano Terzani and Shark's Fin and Sichuan Pepper by Fuchsia Dunlop.
Five things you bring on a plane:  Earplugs, music, laptop, book and neck pillow.
What do you always seem to forget:  Deodorant! Happily it's something I can buy just about anywhere. (Happily for those who are stuck around me, that is ;)
Most embarrassing/worst travel moment: The time in Myanmar where I was wearing a traditional Burmese longyi (a long skirt, essentially a large tube of fabric which is twisted around you and tucked in at the waist to fasten), and stood up in a boat full of Pa-O tribesmen in Inle Lake. The skirt got stuck on a nail in the boat and dropped straight to the ground, giving all of the tribesmen behind me a view they will probably not ever get again. Or forget. Let's just say I started carrying safety pins shortly thereafter.
What's your dream destination: There are a few! A trek around Mount Kailash in Tibet, getting to Antarctica (especially after watching Frozen Planet!), exploring the culture in Bhutan, seeing the Northern lights in Norway, etc. I think they're more dream experiences, because any destination can be wondrous once you start learning about the history and culture behind how and why people do what they do.
Favorite travel website(s) – besides JohnnyJet.com, of course!:  For photography, The Atlantic's In Focus blog is a treat, curating the best of photography around the world in one cohesive theme per post. For food history, I love Smithsonian Mag's Food and Think blog. And I'm a contributing editor to Longreads and our just-launched Travelreads channel, highlighting longer form travel narrative on the web. It's a really exciting project, focusing on all aspects of travel writing – fiction and non-fiction – and for me, a source of travel-specific wonder on the web.
Best travel tip: If you want to eat street food as much as I do and are worried about getting sick, a good tip is to bring your own set of portable chopsticks – oftentimes the food is perfectly safe but the cutlery less so. This is a great way to get the best of all worlds!