Want to know how to travel in style, just like the pros? We check in with frequent fliers to find out how often they fly, their favorite destinations and what they never leave home without.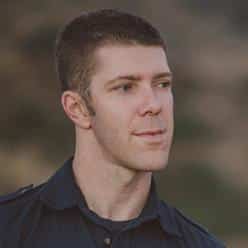 Name: J.P. Hoornstra
Occupation: Sports/travel writer
Hometown: Cupertino, California
Residence: Los Angeles
College: UCLA
College major: Psychology
Website: allpuck.com, astonishmediagroup.com, conwayconfidential.com
Twitter: @jphoornstra
Facebook: J.P. Hoornstra

Pinterest: jphoornstra
Google+: J.P. Hoornstra
Instagram: jphoornstra
YouTube: J.P. Hoornstra
Short bio: Within five years after graduating from UCLA in 2003, I was covering the NHL for nine newspapers, had written about sports and travel for several national periodicals, and was credited as a musician on the same LP as two of the original Doors. Over the years, I've interviewed a range of subjects that include rapper Snoop Dogg, entertainment mogul Peter Guber, director Peter Berg, actor Kiefer Sutherland, several Hall of Fame athletes, and experts in medicine, psychology, architecture and business. Currently based in Los Angeles, I cover the Dodgers and Major League Baseball for the Los Angeles News Group. I also curate AllPuck.com and edit content for other Astonish Media Group properties including Conway Confidential, A Delicious Dish and Green Bride Guide.
How often do you fly? Three or four times a year.
How many countries have you been to? Nine.
How many continents have you been to? Four.
Earliest travel memory: Driving coast to coast with my family at 6-years-old.
Favorite American city: San Diego.
Favorite international city: Munich.
Least favorite country: Mexico.
Country with the meanest immigration officers: U.S.
Favorite World Heritage Site: Machu Picchu.
Favorite airline: JetBlue.
Favorite aircraft type: Any 18-seater that doesn't fly too high or too far.
Aisle or window: Aisle.
Favorite airport lounge: Lufthansa Lounge, JFK airport.
Favorite U.S. airport: SFO.
Favorite international airport: Munich.
Favorite hotel: Lapa Rios Ecolodge, Costa Rica.
Favorite cruise line: I've never cruised.
Favorite travel credit card: I'm not a fan of credit cards.
Favorite island: Australia.
Favorite beach: Carmel (California) State Beach.
Favorite fancy restaurant: Cip's Club at the Hotel Cipriani, Venice (Italy).
Favorite hole-in-the-wall: Wat Dong Moon Lek, Los Angeles.
Favorite bar: Thirsty Crow, Los Angeles.
Favorite fruit: Bananas.
Favorite food: Breakfast.
Least favorite food: Processed junk food or candy.
Drink of choice (in the air and on the ground): Water (air) or coffee (ground).
Favorite travel movie(s): Pee-Wee's Big Adventure.
Favorite travel show(s): Star Trek: The Next Generation.
Favorite travel book(s): "Gulliver's Travels."
Right now I am reading: "The Fight of Their Lives" by John Rosengren.
Top 3 favorite travel newsletters/magazines/blogs: National Geographic, Fodors, and The New York Times travel blog.
Favorite travel website(s)—besides JohnnyJet.com, of course! Airbnb, TripAdvisor, ConwayConfidential.com (of course!).
5 things you bring on a plane: A good book and good music. That's it, really. I try to fly light.
What do you always seem to forget? Hair gel.
What do you like least about travel? Not sleeping in my own bed.
What do you want your loved one to buy you from an airport Duty Free store? Something I can't get in Los Angeles.
Favorite travel app(s): Airbnb.
Most embarrassing travel moment: Leaving my passport at home. (Twice.)
Worst travel moment: Same.
What's your dream destination? Israel.
Favorite travel charity: I don't have a favorite travel charity per se, but when the neighborhood students come to my door selling candy or subscriptions so they can go to Washington D.C., I always chip in. I didn't have that when I was in grade school.
Best travel tip: Read up on your destination beforehand, and make each trip count as if you'll never go back.