Want to know how to travel in style, just like the pros? We check in with frequent fliers to find out how often they fly, their favorite destinations and what they never leave home without.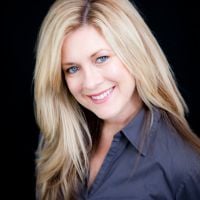 Name:  Heather Poole
Occupation:   Flight attendant  / author of the book Cruising Attitude: Tales of Crashpads, Crew Drama and Crazy Passengers at 35,000 feet
Hometown:  Plano, Texas
Residence:  Los Angeles, California
Website:  HeatherPoole.com
Twitter:  @Heather_Poole
Facebook: My fan page is where I post airline related news and information.  Sometimes I'll post public updates on my regular page, but those mainly revolve around my life on the ground.
Pinterest:  I still don't get it.  But I keep trying.  Last week I pinned two recipes to my page, bringing it to a grand total of four pins.
Bio:  Flight attendant, wife, mother, blogger, NEW YORK TIMES BEST SELLING AUTHOR! (It still doesn't feel real, not even with the caps.)
How often do you fly:  Not as often as I'd like.  I'm a "commuter" (I live in LA but I'm based out of New York), so I try to work as many hours with the airline as I possibly can in a short amount of time. My husband, a frequent flier, travels over 100,000 miles each year for business.  We have a five year old son.  Because our families live in different states, we don't have anyone to lend a helping hand when we're both traveling at the same time.  Someone has to stay home and take care of The Kid and that someone is usually me.  I'm lucky to have a flexible job.  Sometimes it feels like we're playing a game of tag – YOU'RE IT!  Off one of us goes to the airport.  As a family we try to make the most of long weekend getaways.  Once a year we take a week long vacation.
How many countries have you been to: Somewhere around 25, I think.  I've been flying domestic routes for the last five years.  After getting stuck in Switzerland for two weeks during 9/11, it became important to me to be able to jump in a car and drive home if need be.  I don't need something like an Ash cloud keeping me away from home for too long while my son is so young.
How many continents have you been to:  Four.
Favorite American city:  Carmel.  It's romantic, relaxing, and a fairly short flight from Los Angeles.  For excitement nothing beats New York City!
Favorite international city:  I don't really have a favorite city. But my favorite country is Italy.  Give me any city in Italy and I'll be happy.
Least favorite country:  Anywhere women don't have equal rights.
Favorite World Heritage Site:  Statue of Liberty. (Is that one?)
Favorite airline:  Cathay.  Sadly I've never flown with them before, but I know they're an amazing airline based on what I've heard from passengers over the years. My husband once sent me a two page email describing in great detail the food that was served in first class on a flight from Los Angeles to Hong Kong.
Favorite aircraft type:  777.
Aisle or window:   Windows on overnights.  Aisles any other time.
Favorite airport lounge:  Flight attendants aren't allowed inside the airport lounges.  Otherwise we might camp out – and never leave!
Favorite U.S. airport:   MIA.  For me it's all about the (Cuban) food during a long sit between flights.  And the coffee, you can't beat the cafe con leche in Miami! Miami also has some of the best people watching in the world!
Favorite international airport:  London Heathrow.  I can't even begin to describe the feeling I get when I'm sitting on the crew van and we're driving around on the tarmac between all these gigantic airplanes from all around the world, some I've never even seen before in my own country.
Favorite hotel:  Bryant Park Hotel in NYC.
Favorite cruise line:  I've only been on two cruises.  That's it.  But check back with me again this summer and I'll let you know if I survived the Disney cruise my in-laws booked for the entire family.
Favorite island:  Oahu.  The flying time is the same as the LA to New York route, except after a five hour flight (and an hour long drive to the other side of the island) you're in paradise.
Favorite fancy restaurant:  The word "fancy" throws me off.  Recently I had dinner at Pipa Tapas Bar in Manhattan and loved it.  I can't wait to go back. I also now have this strange desire to decorate my home with dozens of crystal chandeliers.  If you've been there, you know what I'm talking about.
Favorite hole in the wall:   This week it's Pho PCH in Redondo Beach.
Favorite fruit:  Bananas don't always travel well, so I have to go with the orange. It makes an airplane smell soooo good!
Favorite food:  Chips and salsa with a side of guacamole.
Least favorite food:  Airplane food.
Favorite travel movie(s):  The Lover had me dreaming about crossing the Mekong River wearing gold lame heels and a fedora hat for years.
Favorite travel show(s):  House Hunters International.  Whenever I watch that show I always find myself wondering why I don't live there!
Favorite travel book(s): The Old Patagonian Express by Paul Theroux.  It inspired me as a writer.  I love character driven books.
Five things you bring on a plane:  1. Bottled water.  2. Bottled water.  3.  See #'s 1 & 2. I buy it in the terminal once I pass through security.  It's worth the price if you're traveling on a long flight in coach.  4. A laptop  5.  Snacks. Lots of them.  These days traveling by air is a lot like being on an episode of Survivor.
What do you always seem to forget:  My iPhone charger.  Does it come as a surprise to learn I know where most Apple stores are located in several cities nationwide.  And yes, I do check lost and found to see if I can "borrow" a charger before hitting the pavement.  No one ever returns an iPhone charger.
Favorite travel iPhone app(s): Besides Apple locator, FlightTrack and Hotel Tonight?  Instagram.  I follow photographers who inspire me to travel.  A few of my favorites include Toshio04, Jamievesay, Lax2Nrt, and Umetaturou. Umetaturou has a Border Collie named Sora who poses with all kinds of crazy things on top of her head. From a can of soup to a Darth Vader alarm clock, I start my day by checking in with Sora to see what's she posing with next. One day I'm going to fly to Japan and walk that dog on the streets of Tokyo – or wherever she lives in Japan.
Most embarrassing/worst travel moment:  The heel of my shoe broke off while running from gate to gate in the Chicago airport. It was day one of a two-day, multiple-leg trip.  I'd forgotten to pack my flats, so it was either hobble around or wear running sneakers with pantyhose and a skirt.
What's your dream destination: I've always wanted to rent a huge house with a beautiful garden in Tuscany – and never leave.
Favorite travel website(s) – besides JohnnyJet.com, of course!:  Gadling.com for giving me "a voice" and the opportunity to connect with people around the world who are interested in not only travel, but the lives of flight attendants.
Best travel tip: You don't have to go far to "travel." Travel is really just about seeing and experiencing new things, going outside your comfort zone, getting away from your day to day routine.  If all you can do is travel to the next town to check out a new restaurant, park or museum, go for it!  Life is about creating memories. I truly believe that's the secret to youth, too.