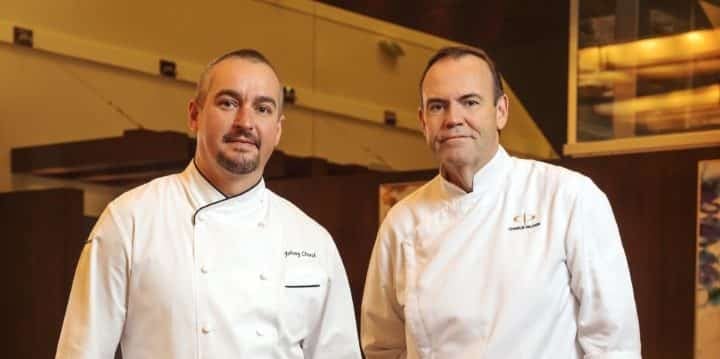 Want to know how to travel in style, just like the pros? We check in with frequent fliers to find out how often they fly, their favorite destinations and what they never leave home without.
Name: Chef Charlie Palmer
Occupation: Chef, Hotelier – Charlie Palmer Group
Hometown: Smyrna, New York
Residence: Healdsburg, CA; New York, NY
College: Culinary Institute of America
College major: Culinary Arts
Website: charliepalmer.com
Twitter: @charliepalmer
Facebook: Chef Charlie Palmer
Instagram: chefcharliepalmer
YouTube: Charlie Palmer
Short bio: Since the beginning of his celebrated career, master Chef and hospitality entrepreneur Charlie Palmer has received critical acclaim for his signature Progressive American cooking, a style built on rambunctious flavors and unexpected combinations with a lasting infusion of classical French cuisine. Charlie Palmer's upbringing on a farm in upstate New York, along with his education in various kitchens in France and at The Culinary Institute of America, provided him with the inspiration to strike out on his own. In 1988, he made a significant commitment to creating dishes featuring regional American ingredients at his sublime Aureole, originally situated in a historic townhouse off Manhattan's Madison Avenue and now in a spectacular new location in the heart of New York City's radiant theater district.
Over the years, Palmer combined his creative cooking spirit and flair for business to open dozens of notable restaurants across the country (including Aureole in Las Vegas, four outlets of Charlie Palmer Steak, along with a fifth on the way in downtown Napa in 2017, Dry Creek Kitchen in Healdsburg, CA, and Harvest Table in St. Helena, CA). Palmer also oversees a growing collection of award-winning boutique hotels, including Hotel Healdsburg in Sonoma County and Harvest Inn in Napa Valley, and is the author of six cookbooks, including his newest, "Charlie Palmer's American Fare."  
How often do you fly? Weekly, sometimes several times a week
How many countries have you been to? 20+
How many continents have you been to? 5
Earliest travel memory: Traveling to France and Italy when I was in my early 20s cooking.
Favorite American city: New York.
Favorite international city: Paris.
Friendliest people in the world: Belgians.
Favorite World Heritage Site: Italy, Vatican, Rome.
Favorite airline: JetBlue.
Favorite aircraft type: Airbus A380.
Aisle or window: Aisle.
Favorite airport lounge: United Lounge in Newark.
Favorite U.S. airport: SFO, Virgin Terminal.
Favorite international airport: Charles de Gaulle.
Favorite hotel: Le Bristole in Paris.
Favorite cruise line: Seaborne—I did the food for them for many years.
Favorite travel credit card: United Mileage Plus, Visa.
Favorite island: FIJI, Castaway Beach.
Favorite beach: Cooper's Beach, LI.
Favorite National Park: Yosemite.
Favorite fancy restaurant: Jean Georges.
Favorite hole-in-the-wall: Mary's Fish Camp.
Favorite bar: Spyglass.
Favorite fruit: Honeycrisp apples.
Favorite food: Squab.
Least favorite food: Fiddlehead ferns.
Drink of choice (in the air and on the ground): On the ground: my version of a negroni; good champagne in the air.
Right now I am reading: "The House of Mondavi."
Top 3 favorite travel newsletters/magazines/blogs: AFAR, Condé Nast Traveler, Travel + Leisure; Skift for trade.
Favorite travel website(s)—besides JohnnyJet.com, of course! The Points Guy.
5things you bring on a plane: iPad, Bose headphones, chapstick (I really like the kind they give you on JetBlue), sweater, Chex Mix.
What do you always seem to forget? I always leave my iPad on the plane—it's happened too many times; I often forget to travel with my phone charger.
What do you like least about travel? Waits in airports.
What do you want your loved one to buy you from an airport Duty Free store? Good cologne.
Favorite travel app(s): My assistant, Meredith.
Most embarrassing travel moment: I used to fly National to Las Vegas. They only had about three planes and it was always the same flight team, so I knew everyone. The flight attendant put something in the oven that caused it to malfunction and smoke. I got up out of my seat, tore it out of the oven and doused it with water. Everyone applauded!
I'm embarrassed I haven't been to: Chile.
Worst travel moment: Flying to Brazil with Daniel Boulud. We got into a huge fight on the plane, I can't remember specifically why. We've since made up.
What's your dream destination? Tokyo.
Favorite travel charity: I don't know about travel charities; but one of the top charities I support is New York's Citymeals on Wheels. They travel with meals to the homes of homebound elderly every day.
Best travel tip: Be patient.