Want to know how to travel in style, just like the pros? We check in with frequent fliers to find out how often they fly, their favorite destinations and what they never leave home without.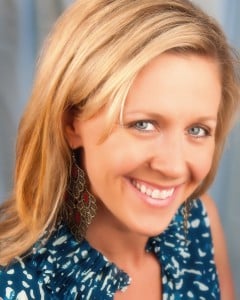 Name: Anne Taylor Hartzell
Occupation: storyteller, PR/social media guru, family travel expert.
Hometown: Portland, Oregon
Residence: Seattle
Website: Hip Travel Mama
Twitter: @hiptravelmama
Facebook: Hip Travel Mama
Pinterest: Hip Travel Mama
YouTube: Hip Travel Mama
Short Bio: Anne Taylor Hartzell is a travel expert and founder of HipTravelMama, a blog connecting families to extraordinary travel experiences, hip hotels and inspiration with a stylish twist. A mom of two, her other "day" job includes more than 15 years experience managing PR and social media campaigns and as a spokesperson for brands such as Starwood Hotels and Resorts, Expedia, Farecast, Bing and Room 77 and hoteliers seeking to connect with moms and families. Anne was part of the team to launch Bing and ran communications for Farecast leading up to the acquisition by Microsoft. Anne is a frequent travel guest expert and has appeared on more than 30 news outlets across the country including; The TODAY Show, Q13 FOX News, KING 5 News, CNN.com, CNTraveler.com.
How often do you fly: I fly 2-3 times a quarter with family or for business. As a family, we typically take between 12-15 trips a year on average.
How many countries have you been to: 10+ and planning a round-the-world trip to put more stamps on our passports now that our kids are older.
How many continents have you been to: 3
Favorite American city: New York City – the energy is incredible!
Favorite international city: Rome, Italy
Least favorite country: Not sure I have a least favorite – so many countries to explore, so little time in the family calendar.
Favorite World Heritage Site: The Acropolis, Greece
Favorite airline: Virgin
Favorite aircraft type: I actually love small planes. When I was little my dad was a pilot and we used to do take-offs and landings in his little Cessna prop plane.
Aisle or window: Aisle – quick access to the aisle for bathroom breaks with kids is critical!
Favorite airport lounge: Unfortunately, at this stage of my travel career, I'm more familiar with the kids play areas in airports than airport lounges.
Favorite U.S. airport: SFO
Favorite international airport: HKG
Favorite hotel: The Willows Lodge, Washington Wine Country
Favorite cruise line: Disney Cruise Line. You can't beat the options for parents, kids and family time!
Favorite island: Maui, Hawaii
Favorite fancy restaurant: French Laundry, Napa Valley
Favorite hole in the wall: Mae Phim Thai Restaurant in downtown Seattle
Favorite fruit: Pineapple
Favorite food: Italian
Least favorite food: Wild game
Drink of choice (In the air and on the ground) Nothing beats a glass of great, red wine.
Favorite travel movie(s): Eat, Pray, Love.
Favorite travel show(s): I used to love watching Zane Lamphrey travel the globe visiting local watering holes in Three Sheets. My latest travel show for a bad case of wanderlust is Anthony Bourdain's The Layover.
Favorite travel book(s): Any travel essays. I love a great travel writer that immerses you in the country and culture.
Right now I am reading: Drive by Daniel Pink
Five things you bring on a plane: Coffee, iPhone, iPad, my Macbook Air, energy bar, and my kids – does that count as five?
What do you always seem to forget: Lip gloss
What do you want your loved one to buy you from an airport duty free store? I love discovering new perfumes when I travel, so when I wear them they remind me of our trip.
Favorite travel iPhone app(s): I use Pandora, Yelp and am obsessed with Camera + when I travel. I use SPG, Expedia and Alaska Air apps for travel planning.
Most embarrassing/worst travel moment: When our oldest daughter was a baby, we were having an incredible dinner in Playa del Carmen and she was sick and threw up on the table. When the waiter returned, we quickly had to take our food to go. You should have seen the disappointment in the waiter's face when we told him.
What's your dream destination: Boat Hotel, Maldives
Favorite travel website(s) – besides JohnnyJet.com, of course!: My heart is still with Bing Travel for airfare search. I also love Expedia for package deals; Jetsetter for destination inspiration and the photos of hotels are incredible
Best travel tip: Every family should make travel a priority. I hear a lot of excuses why families don't take time to travel together; "We can't afford to travel," or "Life is too busy to go anywhere right now," or "We'll travel when the kids are older." But then they go buy that big screen TV or lease that new BMW. Our kids grow quick and all we have is the experience of today. Make every moment, every experience count, expose your kids to the world and it will bless you and your family ten- fold.