Want to know how to travel in style, just like the pros? We check in with frequent fliers to find out how often they fly, their favorite destinations and what they never leave home without.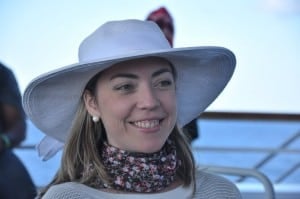 Travel Style: Alejandra Lopez
Occupation: Marketing
Hometown: Caracas, Venezuela
Residence: Miami, Florida
College: University of Arkansas at Little Rock/University of Miami
College major: Marketing, Advertising & Public Relations/Masters of Business – Management
Website: onboard.com
Twitter: @alejalopez
Instagram: alejalopez
Short bio: A true believer that cruising can really make you happy, Alejandra Lopez leads the Onboard.com marketing team as digital marketing manager. With more than 10 years of digital marketing experience in the cruise and travel industry, Alejandra is committed to furthering the message of Onboard.com: There exists a perfect cruise for everyone, and Onboard.com is the place to find your match. When Alejandra is not spearheading media buys, social media strategies, email marketing campaigns, and all other integrated communication initiatives surrounding Onboard.com, you can find her planning her next cruise or cheering on the Trojans of her undergraduate alma mater, the University of Arkansas at Little Rock, where she studied business administration, or the Hurricanes of the University of Miami, where she earned an MBA. Alejandra never misses an opportunity to exercise her passions for digital marketing and travel—Instagramming on cruise ships, checking in at new restaurants, tweeting travel tips—making her a natural fit for her position.
How many countries have you been to? 25+
How many continents have you been to? 3
Earliest travel memory: Disney World, Orlando with my dad and siblings.
Favorite American city: San Francisco in the spring, Cape Cod in the summer.
Favorite international city: Prague.
Least favorite country: Can't say I have one.
Country with the meanest immigration officers: England and Israel.
Favorite World Heritage Site: I've been amazed by many sites: Old City of Jerusalem, City of Cuzco, Machu Picchu, Iguazu Falls. They're all very different and simply breathtaking.
Favorite cruise line: Silversea.
Favorite island: Mykonos.
Favorite beach: Los Roques, Venezuela.
Favorite fruit: Mango.
Favorite food: Seafood, ceviche in particular.
Least favorite food: Hmmmm, can't eat olives.
Drink of choice: Depends on the mood, occasion or time of day. Let's see, morning: coffee. Afternoon: beer. Night: red wine, scotch or dirty martini. It really all depends!
Favorite travel movie(s): Back to the Future.
Favorite travel show(s): Booze Traveler, No Reservations.
Right now I am reading: Ann Patchett: "Bel Canto."
Top 3 favorite travel newsletters/magazines/blogs: Skift, Travel + Leisure, Conde Nast Traveler, WSJ Magazine (even if not travel edition, there's always something about travel in every issue).
Favorite travel app(s): I don't think I have a fav one, it all depends what I'm looking for!
Most embarrassing travel moment: Bounced down 35 stairs in a fully packed restaurant in Athens. Greeks don't believe in regular size steps!
What's your dream destination? I have many, but for now, I'll say French Polynesia.
Best travel tip: Do your research before starting your trip! Nothing beats the feeling of accomplishment of ahhhhh :), I did everything I wanted to do on my trip!