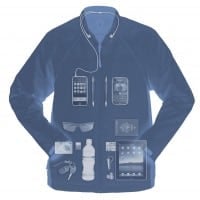 This past week Scott Jordan, founder of Scottevest, was on ABC's hit show Shark Tank. I'm a huge fan of Scottevest because of its innovation and multiple pockets make it ideal for traveling. A couple of days ago Scottevest came out with the Transformer Jacket which is wind and water-resistant and can be rapidly transformed from a lightweight jacket into a vest in just a few seconds.
They use 12 rare-earth magnets that are concealed in the shoulders and sleeves allowing you to simply pull on the material to create a vest. You can then hide the sleeves in a special pocket until you are ready to transform it back into a jacket, just as quickly.
The Transformer Jacket has 20 pockets that are designed to hold things like sunglasses, water bottles, cameras, maps, passports and even an iPad, all without making you look bulky.  It's available in three colors: Blaze (red with black accents), Coal (black with gray accents) and Ash (gray with black accents). Price $160.
FTC Disclosure:  This item was provided by the manufacturer to the author at no cost for purpose of a product review.