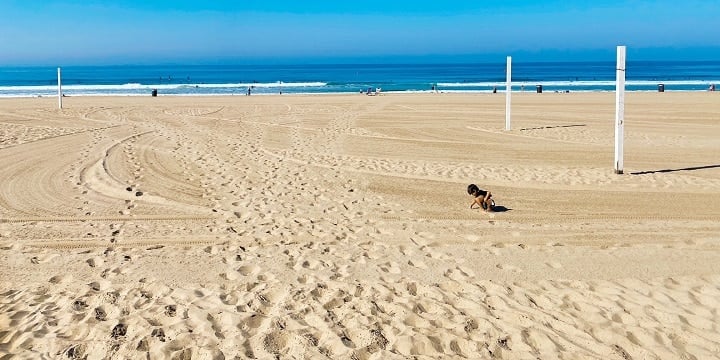 Greetings from hot and sunny Southern California!
It's been like summer here in LA but it's actually been even better than summer since there are very few people on the beach. We went to the beach a couple of times this week so Jack could run around and play with his Surfer Dude toy (it really is the best beach toy for kids). You can check out a video of it in motion riding the waves and find out where to buy it here.
Although the weather is like summer, we still celebrated Canadian Thanksgiving this past weekend, which officially is on the second Monday in October. My wife, who is from Toronto, made a traditional Thanksgiving feast even though we didn't have our Canadian friends and family come over (we gave the leftovers to Jack's former nanny). One thing is for sure: I have a lot to be thankful for, including all of you readers and those who donated to help support my small business. To all of you, my heartfelt thanks.
My mom
Longtime readers will most likely remember the post I shared of my eulogy to my mom. Can you believe this week, marked 20 years? Time is just flying by and there's not a day that goes by that I don't thank God for gracing me with the most amazing mother in the world.
TSA Numbers Jump
I know it wasn't Canadian Thanksgiving that made the numbers at TSA screening checkpoints across the USA jump this past week. You can see all of the data here but in short, four out of five days saw checkpoint volume top 900,000! That's the first time since early March. FYI: The lowest number was on April 14, 2020 with just 87,534 people going through but keep in mind, even though 958,440 sounds high, a year ago on that same weekday, that number was 2,616,771. And as always, the numbers are not just passengers but also account for everyone who goes through security including airport workers and airline crew.
Date      Total Traveler Throughput         Total Traveler Throughput (1 Year Ago – Same Weekday)
10/13/2020               680,894                    2,313,632
10/12/2020               958,440                    2,616,771
10/11/2020               984,234                    2,555,333
10/10/2020               769,868                    2,074,718
10/9/2020                 968,545                    2,688,032
10/8/2020                 936,915                    2,605,291
10/7/2020                 668,519                    2,215,233
10/6/2020                 590,766                    2,035,628
When do you think it will break the one million mark? I thought it was going to be on Sunday but it was 15,000 shy. I'm guessing it won't be until Thanksgiving unless travel to Hawaii has a huge surge.
Airlines That Are Offering COVID-19 Testing
Regarding Hawaii, it opens up TODAY! It will be interesting to see how they fare but sadly, I'm not too hopeful. One thing is for sure: airlines and airports realize that their golden ticket, while awaiting a reliable and effective vaccine, is offering widespread, rapid, accurate COVID-19 testing. That's why they're scrambling to partner with health companies to offer testing, especially when it comes to flights to Hawaii since the islands and many other destinations require proof of a negative reading within 72 hours prior to the final leg of departure. United Airlines was the first to announce testing on flights out of San Francisco International (SFO). The following day, other airlines started offering testing around the country. Here's the list of airlines offering COVID-19 testing and how much they charge.
The Travel Industry Needs to Recruit the NBA Commissioner
I know I haven't been too optimistic about Hawaii being able to remain open to travel but I didn't think the NBA bubble was going to work, either. But boy was I wrong. If the travel industry can recruit their commissioner, Adam Silver, the airports would be packed in no time. What an amazing job he and his team did by hosting 172 NBA games over three months and have ZERO positive coronavirus tests. There were 22 teams and more than 4,000 employees.
A Slice of Hawaii With This Amazing Tool for Slicing Pineapple 
One more Hawaii-related thing: I had a number of readers tell me that I foolishly sent out last week's newsletter with a broken link. I always double- and triple-check everything but I must've missed this one. So here it is again. If you're not comfortable traveling yet or can't make it to Hawaii for health or financial reasons (It will be interesting to see how the first month goes once they reopen), here's a way to enjoy a slice of Hawaii. You just need this amazing and cheap ($7.99) tool for slicing pineapples. A friend turned me on to it and it's so good that I had to tell you about it, even though it's not directly related to travel. Find out more about it here and watch the short video I made demonstrating how to use it.
How to Quickly Find Out What You Can and Cannot Bring on the Plane
You definitely won't be able to carry the pineapple slicing tool I mentioned above in your carry-on. However, there are a lot of items that aren't so obvious for novice and frequent travelers alike. So where can air travelers go to get answers to their questions? Directly to the source. Here's how you can ask the TSA any question and get it answered within minutes (during office hours).
12 Tips for Flying During the Pandemic According to TSA Federal Security Directors
On Tuesday, the Transportation Security Administration (TSA) issued a press release sharing tips to help travelers stay safe, healthy and secure as they arrive at airport security checkpoints. The tips are provided by Federal Security Directors (the top TSA officials at an airport or for multiple airports in a specific state) and the TSA is sharing these expert best practices so travelers can prevent the spread of COVID-19 when they travel. Some tips are common sense, some are mandates and some you might not have known or thought of before. Check out the 12 tips for flying during a pandemic, according to TSA Federal Security Directors here.
American Airlines Updates Their AAdvantage Program For Elites
Well, looky here! It's not very often that an airline updates their frequent flier program and it's full of positive changes. But then again, we're living in unprecedented times. Here they are in a nutshell.
Related: How to Prevent American Airlines Miles From Expiring.
Want To Spend The Winter In Beautiful Anguilla?
Anguilla arguably has some of the most beautiful beaches in the world, at least that I've ever seen. Like some of her sister islands, Anguilla is now going after the Work from Home (WFH) community. The government of Anguilla is inviting you to consider changing your status to WFHiA (Working From Home in Anguilla) and is making an irresistible offer to trade in your humdrum home office for a Caribbean island nirvana – applicants who meet the requirements can work and live in Anguilla for up to 12 months. Here are the details along with the other islands and countries offering people to stay long term.

Travel Hack for Parents: Keep This in Your Toiletry Bag
Last week, I shared some tips on items that I'd recently added to my travel toiletry bag. First was a pulse oximeter, something I'd never really heard of (I know what one is but never knew what it was called) but have added to my toiletry bag after having a few healthcare professionals recommend that everyone have one on hand to measure respiratory levels. The second health tool I recently got is a non-contact infrared thermometer. Here are all the reasons why it's a good idea to have one, especially during COVID times. Here's another item that's handy to have on hand for yourself or especially if you're traveling with kids.
Travel Quote of the Week
"A man travels the world over in search of what he needs and returns home to find it." ~ George Moore
-New card alert! This airline's new credit card earns up to 3x miles, has no annual fee, and has a 20,000-mile bonus offer.
–Credit cards for this major airline include perks like no annual fee, free checked bags, lounge passes, 75k bonus miles, and much more.
–Earn 5x points on online purchases, plus cable and streaming services (perfect for holiday shopping) with this credit card.