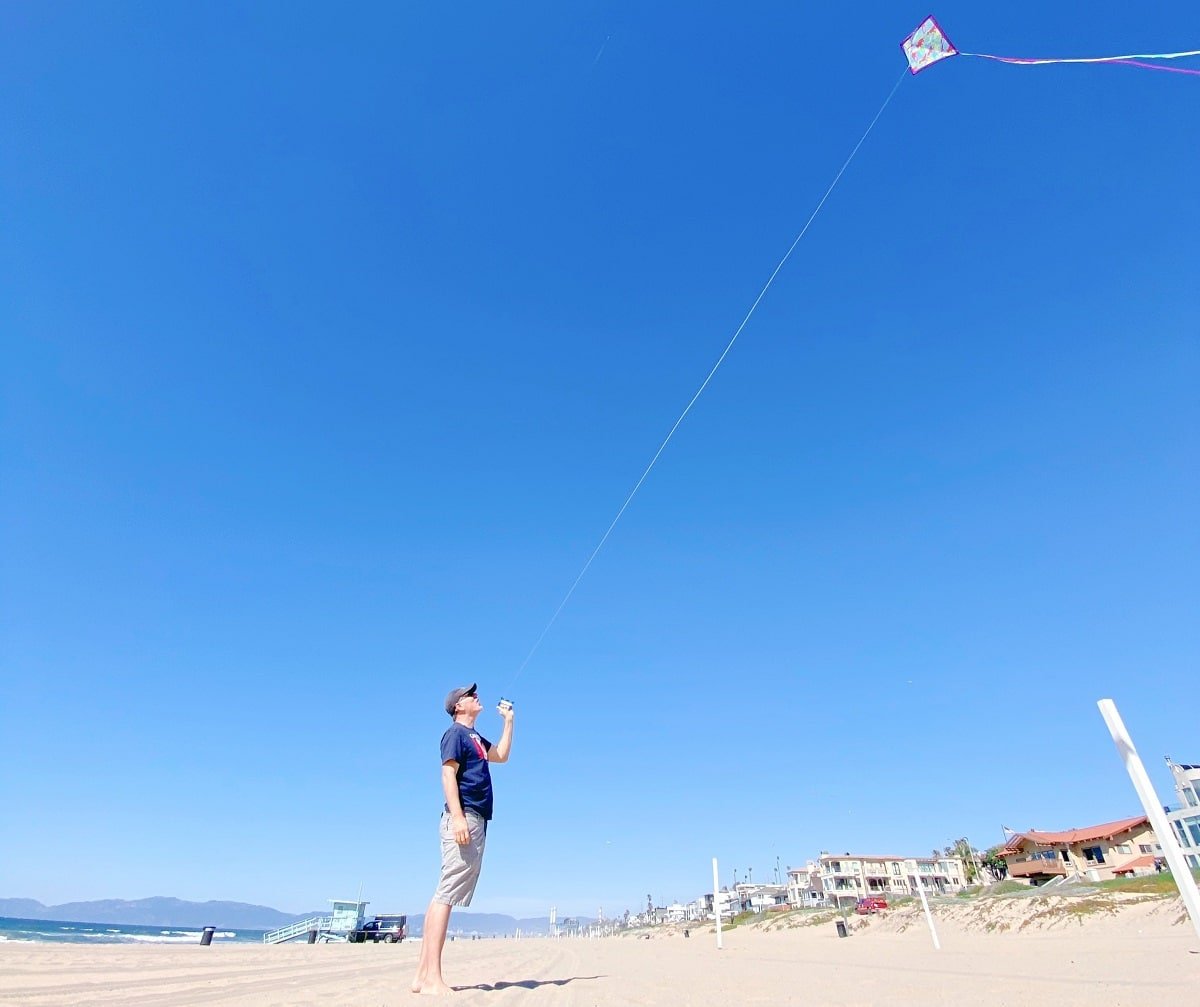 Greetings from sunny and windy southern California. It's so windy that we went to the beach yesterday and flew a kite for the first time in a long time. The good news is that the $12 dinosaur kite I bought worked great. The bad news is that my kids weren't nearly as excited as I was to fly a kite as they would rather build sand castles.
It's difficult to think about travel and to fathom what's going on in Texas right now — my heart goes out to all those who are impacted — so I'll keep this short.
I  started about a month ago to do a travel news update on Mondays but because it's been so popular with readers and there's so much travel news every single day, I'm going to do it daily.
The URL won't ever change so you can always find the travel news here. I usually update it each morning but sometimes I do it at night or if there's a really big story, I will update it immediately. Today's stories vary from tips on how you can help Texas during the winter weather emergency to a piece about New York opening theme parks in the coming months.
With the exception of what's going on in Texas, things are looking promising for travel. The best news is that COVID-19 rates, hospitalizations and deaths are all trending down and that the Pfizer vaccine is effective at blocking the new viruses (though they might need to create booster). My 92-year-old dad got his second dose two weeks ago and yesterday, he had dinner with both of my sisters for the first time in a year. So he's a happy camper.
Next week will mark a year since I've seen my dad in person and since I've been on a plane. I've been playing it safe and being a team player by following the advice of health officials. But I'm starting to get that travel itch like everyone else. Last night, I bought a ticket I had on hold to go see my dad in early April because it was $60 round-trip. That's right … sixty dollars. If you receive my Travel Deals Newsletter or Daily Travel Tip (sign up here) then you knew about the crazy American Airlines (AA) sale between Los Angeles and Miami. Below are the details of my ticket.
What's even more remarkable is that the tickets weren't a mistake fare because they were good for four days (it just ended yesterday) and wasn't for Basic Economy tickets. I was able to book AA's plush widebody 777 both ways and because I have elite status (Executive Platinum), I was able to secure Premium Economy seats, which are better than most of AA's domestic first class seats. On top of that, I will most likely get upgraded to a lie-flat seat for free because not many business travelers are well, traveling. FYI: American is only getting $29 of the $60 fare. $31 is for taxes so that means AA is making less than $15 each way! Insane, right? I guess that just goes to show how few people are willing to travel between now and mid-May. See image below.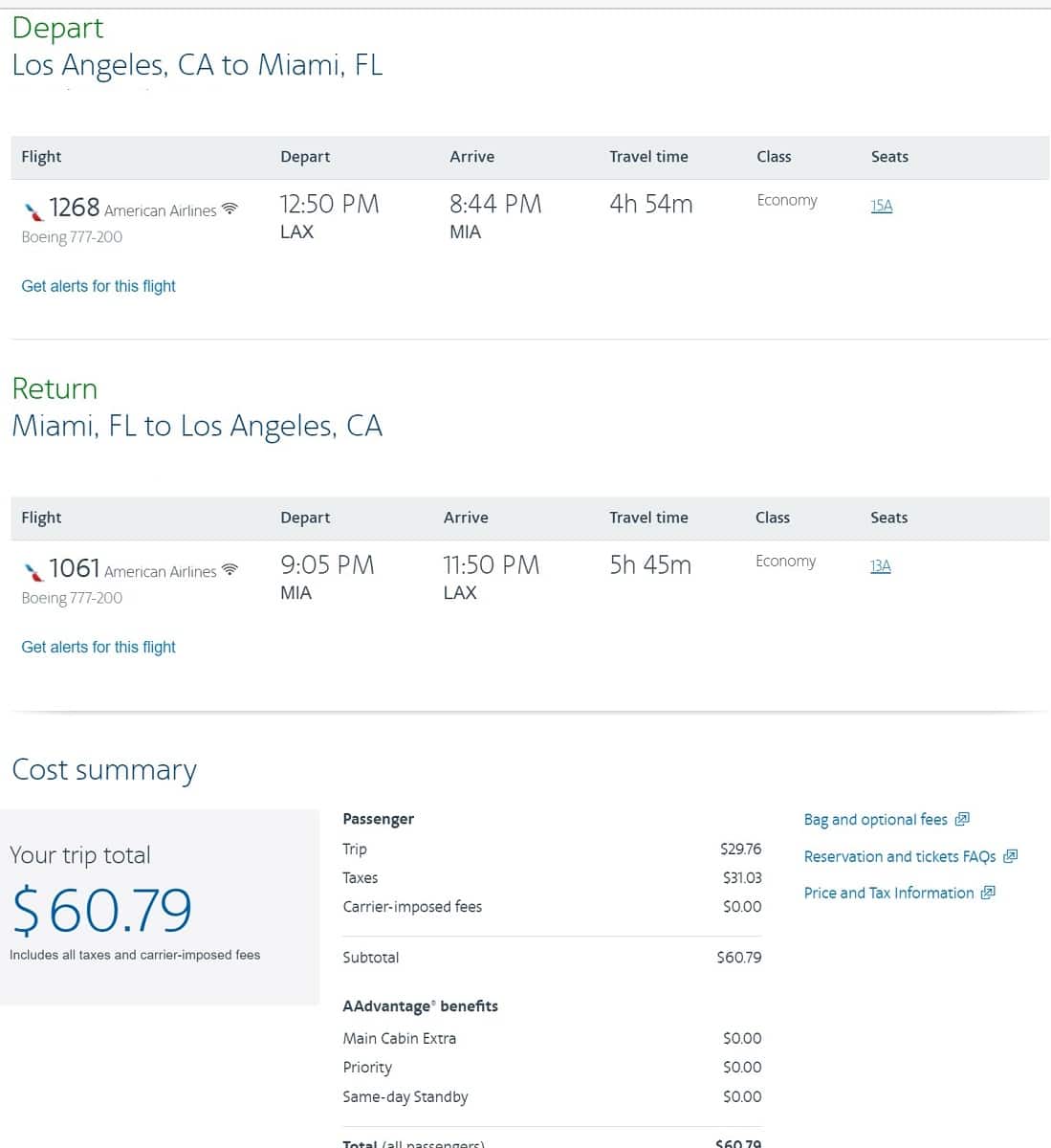 Even with the fare being so low, I was still reluctant to buy it because I have two little kids and I don't want to chance getting the virus with a history of asthma but I figured with the airline's generous change and cancel fees, I really have nothing to lose if I decide not to go. If COVID-19 numbers continues to go down big time, I will go. If not, I will wait to see if American cancels the flight to get a full refund or I will cancel it to get a travel credit.
Here are some of our JohnnyJet.com posts from this week:
Monday Night Travel with Rick Steves
"I'm not sure who needs to see this but Rick Steves is doing Zooms every Monday night where he drinks and watches his own travel videos with you. If I can help just one person by sharing this, I've done my job." Get all the details here.
10 Things to Have in Case of an Emergency
Here are 10 items I have in case there's an emergency, whether I'm traveling or at home. Read the story here.
What to Do: Weather Delays and Flight Cancellations
If you're traveling, here's a helpful post to help you get on your way quicker.
What To Do With Expiring Travel Vouchers
I know a lot of people are not comfortable traveling right now, especially since the CDC is only advising essential travel. So what are you supposed to do if  you have an airline voucher that's about to expire and the airline won't extend it? Here's my advice.
New Centurion Lounges
If you relax in The Centurion Lounge before your flight, you may be happy to know that there will now be a 16th lounge to visit. American Express has announced that they will be opening their newest The Centurion Lounge at Ronald Reagan National Airport (DCA) in Washington, D.C. Additionally, they will be expanding their lounges at Seattle-Tacoma International Airport (SEA) and San Francisco International Airport (SFO). Here's more info.
Easily Earn Up to 10x points at Marriott Hotels & Villas
Marriott Bonvoy members can earn double points (up to 10x Bonvoy points!) when booking a qualifying Marriott Homes and Villas stay. Read more.
This cashback card earns up to 6% back on groceries, 6% back on streaming services, 3% back on transit and gas, and has a new $300 bonus. Check it out here.
And here is some of the travel news highlights that I featured in my Daily Travel News Today newsletter:
This Week's Travel News 
How you can help Texas during the winter weather emergency
With long grocery store lines and gas stations facing unprecedented demand, many in Texas could use some assistance. (CBS News)
NASA's Perseverance rover lands on Mars
NASA's Perseverance rover — designed to further the hunt for past life on Mars — successfully touched down on the Red Planet Thursday.
Why it matters: Mars was once a relatively warm, wet and habitable world, and Perseverance — nicknamed Percy — could help NASA figure out if it was inhabited billions of years ago.
What's happening: Perseverance landed in Jezero Crater at the site of what scientists think was once a river delta, thought to be one of the best places to hunt for past life. (Axios)
Airlines/Airports
United Airlines passenger ordered to pay $50G for hitting flight attendant, forcing plane to divert to Alaska
A man from California has been ordered to pay nearly $50,000 in restitution after attacking a United Airlines flight attendant last February, and forcing the Tokyo-bound plane to divert to Alaska. Seksan Kumtong, of North Hollywood, appeared in court earlier this week, where he was sentenced to five years' probation and ordered to reimburse United Airlines for expenses incurred during the diversion, which included the costs of meals and lodging for the rest of the flight's displaced passengers and crew — expenses that totaled $49,793. (FOX News)
JetBlue scraps ticket-change fees but bans overhead bin access for the cheapest fares
JetBlue Airways is getting rid of ticket-change fees for most of its tickets, but travelers who are buying its cheapest fares should pack light. The New York-based airline on Tuesday said starting July 20 it will guarantee overhead bin space for its standard coach fares up to its Mint business class. But travelers who booked Blue Basic, the airline's cheapest option, won't be allowed to use overhead bin space, a policy United Airlines put in place when it started selling no-frills basic economy tickets in 2017. If JetBlue can't make good on its promise it will give travelers a $25 credit. That's a relatively easy feat during the pandemic when few people are traveling but finding overhead bin space has been a "major pain point" for travelers during boarding, the carrier said. (CNBC)
Las Vegas airport name change to honor former Sen. Harry Reid
A county board voted unanimously Tuesday to rename busy McCarran International Airport in Las Vegas after former U.S. Sen. Harry Reid of Nevada. The all-Democratic Clark County Commission approved a measure directing the county's airport staff to file a change with the Federal Aviation Administration renaming the facility Harry Reid International Airport. The county commission oversees the airport and is the final authority on a name change. (FOX 5 Vegas)
First Boeing 737 Max flies in Europe after grounding order lifted
The first Boeing 737 Max to fly in Europe since the grounding order was removed has departed. Tui Fly Belgium flight TB1011 took off from Brussels airport shortly before 10am local time on a two hour 15 minute flight to Malaga. The departure came three weeks after the EU's air safety regulator cleared the aircraft to fly. (Independent)
Finnair sees depressed traffic until the summer
Finnair Oyj said Thursday it doesn't expect to meaningfully increase its traffic until summer of 2021, as airlines continue to be forced to cut their capacity due to strict travel restrictions imposed by governments and an overall lack of demand. (MarketWatch)
Delta Passenger Allegedly Hits Flight Attendant, Tries To Open Plane Cabin Door In Midair
State working on system to allow vaccinated travelers to skip quarantine OC's airport now offering direct flights to Hawaii Newsweek logoDelta Passenger Allegedly Hits Flight Attendant, Tries To Open Plane Cabin Door In Midair A passenger on a Delta Air Lines flight allegedly hit a flight attendant and tried to open the main cabin door while the plane was in the air. The man, who was not identified, was detained by law enforcement after Flight 2349 landed at Logan International Airport in Boston on Sunday, WCVB reported. (Newsweek)
Airline passenger traffic fell last year to lowest number since 1984
U.S. passenger airline traffic fell 60.1% in 2020 to the lowest number since 1984 as the COVID-19 pandemic devastated demand for air travel, the U.S. Transportation Department said on Tuesday. In total, there were 368 million passengers in 2020, down from 922.6 million in 2019. The previous yearly low was 351.6 million in 1984, the department said. (FOX Business)
Southwest Airlines launches for first time at O'Hare Airport
Southwest Airlines launched for the first time from Chicago's O'Hare Airport Sunday. The low-cost carrier served Midway Airport since 1985 but never at the North Side airport. Travelers can now choose from 16 daily flights to Baltimore, Dallas, Denver, Nashville and Phoenix. Orlando will be added as a weekend destination starting in March. (ABC 7)
Cruises
Small Alaska cruises are booking up
Canada's decision to impose a year-long ban on cruise ships in Canadian waters is having a devastating impact on the big-ship industry, while small ship operators are seeing a surge in reservations beginning and ending in Alaska. According to a reservations spokesperson for UnCruise Adventures, reservations are filling up quickly for the company's small ship cruises in Southeast Alaska. Lindblad Expeditions, Alaska Dream Cruises and American Cruise Lines are also busy taking reservations for small cruise travels. (The Cordova Times)

Lodging
3 Las Vegas MGM resorts to resume 24/7 operation, anticipating increased travel
Three major MGM resorts in Las Vegas will resume normal 24/7 operations beginning March 3, the company announced Wednesday. Mandalay Bay, Park MGM and The Mirage have all been closing at times midweek because of limited demand during the ongoing coronavirus pandemic. The casinos briefly shut down back in March 2020 but have since reopened with limited capacity. Nevada Gov. Steve Sisolak recently rolled back some of those restrictions, with casino floor capacity increasing from 25% to 35% and outdoor dining operating with no capacity limit. (Daily News)
End of an era: Trump Plaza in Atlantic City imploded this morning.
The hotel opened back in 1984 as the largest hotel and casino in Atlantic City. It was the city's 10th casino and hotel, costing $210 million to build. The casino and hotel closed for good roughly 30 years later as the lowest performing casino in Atlantic City. Here's the video of the implosion at the 12 minute mark. (News 12)
Marriott International Announces the Unexpected Passing of Arne M. Sorenson, President and CEO
"It is with profound sadness that Marriott International announces that Arne M. Sorenson, President and CEO, unexpectedly passed away on February 15, 2021. In May 2019, the company announced that Mr. Sorenson had been diagnosed with pancreatic cancer. On February 2, 2021, Marriott shared the news that Mr. Sorenson would temporarily reduce his schedule to facilitate more demanding treatment for pancreatic cancer." (Marriott) ß This is really sad news. I only met Arne a couple of times but I know people who worked with him every day and they told me what a incredible human he was. RIP
USA
New York to open theme parks in coming months following pandemic shutdowns
New York is set to let amusement parks open in early April and overnight camps open this summer as long as they submit reopening plans to the state. Gov. Andrew Cuomo said Wednesday that arcades and other indoor family entertainment centers can open with 25% capacity starting March 26. Outdoor amusement parks can open with a third of their normal capacity by April 9, while day and overnight camps can start planning for reopening this summer. (USA Today)

Fully Vaccinated Americans Won't Need to Quarantine After COVID-19 Exposure, CDC Says
Fully vaccinated Americans do not need to quarantine if they are exposed to someone with COVID-19, according to new guidance from the Centers for Disease Control and Prevention. (Departures)
U.S. border agents do not need warrants to search digital devices, court rules
A federal appeals court ruled that U.S. border agents do not need warrants to search travelers' smartphones and laptops at airports and other U.S. ports of entry, a practice that grew during the Trump administration. The 1st U.S. Circuit Court of Appeals in Boston late on Tuesday ruled against 11 travelers subjected to warrantless device searches at the border who argued that current policies governing them were unconstitutional. Policies of the U.S. Customs and Border Protection (CBP) and U.S. Immigration and Customs Enforcement allowed agents to perform suspicionless, "basic" device searches and more-intrusive, "advanced" searches with reasonable suspicion of a crime. The number of electronic device searches at the border ballooned during former Republican President Donald Trump's administration from 30,200 during the 2017 fiscal year to 40,913 in 2019. (Reuters)
Covid-19 U.S. travel restrictions state by state
This list is alphabetical and includes links to state websites that have important details you should read before you cross state lines. (Mercury News)
Travelers to Alaska are no longer required to provide a negative COVID-19 test
Alaska had one of the strictest entry requirements in the U.S. during the pandemic — but that changed over the weekend when its COVID-19 state of emergency expired. Travelers to Alaska are no longer required to provide negative COVID-19 tests upon arrival, according to Governor Mike Dunleavy. He cited the arrival of coronavirus vaccines to the state as his reason for not extending the order. (TPG)
International
2 men get prison for trying to ride Jet Ski from Netherlands to U.K. with $278,000 worth of cocaine
Two British men who tried to ride a Jet Ski from the Netherlands to the UK with $278,000 worth of cocaine stuffed in a backpack got swamped with prison time Tuesday. Steven Brogan, 36, and Anthony Reilly, 34, appeared in Ipswich Crown Court for their sentencings after their cocaine caper on the North Sea floundered last September and they both pleaded guilty to importing the drugs. (NY Daily News)
Covid-19: First travellers arrive in UK for hotel quarantine stay
The first travellers required to stay at quarantine hotels have begun arriving in the UK. All British and Irish citizens and UK residents who arrive in England after being in a high-risk Covid country now have to self-isolate in hotels. The "red list" of 33 countries includes Portugal, Brazil and South Africa. The new regulations, which aim to stop Covid variants entering the country, apply to arrivals who have been in one of those places in the past 10 days. They have to pre-book and pay £1,750 to spend 10 days in government-sanctioned hotels. The cost covers the hotel stay, transport and testing. In Scotland, the rule to stay in a hotel applies to travellers from all countries – rather than just those from the list of 33 countries. (BBC)
Inside the quarantine hotels near London Heathrow Airport
-Wagner Araujo, 43, arrived at Heathrow today via Madrid with his wife Elaine, 40, following trip to Brazil
-They were escorted onto a coach at the airport to be taken to the nearby Radisson Blu Edwardian hotel
-They must remain in quarantine there for ten days after the UK Government brought in new rules today
-Hotel staff say they can only leave site for medical emergency – and were escorted to room by security (Daily Mail)

The destinations open to travelers vaccinated against Covid-19
From Cyprus to the Seychelles, here are seven destinations reopening to tourists who've received the Covid-19 vaccine. (CNN)  
Misc.
The iconic Acropolis in Athens is covered in snow for the first time in decades
One of the most popular tourist attractions in Greece is covered in snow, following a rare snowstorm. The Acropolis, meaning "high city", is the most complete monument from ancient Greece. It's no doubt seen every type of weather since it was built in 3300 BC. But this is the worst winter storm modern-day Greeks have seen since 2008. (Euro News)
Ashley Judd Shares Photos from Her 'Grueling 55-Hour' Rescue After Shattering Her Leg in the Congo
Ashley Judd is giving thanks to those who helped her after she injured herself in the Democratic Republic of the Congo. On Tuesday, the 52-year-old actress shared photos from the harrowing experience — in which she shattered her leg while out in the jungle and ended up in an intensive care unit — on her Instagram, showing her appreciation to the locals who took care of her while she was in pain and helped transport her to safety. "Friends. Without my Congolese brothers and sisters, my internal bleeding would have likely killed me, and I would have lost my leg," she wrote in the caption, alongside photos and videos of her rescue. "I wake up weeping in gratitude, deeply moved by each person who contributed something life giving and spirit salving during my grueling 55 hour odyssey." (People)
Travel Video of the Day
Check out this spectacular video from inside the cockpit of a plane landing in Greenland.
Super fast Covid tests will pave return towards normality – expert
Super fast Covid tests will pave the way towards a return to normality but people who do not have a "vaccine passport" are likely to face some international travel restrictions, a leading expert said today. Dr David Nabarro, a World Health Organisation coronavirus special envoy for Europe, believes the "reality" will be that individuals who do not have a jab certificate will not be able to fly to as many countries. He also stressed that "super quick" tests are likely to be used for access to some venues and will open up the way for a return to closer to normality. Asked if he thought "vaccine passports" would become inevitable as a condition of international travel in future, he told ITV's Good Morning Britain: "Yes, I think overtime a system through which people will be able to demonstrate their immune status in relation to Covid will emerge. (Standard)