If you're like me, your perception of Panama City Beach, Florida, is laden with preconceived notions. Images abound of a wild spring break crowd and roads jammed with scooters carrying the partygoers from one happening to the next. And since I've lived in a former spring break destination in Florida myself, I thought I knew what to expect.
I didn't.
I was greeted with a place to explore and experience. From lounging on a secluded beach to savoring a fish so fresh it was probably swimming that morning, the new Panama City offers visitors countless ways to explore, relax and savor.
Once a safehaven for spring breakers ready to cut loose and enjoy some time away from their studies, Panama City Beach has seen a renaissance of sorts. In 2015, after a particularly rowdy spring break season, consuming alcohol on the beach was banned by emergency order. To be more precise, the ban is in effect only during the month of March.
Now, something very special is happening in Panama City Beach. Following the enactment of the ban, the area began reinventing itself as a year-round travel destination. It seems to be working. Local breweries and eateries are catering to a more refined palate. The city's weekly farmer's market, movies on the beach, and year-round events like the Pirates of the High Seas Fest are making the city a stop for tourists the whole year.
For a particularly serene experience in Panama City Beach, stay at the Sheraton Bay Point Hotel, the area's only AAA Four Diamond-rated resort. Nestled along picturesque St. Andrews Bay and away from the hustle and bustle of downtown PCB, the hotel features stunning views as well as spectacular sunsets.
The property recently completed a $30 million renovation. The rooms are smartly appointed with warm colors and accents of blue with images of the sea. Opt for a room facing the bay and enjoy spectacular sunsets from the comfort of your room's chaise lounge.
Outside, options abound! The resort offers two pools, two golf courses and bike rentals. You can alternatively take a stroll down the boardwalk and grab a paddleboard for a lap around the bay. Then grab a drink and unwind at Pelican's, the hotel's bar located right on the water. And to be clear, I don't mean next to the water; the bar is built on the boardwalk that extends into St. Andrews Bay!
For those of us who are less sure-footed, I suggest skipping the paddleboarding and taking the Bay Point Lady shuttle boat out to Shell Island for some rare beach solitude. This uninhabited island is located where the bay meets the Gulf of Mexico. There you'll find powder-soft white sand beaches and glistening turquoise water. Spend the afternoon collecting shells, watching birds or just enjoying the tranquil sounds of rolling waves. Just be sure to bring your own umbrella, as the island offers little refuge from the sun. Tickets for the ferry are just $10 for adults and $5 for kids and can be purchased in the resort lobby.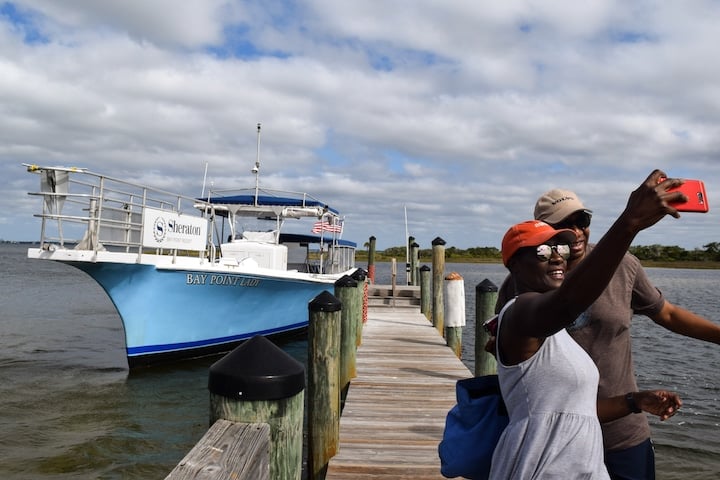 For guests looking to unplug, unwind and forget about the world, there's Serenity Spa at Sheraton Bay Point. Indulge in one of their signature spa treatments including massages, body wraps and facials.
Have a sore back after a game of golf? No problem. Shoulders aching from a spirited tennis match? They've got you covered there, too! Each massage treatment is tailored to you and wherever you'd like the masseuse to focus his or her attention. You can also choose from one of seven aromatherapy scents to ensure you arise relaxed and rejuvenated.
The spa features a hot tub, sauna and steam room, as well as showers and a lounge area. There is a well-equipped gym attached to the spa, and a single massage service gets you access to the gym as well as the other amenities for the rest of the day. For those who manage stress through working out, the Sheraton Bay Point has a great fitness center for guests of the hotel. The equipment is well-maintained and has great views of the pool and the bay.
For a little retail therapy, the place to go is Pier Park, an outdoor mall located right across the street from the beach in Panama City. This is the place to find souvenirs to bring home, browse boutiques, or catch a beer at the Hofbrau Beer Garden or live music at Tootsies Orchid Lounge, a 2008 offshoot of the legendary Tootsies from Nashville, TN. Whatever gifts you need to find, either for yourself or others, you'll probably find them at Pier Park.
No matter what you choose to do with your time in Panama City Beach—whether it's taking to the high seas, lounging on a deserted beach or unwinding at the spa—this reinvented city has something for you.
For more: 6 Places to Eat and Drink in Panama City Beach, Florida
---
For even more on Panama City Beach, visit visitpanamacitybeach.com.