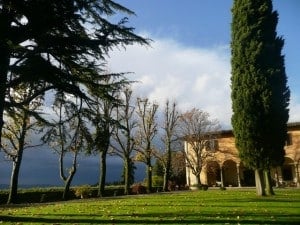 As I continue on the Trafalgar bus tour, I reluctantly leave Rome and go north to Tuscany. The countryside was beautiful, much of it like a painting. It was a long ride (4 hours) to our first stop, Castello Vicchiomaggio, for a wine tasting and lunch. The winery was in Greve, in the Chianti region of Tuscany famous for–well, you can guess. They have won several awards for their vintages, including Italian winemaker of the year for 1997, 2002, and 2003. During the wine tasting, we tasted two types of Chianti, one with a higher percent of Sangiovese grapes, and also sampled Tuscan prosciutto, salami, and provolone cheese. Castello Vicchiomaggio is part of the new agriturismo (agri-tourism) movement in Italy, which allows guests to stay at a working farm or vineyard. The next four days would be spent visiting family farms and sightseeing in famous Tuscan towns and participating in the Be My Guest program. Part of the Be My Guest Trafalgar tour is introducing guests to these "hidden treasures" and getting to know the local proprietors.
Trafalgar is trying to get away from the image of bus tours by including intimate visits to family vineyards and trattorias. "Trattoria" comes from the word trattori, meaning tractor, and relates to farmhouse since that is what's used on a farm, conjuring up the image of a cozy family-run restaurant. I experienced several of these in Tuscany. We enjoyed a cooking lesson and had a typical regional meal in Florence at Trattoria Baldovino. Scottish owner David Gardner passionately talked about the cucina pouer–the "cuisine of poverty"–which is the specialty of the Tuscan region. We know it as peasant cooking, and it is rich in vegetables and crusty bread. Everything at Trattoria Baldovino is seasonal. We tasted panzanella, a salad made with bread, tomatoes, onions, and cucumber, and aqua cotta, a vegetable soup featuring peasant bread and a poached egg on top. After, we had tiramisu, the delectable and decadent espresso and mascarpone cheese dessert.
We learned about the culture behind the food as we helped prepare it. David talked a lot about terroir, a French word meaning "of the environment" or "of the land," meaning the food takes on the characteristics of the place. The soil, the climate, and even the topography contribute to its flavor. Loosely translated it means "a sense of place." He had been to his olive grove that day and presented us with a bottle of murky green olive oil that had just been pressed. Its fragrance and taste was unlike anything I had ever tried. It enhanced the simple ingredients of fresh tomatoes, basil, and garlic on the bruschetta. Group and private cooking lessons are available at Trattoria Baldovino.
The Gardners also own a 10-bedroom villa/hotel. We stopped by a different hotel, Villa il Poggiale, a Villa in Tuscany, near Florence, and one of the properties being used by the Trafalgar At Leisure program. It is actually a 600-year-old but newly restored family villa. The romantic villa also has a wellness center. It is set high up on a hill and the views are to die for. Trafalgar's At Leisure program makes it a point to give traveler's leisure time to go off on their own, and they don't start before 9 a.m. The hotel stays are also 3-4 days, so you are not always packing and unpacking your suitcase.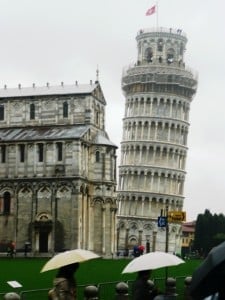 I stayed at Grand Hotel Tamerici in Montecatini, an old spa town with upscale shops and mineral water spas. The hotel is centrally located, and the room was huge, with furniture my grandmother would have liked. The room was quite hot, and she would have liked that as well. Breakfasts and dinners were included at Hotel Tamerici. The breakfasts were continental and you can order cappuccinos. The dinners were very good, in a large hotel dining room atmosphere. One night we had a local pork roast with rosemary, sage, and laurel that was much more flavorful than any pork I have ever had in the States. The desserts were always dramatic, like the flaming Vesuvius, a type of baked Alaska with Italian gelato and meringue.
Montecatini is central to many great sightseeing places. We left each morning for places like Pisa, Cinque Terra, or Siena. One morning, before the bus left, I ventured into the park to find a thermal spa to taste the waters. I found the Excelsior Spa and paid 12 euros to taste three different waters. It was an interesting experience. Older well-dressed Italians sat at tables in a bar-like atmosphere, with everyone drinking water. The waters are high in minerals and have great cleansing properties. Apparently, they are the fountain of youth! . The main spa, Terme Montecatini, is palatial, but closed during the winter. That is where I want to go the next time I find myself in Montecatini in the summer!
One of the optional activities I did was to check out Grotto Giusti thermal underground spa and pool, which is not far from the hotel in Montecatini. I couldn't bring my camera down there, but check out their picture. The underground cavern is unbelievably beautiful, mysterious, and strange. The volcanic thermal cave naturally sweats from the intense heat. Being there was peaceful and cleansing. Beforehand, I swam in the heated outdoor pool set in the forest and covered in mist due to the cool outdoor temperature . It was the perfect mid-trip activity after walking all over Italy.
The tourist towns on the agenda were Lucca, (which I missed to do the Grotto Giusti spa instead), Pisa, Florence, Siena, and Cinque Terra. One of the best things we did was visit Borgo della Limonaia, close to the hotel in Montecatini. We were greeted by the owner and given a tour of the garden, the hillside, and the private winery. He showed us the olives he had just harvested and the products like honey, olive oil, and wine that are produced on his land–he was very proud. His wife served the most amazing lunch–it was the best food I had in Italy, everything fresh and made with love. The family cat rubbed our ankles under the table while we enjoyed the abundance of the farm. This was a great example of the Be My Guest program's promise to bring guests up close and intimate with Italian family farms, restaurants, and their owners.
For me, I would opt out of the touristy places like Pisa and focus on the locals and local specialties, although I really enjoyed Florence and was given several hours to discover the city on my own. I found small boutiques like a glove shop (Roberta, in Santo Spirito), and had lunch atop a large department store, La Rinascente, at Caffe La Terraza. The view was amazing. At the Academy of Fine Arts, we were given a tour of David by a passionate tour guide who knew everything about the statue that was made in 28 months and stood outside for more than 300 years. Michelangelo never used a model. He believed he was chipping away at the marble to "release" the sculpture inside. He secretly dissected bodies by candlelight at the convent to see how the tendons and muscles worked. Our guide told us he was a crazy genius who loved to sculpt and hated to paint. Michelangelo hated to paint and was hired by the Pope against his will to do the Sistine Chapel. He only wanted to spend his time as a sculptor and do things like "David" and "Pieta". I could have gone into the Ufizi, as there were no lines that day, but decided to walk on the Ponte Vecchio under the cool blue sky instead.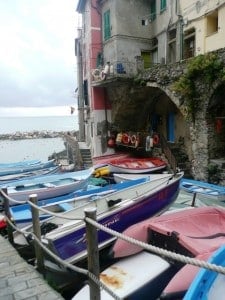 We visited Siena, where Trafalgar tour guide Roberto educated us about Il Palio, the medieval horse race, and the 17 contradas (sections of the town) that are chosen by lottery to enter the bareback competition. Each contrada is represented by a different animal, and thanks to our guide I was able to see the snails and pigs and horses in the architecture of Siena that I would have otherwise missed. Café Nannini had the best hot chocolate I have ever had, with dark chocolate that you could stand a spoon up in! Our visit to Cinque Terra, north of Florence, on the Ligurian Sea, was most noteworthy. Cinque Terra ("five lands") is a UNESCO World Heritage Site and a national park. The man-made landscape is 11th-century vineyards made up of terraces built on steep slopes. Here, five villages are connected and can be accessed on foot or by train. La Spetta Bay is a most romantic place, and I am not the only one to think so: it was called the "Gulf of Poets" by Lord Byron and Mary Shelley. Liguria is also the region where pesto was created, so for lunch we ate in a café at the village of Monterosso and had Trofia pasta with pesto, potatoes, and string beans.
The myriad of experiences and the well-planned itinerary make Trafalgar a good choice for relaxed but interesting travel. The nightlife consisted of mingling with travel companions over delicious Italian fare and gave us enough time to rest up for our sightseeing excursions during the day. I enjoyed meeting different people from around the world and not having to worry about itineraries, keeping appointments, or making reservations. I would feel very comfortable traveling alone or with a friend or spouse on a Trafalgar trip. There are also specific Trafalgar tours designed just for families, and they are a great way to experience travel while meeting families from around the world.
Trafalgar tours really know how to get to the essence or heart of a place. The experience reminds me of the word I learned in that Florentine restaurant, terroir–"of the land," "a sense of place."
WEB RESOURCES
NOTE: This trip was sponsored in part by Trafalgar Tours.