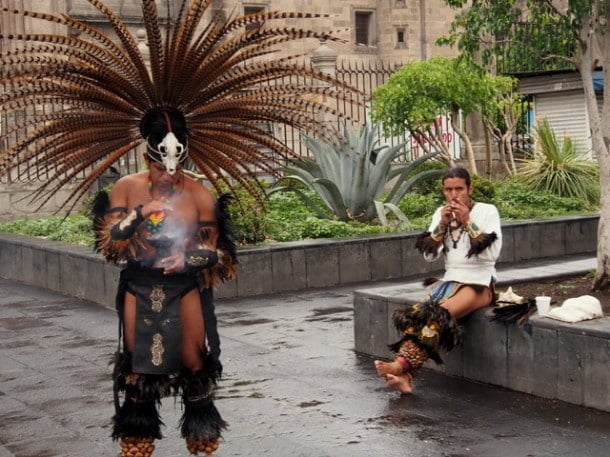 French writer and poet André Breton was a master of expression. He was also the founder of surrealism, a "revolutionary movement" bent on uniting the unconscious and observable realms, and so his talents bore particular agility in the presence of the colorful, the raw, the animated—the surreal.
In 1936, on a France-commissioned visit to Mexico City, Breton expressed these thoughts:
"Our art movement is not needed here"
"I don't know why I came here. Mexico is the most surrealist country in the world."
As the story goes, he came to these conclusions after, upon finding no one waiting for him at the airport, he spent some time wandering the city solo. Now in my mind, if someone gets left at the airport, the story is already good. But there's some real if abstract truth behind Breton's words, and 77 years later, that same truth still colors the Mexico City experience.
I wandered the capital for a long weekend, and I saw a surrealist city—a place of walkable pop-ups and cafes, European-style plazas and people-watching, sprawling outdoor artistic installations, mountaintop castles, etc. Was it what Breton saw? This was a man historically untethered to conventional perspective, so who the hell knows.
What I do know, however, is that Mexico City is and has always been a place of idiosyncratic energy, of warmth, of shared Mesoamerican and European tradition. It is modern and bohemian, and yet bursting at the seams with 700-year-old Aztec glory. It is a place that resonates as it defies routine, and while what it is exactly that resonates may vary—it may even defy description—something about Mexico continues to pull people in.
So perhaps the surrealism comes through as the individual likes it—as each true self seeks to manifest itself in the sunny, sprawling metropolis that is Mexico City. Here, at least, is what I found so special:
Two more for Mexico
Anthony Bourdain, Travel Channel kingpin and lover-of-food
Karl Pilkington, Ricky Gervais' idiot-savant and notorious hater-of-everything
The Horse's Head/El Caballito
A giant, abstract sculpture at the intersection of Paseo de la Reforma and Avenida Juárez marks the beginning of the downtown area. The work of Enrique Carbajal (aka Sebastián), The Horse's Head—which may not strike you as an attempt at a horse's head—is the brightest of yellows and since 1992, has commemorated its monumental predecessor, which was known as El Caballito (the current version seems to also go by this name). It's pretty wild.
More art
Art is everywhere in this city. Like all the world's most loveable urban sprawls, a genuine appreciation for creative expression pervades, and the sunny streets and green spaces that host your visit provide ample opportunities to join the party. This is, after all, the city that bore the world Frida Kahlo.
In parks and plazas, there are monuments and fountains and replicas of Michaelangelo's David. There are open-air galleries, like the one on Paseo de la Reforma. The many rogue installations I saw included a giant Transformer hanging off a building and some colorful bike statues. And nowhere is Mexico City's admirably egalitarian approach to the arts more visible than in the simple fact that its impressive offering of museums is free for Mexicans every Sunday.
Helpful tip: Probably don't go to the museums on Sunday.
And on that note, make sure to check out the Museo de Arte Moderno, or the Modern Art Museum (here's a link to the museum's site, in Spanish).
Museum of the Revolution (website, in English)
A bizarrely impressive structure. In an Art Deco style reminiscent of some great European icon, the Museo a la Revolución was in fact designed by a great European icon: Émile Bénard. But what was to be a parliamentary palace—and what Bénard believed would be his defining achievement—was never completed. Mid-construction, in 1910, the Mexican Revolution hit full-tilt and the government's focus and finances turned to these more pressing matters. The central space, with its signature dome, was abandoned.
After a full 100 years of disrepair (it nearly became a parking lot), the massive and cavernous tower was suddenly swept up in the wave of national pride that arrived with the country's centennial in 2010. Carlos Obregón Santacilia finished the design side, and the once-to-be-palace was converted to a museum. Inside, it's full of good history, not to mention great views of Mexico City (and on less smoggy days, its neighboring volcanoes). An elevator will be up and running to the top this month—all the more reason to check it out.
Post Office (website, in English, which seems to be down as of July 23, 2013)
The main post office (Palacio de Correos) in Mexico City will send your mail. Fine. But what's really cool and uniquely Mexico City about it is its gorgeous interior—which is so gorgeous that it has hosted the sets of several major movies (the 1985 earthquake did damage, but restorations have covered that up gracefully, and you'd never know unless you were told).
As the gentle old man working the post desk was happy to share, there's history here as well, which is particularly interesting if you love mail. The small museum that holds this history is indeed interesting (and features a mural made of stamps, among other things), but more memorable to me were the insanely decadent, twisting, Harry-Potter-like stairs.
Chapultepec Castle (website, in Spanish)
High (almost 8,000 feet) atop Chapultepec Hill, which can be roughly translated as "grasshopper's hill," is a castle. It goes by the name Chapultepec Castle, and that makes sense. What didn't entirely make sense to me, though, was what this castle was doing in Mexico City.
These were fortifications fit for a great medieval European kingdom, misplaced, perhaps, by the Holy Roman or even Napoleonic Empire. Turreted stone, elegant archways, great demonstrations of wealth and military strength—all of it seems pretty hard to believe. It's now the home of the Museo Nacional de Historia (National History Museum), which seems fitting given the castle's own eccentric and wildly interesting past.
It was, in fact, originally occupied by Austrian royalty, a reminder that Mexican history is more than splashed with European color. The hill it sits on was once a sacred Aztec site. It hosted a U.S. victory at the Battle of Chapultepec, which by and large marked the end of the Mexican-American War.
This, apparently, is Mexico City.
Helpful tip: Prices in Mexican Pesos come accompanied by the same symbol as US dollars ($).
Palacio de Bellas Artes (website, in English)
Across the street from the Post Office, which is adorned in similarly ringing neoclassical and Art Nouveau styles, is the Palacio de Bellas Artes—also known as the Opera House. Design was in fact initiated in 1904 by the same architect, Adamo Boari, as the Post Office, but because the land was so dense with water, and so sinking, and later because of the demands of the revolution in 1910, construction was halted and only reengaged in 1932 under the watch of Mexican architect Federico Mariscal.
In 1934, the doors finally opened, and the Mexican public was treated to an Art Deco-inlaid mosaic of artistic wonder. Basically, it was full of awesome art, and it still is. Two murals in particular highlight this eclectic space: one each by Diego Rivera and Siqueiros. Up the stairs and on opposing walls, Mexico's two most famous muralists were commissioned at the same time for the Palace's opening, and so worked across from one another. Apparently, they did not like eachother very much, and so a touch of contempt swirls in this palace of human expression. It's worth checking out, and easy to find—just look for the giant yellow dome.
The food!
Mexican food is pretty popular in America (this podcast, playable on the left of the embedded page, is a pretty interesting listen on how this happened). To all of us who love it, it would seem to go without saying that the food in Mexico would be a draw in itself.
It is that way. But burritos, chimichangas and in fact most of the tortilla-based dishes (except tacos) we know so well are imposters to the Mexican diet. In Mexico, it is made very clear that these foods are more accurately identified as Tex-Mex, a style so named for the early-stage Americanization of Mexican cuisine in bordering (and former Mexican territory) Texas.
Helpful tip: Tacos are, as Gustavo Arrelano states in the podcast above, "[A Mexican's] wife" while "all other Mexican foods are [his] mistress." Less metaphorically, they are soft, and the variations are many. In Mexico City, though, tacos al pastor (marinated pork, onion, cilantro, pineapple, lime juice and hot salsa) get the most attention, and should not be missed.
Real Mexican food, in Mexico City, is, let's say, surreally good. Sold from holes-in-the-wall, cantinas or internationally rated restaurants, all of it not only tastes amazing, and authentic, but offers a freshness, an energy, even a spirit to the other senses as well. Here, I'll cede again to Anthony Bourdain, who in the clip up top does an admirable job putting the magic of Mexican food to words:
"Mexican food is about taking the time to do it right, about hours of slow simmering. It's about hands, people making things, everything by hand, that day. It's about people talking to you with their food, telling you something about themselves, their country, their area, their town, their family. And it's about some of the best, fastest-served street food in the world."
Being surrounded by such an amazing and complex food culture was intoxicating, and I really can't emphasize that enough. There's a reason Forbes ranked Mexico City the world's 4th-best culinary destination. The options felt limitless, and in areas like La Zona Rosa (Colima Street in particular), the presence of walk-up bistros and spots-worth-stopping-at was fierce. Still, here are a few of the best places I made it to:
1. La Ópera Bar (website, in Spanish), Calle 5 de Mayo 10, Colonia Alameda Central
Right around the corner from the spectacular, European-looking Opera House (Palacio de Bellas Artes), this French café-turned-cantina-turned restaurant is nothing short of a local institution. The elegant, swooping interior would fit in opera house itself, and it's hosted an impressive cast of local power players over the years.

Most famously, a bullet hole in the ceiling immortalizes a feast at which the incomparable Pancho Villa used his gun to beckon peace. Food here is served with an air of significance, as if packaging a chapter of Mexican history into however much time you've carved out for your meal. The "Enchilada con mole sauce"—simply one of the best things I've ever eaten—should be that meal.

2. Maximo Bistrot Local (website, in Spanish), Tonalá 33, Colonia Roma
There is no better place to eat in Mexico City right now—and certainly none more popular. At Chef Eduardo García's brilliantly casual spot, culinary wisdom funnels in from all corners of the globe, and the result is a menu that changes everyday and is built in part off what his select local fisherman bring in each morning.

They don't do reservations, so be prepared to wait, but it's worth it. The risotto with truffle oil, the hanger steak with mushrooms and mash potato, some unidentified Japanese fish sauced in ginger and spice—all were exceptionally good, but the chocolate dessert (made from some of the world's best chocolate, locally made) trumps all.

3. Azul Condesa (website is apparently down), Nueva Leon 68, Colonia Condesa
Chef Ricardo Muñoz Zurita does pretty amazing things to traditional Mexican dishes at Azul Condesa. The space, spread over a cozy, two-floor building in La Condesa, is warm and modern, and dinner (not sure about lunch) is set to a surprisingly good soundtrack of modern indie rock (Purity Ring, Grimes, the xx).

Courtesy of a guest chef's supplementary menu, I found my options both adventurous and educational—or however it is you'd describe guacamole with a side of fried grasshoppers (really good, actually, and more like a garnish than a lawn insect).
Beneath the surface
Mexico City is sinking. The drops and crests of many warped cobblestone roads in the downtown area are visible to the naked eye, and foundation issues have plagued construction projects throughout the city's history (including that of the Palacio de Bellas Artes). Why? The Distrito Federal (like Washington, D.C., it belongs not to any state but to the country) is nearly 700 years old—and it is built on a lake.
To me, the history of Mexico City—manifested in ruins like the Templo Mayor and the curving, moving, evolving lines in any panoramic—is perhaps its most defining characteristic.
The Aztecs (or more accurately the Aztec Triple Alliance) first settled the area in 1325 on an island in the middle of Lake Texcoco. From there, a water-based society began to flourish, and so expand. Artificial islands were built (in the chinampa style), and dams and channels were constructed that brought increased control over the salty waters. Tenochtitlan, the famous Aztec capital and the largest city in the pre-Columbian Americas, grew out of this basic (and yet highly advanced) infrastructure.
A few artistic interpretations of Tenochtitlan at its peak: 1 2 3 4
Even as Tenochtitlan, it continued to sink. The main temple, Templo Mayor, atop which human sacrifices were made by the thousands, was rebuilt six times on top of itself in refute of the swampy earth's efforts to swallow it. Each time, and collectively, it grew greater, until Cortés and the Spanish arrived in 1521.
It should surprise no one to know that their arrival was not a pleasant one. Allying themselves with anti-Aztec cultures on the fringes of the Empire, the Spanish burnt the city to the ground in historically devastating fashion. Unfortunately for them—the self-decided new residents—the devastation included the irrigational infrastructure, and the flood gates, so to speak, were opened.
As it took to its feet again as Mexico City, capital of New Spain, European influence (often straight from Spain) flooded in, but so too did the water, now undammed, of Lake Texcoco. And so, over the years, the resulting unstable ground has come to literally shape this city. As buildings sink and roads warp, a history that dates deep into the times of human sacrifice comes alive all around you.
There are ruins, and tradition, but don't miss these most evocative and stirring relics:

1. Templo Mayor Museum (English link)
Set among the ruins of the Templo Mayor itself, this is the home base for all Aztec history in Mexico City. By no coincidence, it's right downtown in the Cuauhtemoc district (downtown Mexico City is also downtown Tenochtitlan). For 57 Mexican Pesos (about $4.50), you can see just how much of our modern world was channeled through the very ground you're walking on.

There are tools, solid gold carvings, giant monoliths (including one that some unwitting electricians uncovered in 1978) and heaps of legend and lore. You can't help but come away in awe of Aztec achievement, particularly after looking at the Templo Mayor site from the second floor of the museum and then walking through it down below. I found the Russian-nesting-dolls-like layers of the temple (fully visible) to be especially wild, but really the whole experience was cool.

2. Teotihuacan
I didn't have the time to make it to Teotihuacan—Mexico's most visited tourist site—and just writing this is filling me with regret. But in discussing the history of the area, and how stirring it is, it simply cannot be left out.

About 25 miles northeast of Mexico city proper, the Teotihuacan site is the well-preserved remains of a near-two-millennia-old Mesoamerican city whose name in Nahuatl (the lingua franca of the later Aztecs) means "birthplace of the gods." It was a place of great spiritual significance, and it manifests as only my favorite archaeological sites do: in still-sturdy stone temples, pyramids and a mysterious, flora-cloaked air.

Along its Avenue of the Dead, the spectacular site is highlighted by the Pyramids of the Moon and Sun, the latter of which was sold to me as the third-highest pyramid in the world (this list says differently, however).
Today, the 700-year anniversary of the city's settlement is approaching. Locals, still very proud of their Aztec past, know the history well. There is a particular pride in their historic adulation of the sun (true of many great civilizations), which has channeled a particular energy around our times—which, by Aztec legend, are relevant as the bearer of the expected end of the Fifth Sun, and so in some form another cycle of life. I heard people excited to talk about it, and at least two guys in traditional Aztec costume outside the Templo Mayor Museum. Pretty exciting, and pretty surreal.
Need a place to stay?
Le Meridien Mexico City put me up for three nights, and all three were great. The rooms weren't overly luxurious, or colorful, but they checked pretty much every other box: spacious (with a little suite area separate from the bedroom area), clean and comfortable (great bed).
Le Meridien's out-of-room facilities were impressive, too, with special mention going to the lobby's cool and abstract chandelier and its restaurant, which was awesome. I also learned about mezcal here, which is a smoother and apparently hipper version of tequila (though it's a different alcohol), so I'll note that as well.
It's Mexico, so a quick word on safety

Here and now in America—and let's even say in North America, the West, etc.—the whole of Mexico has a pretty bad rap. The war raging between the country's drug cartels and its governmental peace-keepers has bled openly into the international news cycle, and without any regard for Mexico's indomitable vastness.
The reality is that the much-publicized violence is concentrated near the U.S. border, where the action is, and when it strays (as it certainly has), the western provinces absorb most of the blows. Mexico City is not immune to dangers, but it is simply (and it is near offensive to locals to suggest it) not a battleground in this war. It's just a huge, cool city, bursting with life and infinitival corners worthy of your attention.
The verdict: As with anywhere, interested travelers should do their research and travel smart, and the city in all its surrealist, cosmopolitan glory will surprise you.