By: Tom Calicchio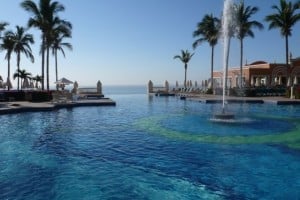 Before leaving on my trip to Cabo San Lucas in Mexico, I was a little uneasy about staying at an all-inclusive hotel because this was both my first time to Cabo and my first time at an all-inclusive. I was concerned about quality and what I was going to have to pay for what was "not included".
When I arrived at the magnificent RIU Palace in Cabo, I was blown away by the resort, located on the beach within a stone's throw of the famed El Arco granite rock formation situated at the southernmost tip of the Baja peninsula. This is where the Pacific Ocean meets the Sea of Cortez and nothing along Mexico's entire coastline can match the grandeur of these towering, naturally formed arches.
GETTING THERE
I flew Continental Airlines which offers flights to Cabo from Houston and from Newark. However, it's also served by many other airlines and airports from all over North America.
THE RIU PALACE
The RIU Palace has 642 deluxe guestrooms, five pools and several excellent restaurants. The first thing I noticed upon entering my ocean view suite was the liquor dispensers in the fully stocked mini bar. There were bottles of rum, vodka and tequila hanging upside down with a bar type dispenser that released the contents directly into a glass pressed up against it. I asked the bellman about it and he said the bottles would be replaced immediately if they were empty and also informed me of the 24-hour room service, all of it included at no charge.
As I walked around the beautiful gardens, I found five swimming pools, and bars just about everywhere. The staff was warm and enthusiastic and meticulous about ensuring I was taken care of. The facility is definitely on par with a five star hotel, but the food options are the most diverse of any hotel I've ever been to. Breakfast is served buffet style in a huge room with arched French doors overlooking the ocean, with stations of fresh native fruits, warm baked breads and an overwhelming selection of breakfast/brunch fare. There is also a station that serves authentic native Mexican breakfast dishes that were super tasty.
THE BEACH
I hit the beach after breakfast and would alternate my snorkeling with a relaxing, complimentary sun lounger. I held out until noon for my first Corona, which I enjoyed at the swim-up bar overlooking the sea. It was at this point I was convinced that this has got to be one of the best travel bargains in the world. The RIU group's credo is that great value is the key to a great vacation, and I can now attest to the fact that there is no better bang for your buck than the RIU Palace.
LUNCH

Lunch is another endless buffet complimented by grill chefs who will do a burger or chicken breast your way, and there is also a poolside waitress service if you can't put that book down. And of course, your favorite beverage is never more than a few feet away.
DINNER
The resort has four restaurants for evening dining and they require advance reservations. There is the Krystal for fusion gourmet cuisine, notable for exotic Asian spices and complex sauces. Misaki is the Japanese place serving excellent and authentic fare and San Jose, the Mexican restaurant, serves up authentic cuisine prepared by native chefs creating traditional favorites along with nouvelle dishes that incorporate local ingredients. My favorite was the Grill Steakhouse that not only had excellent beef, but fresh local fish as well. RIU Palace, Cabo San Lucas B.C.S. – Baja California Sur, Tel: (+52) 62-41-46-71-60.
THINGS TO DO NEARBY
The resort is two miles from the center of activity in Cabo San Lucas, the marina where you can charter a fishing boat to go after the plentiful gamefish, or hit the multiplex movie theater. The VIP tickets cost around $6 and everyone gets their own Lay-Z-Boy-style seat, complete with a footrest/recliner. Alcohol is also served in the theater that features the latest Hollywood releases. I was invited to a restaurant in Cabo for lunch at a place called La Fonda, which is said by locals to be one of the very best. Chef Chris Chong does interesting native Mexican dishes from all over the country in an authentic hacienda style environment.
WHALE-WATCHING
Cabo is well known for its plentiful marine life and I did go on a whale-watching excursion from the marina. I was lucky to be visiting in mid-January and the best time of the year is from January through March, when gray whales end their 6,000-mile journey from their summer homes in the Bering Sea. They birth their young in the warm waters of the Sea of Cortez and in the lagoons along Baja, California. There is nothing more awe-inspiring than having a whale breaching close to your boat.
 The captains have a way of predicting where the whales will surface next (they usually stay under for about 10 minutes before they need another breath of air) so I was able to get extremely close to many of these gentle giants. If you want to see mother whales with their new calves, there is a day trip to fly in and fly back to Magdalena Bay, an extremely calm and shallow lagoon. Here you can get very close to the whales and sometimes pet them.
Cabo is a beautiful and relaxing destination and the RIU Palace is unbeatable for the value guests can enjoy, the superior service and the first-class oceanfront accommodations. You will be pleasantly surprised how good all-inclusive can really be.
RIU HOTELS
RIU has hotels in over 15 countries and to book your next RIU vacation log on to RIU.com.
All information presented here is accurate at the time of publication but prices, dates and other details are all subject to change. Please confirm all information before making any travel arrangements.
WEB RESOURCES