After weeks of anticipation and hours in a car filled with shouts of "Are we there yet?",  we (my two girls 6 & 7 years old, grandma & grandpa, and myself and husband) arrived at The Polar Express.  The Polar Express, just like the story, is a train that departs from Williams, Arizona out of the Grand Canyon Railways Depot, and takes you on a magical journey to the North Pole.
The most popular train times are Fridays and Saturdays at 5:30, and tickets for these times sell out months in advance.  Many people choose to stay at Xanterra's Grand Railway Hotel, which is steps from the train depot.
Plan to arrive in Williams early so you can really soak up the entire experience of the small town and the train depot. We got there early and checked out the charming town of Williams, with its main street situated on Historic Route 66.  At night the little town of country stores and small restaurants is lit up with beautiful lights and decorations.
At the Train Depot we were greeted on the train platform by the Polar Express Hobo, who is there keeping warm by his fire, and ready to take pictures with anyone who passes by! The adults in our party were relieved to see that we were not the only family wearing their pajamas for the journey. Most everyone, including grandparents and relatives, were donning their finest PJs in holiday colors.  Our party had matching PJs and scarves, but don't forget to dress warmly because it gets cold when the sun goes down.
We made our way to pick up our tickets at will call and were delightfully surprised by the Depot Gift Shop that was inside. It was a large general store with a new section called Hammond's Candies featuring handmade candies and more. We found the samples to be yummy.   This is Xanterra's newest addition to their store.   Next door my girls were quick to find out that Mrs. Claus and one of the chief elves were  inside.  There they found tables full of Christmas coloring pages along with paper to write a letter to Santa.  The letter was promised to be delivered right to Santa himself.
After our letters to Santa were mailed, we made our way on to the train.  We sat down and the conductor came by and punched every child's ticket.  Shortly after, the Polar Express chefs, wearing white chef hats and coats, served us hot chocolate and chocolate chip cookies, just like the book. The chefs told us our journey was going to be a little over an hour-long.  My inquisitive 6 year old  asked how we could get to the North Pole in such a short time.  Well, her question was answered by one of the chefs.  The chef said that we'd go through a warp tunnel that is full of lights and it would jet us millions of miles ahead to the North Pole in the blink of an eye.  When we get to the tunnel we're all supposed to scream as loud as we can to make the train go faster.   Shortly thereafter we went through the Christmas colored (warp) tunnel with a train full of screaming children.  Now settled into our seats, we enjoyed our goodies during a special reading of the Polar Express (recorded by Liam Neeson).   (You are welcome to bring your own copy of the book or just follow along with the chefs as they turn the pages.)
As the story finished, we began to see the Northern Lights in the distance.  We rounded a corner and if you were sitting on the left side of the train you got the first sighting of the North Pole.  As the train pulled into the North Pole, Santa and his chief elf were standing on the sleigh with his reindeer, waving to everyone on the train.  Because it is Santa's busiest time of the year, and to avoid disturbing the elves while making toys for all the children, we did not get off at the North Pole.  The train stopped long enough for Santa to climb aboard so he could greet each girl and boy and present them with the gift of Christmas, the BELL!  Remember: Only the children who have been good and believe in Santa Claus will get the bell.  The bell will ring as long as you BELIEVE and may or may not be heard by adults.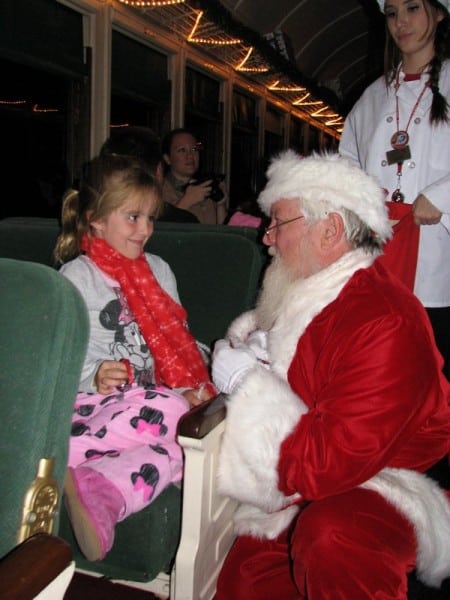 As we waited for Santa to arrive in our car, the chefs led us in singing Christmas carols until Santa made his way to our car.  All of a sudden there was silence as everyone watched Santa enter our car and go from child to child to present them with the bell.  When it was my 6 year old daughter's turn to meet Santa, he told her he knows she likes to get surprises so that is what he will bring her for Christmas.  My daughter, already speechless to meet Santa in person, was completely stunned.  Hours before, she had written a letter to Santa saying she did not know what she wanted for Christmas so if he could bring her surprises she would be happy.  I looked over to see grandma with tears in her eyes.
As we returned to the depot, we were all sad to see the journey come to an end.  We all knew that the bell and Santa are the symbols of Christmas which will remain in all of our hearts.  The memory of our trip to the North Pole will not be one that is forgotten by my kids or family.  If you want to see if the bell rings for you, click here for ticket pricing and dates.  Make your reservations early to experience a trip you will remember always, and one you do not want to miss.