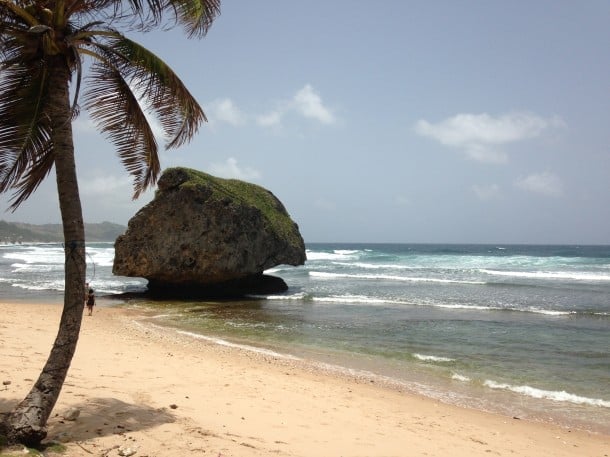 Crystal-clear waters, pink sugar-sand beaches, warm sunshine overhead and plenty of rum to go around—Barbados may be nicknamed "Little England," but the island is anything but buttoned-up.
During a recent visit, I had the chance to stay at a jewel of a resort, The Club Barbados Resort & Spa, which welcomed new management in August 2012 when Elite Island Resorts acquired the 160-room, adults-only, all-inclusive property. The resort is currently in the midst of property-wide renovations.
Here are my top seven reasons to book a vacation at The Club Barbados.
Dive In
The resort is on the western side of the island, which means calm, warm, incredibly crystal-clear water is mere steps away, perfect for swimming, stand-up paddling, kayaking, snorkeling offshore or with sea turtles, waterskiing or wakeboarding, SCUBA diving…pretty much any activity you're looking to do in an island destination. And the sunsets—spectacular.
Get Active
Speaking of activities, myriad are offered by the resort, including some of those mentioned above as well as landlubber-friendly options like: an island tour (be sure to go with Amir; he's fantastic!), rum tasting, a fish fry, a cocktail cruise, and even an island safari. The resort's grounds also feature three pools, in which pool volleyball games often commence.
Chill Out
The guest rooms at The Club Barbados are slated for the next phase of renovations. Sizes range from studios to one-bedroom suites with a living room and balcony or lanai, all with either pool or ocean views. I found the Oceanfront Loft particularly charming and intimate—on the fourth floor, a cozy room that doesn't feature outdoor space, but is secluded and comfortable.
Let's Eat!
Guests certainly don't go hungry at The Club Barbados! Chef Matthew and his culinary team create a combination of international and Bajan (local to Barbados) menus that satisfy all appetites. Breakfast and lunch are served buffet-style in the beachside, open-air Sunset Restaurant, and dinner is served in Enid's Restaurant (featuring a purely Bajan menu), as well as Sunset.
Cheers!
Of course, what's Barbados without a little rum? It flows freely—as do all drinks, with and without alcohol—at The Club Barbados. I was particularly fond of the rum punch with a dash of nutmeg, and discovered the frozen rum punch just as I was leaving the resort. Friends who enjoy beer liked Banks, the locally brewed pale ale.
Say Ahhh…
If being on island time, sipping rum drinks and gazing out over the mesmerizing ocean aren't relaxing enough, an appointment at The Club Barbados Spa will do it. Debbi, Erica and Alicia, the massage therapists, will melt any stress away in no time at all. After my massage with Debbi, I floated to a lounge chair outside my room and simply melted away.
That's Barbados—the Island and the People
The highlight of the resort, though, has to be the people. The intimate size of the property encourages guests to mingle, which happens easily, and many lasting friendships are forged. But truly, it's the staff at The Club Barbados that make any stay spectacular. The genuine, friendly smiles are quick to shine on their faces, and everyone is ready with a "hello" and a query as to how to make the guests' stays even more enjoyable. From reception to management to the servers in the dining rooms to the ladies dancing as they serve drinks at the beachside rum bar—there's a welcoming feeling that cannot be imitated. "That's Barbados—the island and the people," noted Joerg Roterberg, southern regional director of operations with Elite Island Resorts.
I look forward to visiting The Club Barbados once the renovations are complete—I'm sure that every inch of the resort will shine just as brightly as the Bajan sun overhead.
Note: Pricing ranges from $280 – $800/night, depending upon season and room category. To receive special offers from The Club Barbados, including occasional BOGO, sign up for the newsletter.
In addition, "Free Spending Money" is available through Visit Barbados' Barbados Island Inclusive offer. The Club Barbados is a participating partner. Stay a minimum of five nights and receive $150 per person; stay seven nights or longer and receive $200 per person. Rules and restrictions apply. For more information, visit www.visitbarbados.org/islandinclusive.