Every summer, I joke to my friends that I should sue Steven Spielberg because when I was young, I made the terrible mistake of watching the movie Jaws and it messed me up for years. Decades, in fact. RELATED: How to Prevent Sharks From Biting You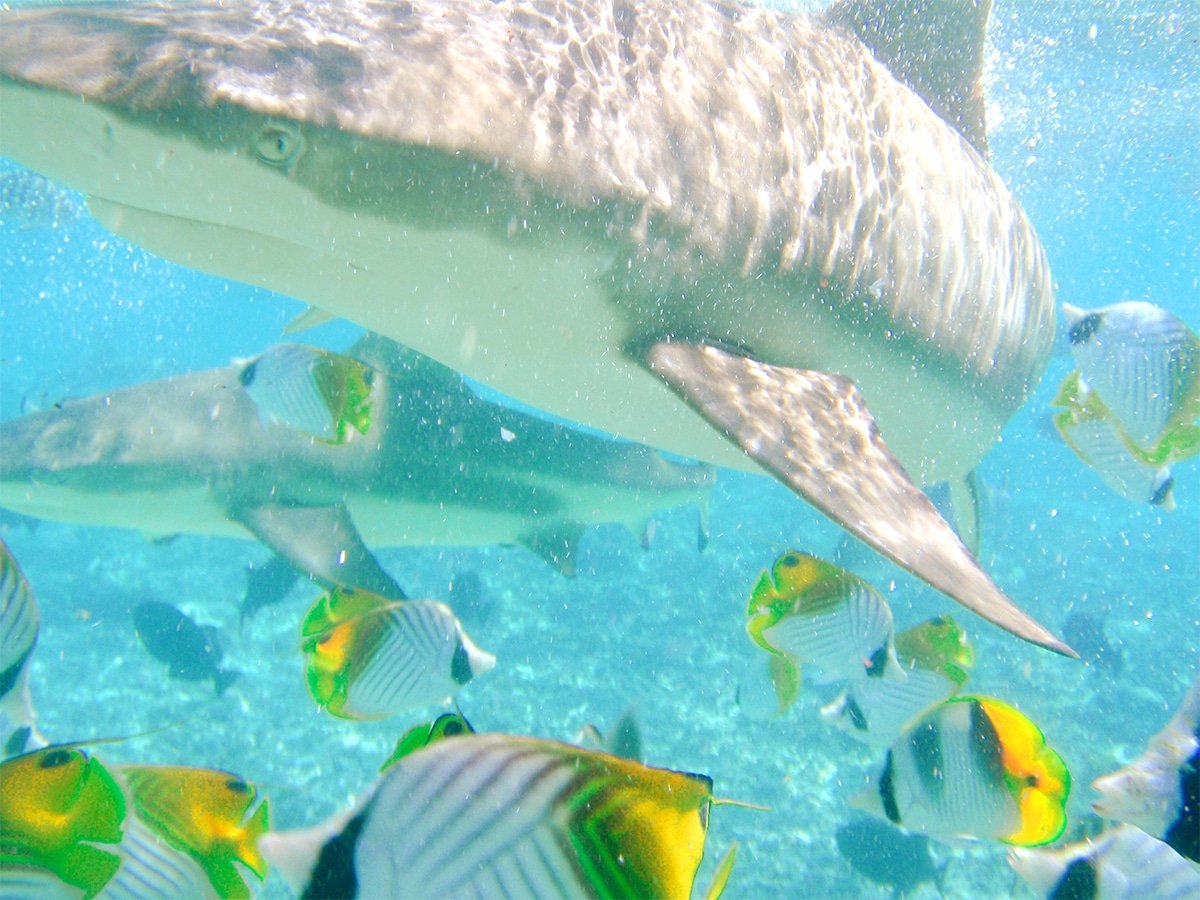 I was so disturbed that at one point, I remember swimming by myself in my grandmother's pool and hearing duuuunnnn duun… duuunnnnnnnn dun dun dun dun dun dun dun dun dun dun dunnnnnnnnnnn dunnnn. I jumped out of there faster than the speed of light.
Fortunately, I've overcome my fear for the most part but like pretty much everyone, I don't like to swim in dark, cold, deep water. However, I've now swam with sharks multiple times, which I think counts as conquering my fear. The photo above was taken when I was snorkeling with black tip reef sharks in French Polynesia.
Once, on a group snorkeling tour around The Great Barrier Reef, our guide said, "Look down, there's a hammerhead shark. Let's follow it." While slowly kicking my fins towards the monster, I remember thinking, "What the heck are we doing? Shouldn't we be swimming in the opposite direction?" But the experience was surprisingly peaceful.
However, while there are some sharks you may be able to swim with, there are definitely some you don't. Tiger sharks, great whites and bull sharks … I'll take a pass, thank you very much. On my first trip to Asia in 1995, I was jumping off of a junk boat in the waters off of Hong Kong and a day later, the lead story in the South China Morning Post was about a tiger shark that had killed a swimmer right near where we were anchored. Gulp. It happened again a day or two later and an Australian shark hunter was flown in to try and catch it, though he wasn't able to.
Most of my shark encounters have been overseas but I have also seen them off the coasts of Florida and California. My advice is to follow beach and weather warnings, don't swim alone, swim where there are lifeguards present and don't swim in areas where there are known to be attacks.
The online travel publication Travel Lens conducted research to determine the 'deadliest' beach in the United States for shark attacks. Their methodology was to look at the number of surf zone fatalities and the number of shark attacks since 2010 per beach. The data, they say, is accurate as of the 13th of January, 2023.
Here are their findings:
1. New Smyrna Beach, Florida – 32 shark attacks
It turns out that most shark attacks happen on Florida beaches and with New Smyrna Beach in the top spot. According to Travel Lens, "This Florida beach has suffered 23 more shark attacks than any other beach, and it's estimated that your chances of getting bitten by a shark in New Smyrna Beach are ten times higher than anywhere else across the US."
The rest of the results are:
Myrtle Beach, South Carolina – 9 shark attacks
Cocoa Beach, Florida – 7 shark attacks
Melbourne Beach, Florida – 6 shark attacks
Ormond Beach, Florida – 4 shark attacks
Gulf Shores, Alabama – 3 shark attacks
Isle of Palms, South Carolina – 3 shark attacks
Jacksonville Beach, Florida – 3 shark attacks
Jensen Beach, Florida – 3 shark attacks
Kauai, Hawaii – 3 shark attacks
Lori Wilson Park, Florida – 3 shark attacks
Ocean Isle, North Carolina – 3 shark attacks
I'm not trying to scare you because the fact is, you have a better chance of being struck by lightning (1 in 1,222,000) than being bitten by a shark. According to the Florida Museum of Natural History, the chances of a fatal shark attack are 1 in 4,332,817.
And according to the data, shark attacks and bites dropped worldwide last year. Per USA Today: "Fifty-seven unprovoked bites were reported in 2022, most in the United States and Australia, the Florida Museum of Natural History's Florida Program for Shark Research announced Monday in its annual report. That ties 2020 for the lowest since 2008. The 10-year average is 74. Two things may account for the fewer bites and fewer fatal bites, said Gavin Naylor, the research program director. "Generally speaking, the number of sharks in the world's oceans has decreased, which may have contributed to recent lulls," Naylor said.  It's also likely fatalities are down "because some areas have recently implemented rigorous beach safety protocols, especially in Australia."
According to the Florida Museum of Natural History, "Although the relative risk of a shark bite is very small, risks should always be minimized whenever possible in any activity." They go on to say that the chances of having an interaction with a shark can be reduced by swimming in groups (sharks are more likely to approach a lone swimmer), don't wander too far from shore and avoid being in the water at dawn, dusk and night, which is feeding time for sharks. Check out their full list of extremely helpful tips here. Stay safe out there!
KEEP READING
Want more travel news, tips and deals? Sign up here for Johnny Jet's Daily Travel Tip newsletter! Just fill in your email address and check the Daily Travel Tip box—and you'll have Johnny's best tips, straight to your inbox each day!