I've been dreaming about "The Beach" ever since I saw the movie with Leonardo DiCaprio around 2000. I always dreamt I would make it there some day to see what that solitary beach paradise was really like.
After leaving chaotic grimy Bangkok we took an hour or so plane ride to the southern coast of Thailand to the island of Phuket, which was where a boat would take us to the Phi Phi Islands, otherwise known as the islands where "The Beach" was filmed.
Sidenote: I won't forget learning of the dangers that can occur in Phuket on our hour plane ride down south on Bangkok Airways.  I sat next to an Australian man who moved his family to Thailand. He was going back and forth from Bangkok to see his teenage son who was beaten to shreds when ambushed at night by some thugs or drug lords on his motorbike. Apparently, this motorbike ambush tactic is a common incident when desperate people are looking for drug money in Thailand. The boy was fighting for his life as a random family rescued him and was taking care of him in a local makeshift hospital, and luckily the family that found him happened to have a son who knew the boy's sister. The boy was screaming his sister's name and the family's son just happened to know his sister, so they were able to recognize him and call his sister and family quickly. 
Bangkok Airways and Air Asia are two airlines that can get you to some of the biggest Thai paradise getaways – Koh Samui  on the eastern coast of Thailand or down south to Krabi or Phuket to get to the islands.
We spent the night in Patong on the western side of Phuket. This famous beach resort town was one of the wildest and craziest places I think I have ever been.  One night was all I could handle. I saw things there that I could never conjure up in my mind.
My boyfriend and I along with many other Brits and Aussies witnessed girls doing things with mice, parakeets, and soda bottles that may make one never look at a woman the same way again. Go Go Bars, beer bars, discos, Thai lady boys (men with boob jobs who look like ladies), strippers that were really boys, cheap massages every 50 feet, Phuket lobster and mud crabs ready for you to select to be cooked on every corner, flashing neon lights, motor scooters whizzing by, and a general grimy worse-than-Vegas sort of feeling permeated the air as well as an overall sense that you are about to get ripped off and that's maybe why you came here – for the action and shock value!
This adrenaline circus of the unexpected, like a freak show from the 1920's conjured up images of Leonardo DiCaprio on ecstasy in the film "The Beach." However, I have heard people rave about Phuket, so perhaps there are beaches nearby that are not overflowing with tourists that are sensational. I did not see them. We were gone in the morning via van after checking out the same scene by day to confirm the seediness was not some wicked dream.
If you are looking to use Phuket as a launching pad to get to your dream island destination, stay here – BYD Lofts. We got a great deal via www.agoda.com, although my boyfriend found their system severely frustrating due to several times being double charged as well as the system playing tricks.
BYD Lofts was a short walk from the madness in a quieter part of town where we felt safe. The place was similar to a hip condo created by the W and offered a delicious breakfast. The highlight of staying here was that we paid two masseuses to come to our hotel to rub us down in bed, for little money. It was one of the best massages of my life and where else in the world can you wait in your undies to get massaged before bedtime?
The van whisked us away from Patong to the port of Phuket on the eastern side. We had no idea how our trip was about to change, but after the Tokyo, Bangkok, Phuket madness, we were ready for some island chill time.  The boat ride from Phuket port to the Phi Phi Islands in the middle of the Andaman Sea takes about two hours. It was blazing hot in August, so don't forget your sunscreen.
Upon arrival to the Phi Phi Islands, you will be in awe of the grandeur of the landscape – sheer cliff towers rising from the sea that are hugged by beach fronted jungle. Of the two Phi Phi Islands – one has no inhabitants (Phi Phi Leh, where The Beach was filmed) and the other has no roads (Phi Phi Don).  The Phi Phi islands are located between the great island of Phuket and the part of Krabi Province, which are popular places for diving, snorkeling, kayaking and other marine recreational activities. The best part for travelers are there are hotels for all budgets on Phi Phi Don.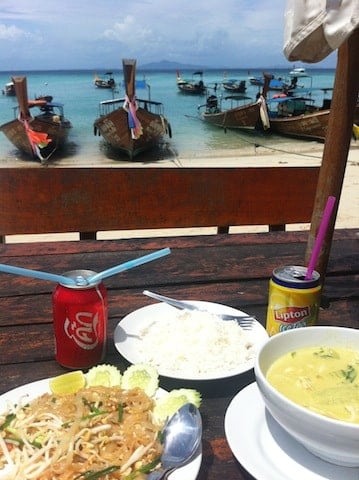 The boat makes its first stop in the bustling town of Koh Phi Phi Don where most people get off the boat. I am so happy we did not stay here because my boyfriend found a quieter part of the island, up north where the boat was taking the few remaining stragglers.
This town however makes for a neat change of pace for the day or night to buy Thai goods, eat some local Thai food, or just laze on the beach directly across the island from the port, which is breathtaking but much more crowded. We came back once to explore during the day to find the beach at low tide so that you could walk out way into the sea on rippled sand and to die-for scenery all around you.
One of the best parts of our trip to Thailand was staying at Zeavola on Phi Phi Islands, a resort up north on Phi Phi Don Island near the Tong Cape. As our boat landed off the coast we were escorted into small longboats that took us closer to land where we and our luggage were squished into these lawnmower looking watercrafts that took us to shore.
Zeavola is created like a genuine rural Thai village on the sparkling aquamarine Andaman Sea, but with all the luxuries you expect on a vacation.  The check-in area is outside on the sand. As you are escorted on the sandy paths through the jungle off the beach, you arrive at your own private teakwood villa with a free standing door. Your feet are washed off outside your villa with a coconut scoop besides your outdoor porch area.
The bedrooms are rustic, but incredible with their netted beds and high ceilings and unique bathroom design with separate rain showers. At night I was lulled to sleep by the sound of the frogs and awoken by the rooster crowing. Each morning we crawled out of bed to a fabulous all-inclusive breakfast on the beach with interesting Thai choices and island versions of American breakfast. There is not much to do on the island, except explore the beaches around the island, nap by the pool inland, or head to the one and only best local restaurant down the beach for fresh fish and Thai food for way less than we are using to paying in LA. A typical meal would cost us around $20 and $30 when splurging for two.
One day we traversed across the island and then walked around noticing that many Chinese were staying on the other side of the island in mini condo homes.  Tsunami warning signs were posted and fresh fruit with busting pods and flowers like plumeria grew wild. The place we stayed in would easily go for $1000 or more per night, if it was in Hawaii, but once again my boyfriend found a deal on www.agoda.com for about $250 a night, less than most chichi hotels in major cities in America.
The Spa at Zeavola was by far one of the best I have been to in my life due to the scenery, the way the place was designed which reminded me of being in a treehouse in the jungle, and the expert massage that not only  left every muscle soothed, but I ended up with braided hair.  Even at this high end resort, our massages were around $30 each for an hour.
Highlights of our time on this island included several longboat trips we took from our hotel to other remote parts of the island passing soaring cliffs and gem colored lagoons. One included a deserted beach where the monkeys literally hung from the trees and upside down tried to get the bread that we threw in the water.  Straight out of a movie, the monkeys came in all sizes and ages like a Wild Kingdom episode. We couldn't believe a monkey dove in, swam to our longboat and jumped aboard.
The best part is I caught it all on film here. I sound ridiculous as I narrate, but it is quite amusing to watch. We walked along the beach as the monkeys hissed at us and came very close. We saw one French man actually whack a monkey across the face. We were astonished the monkey didn't attack him.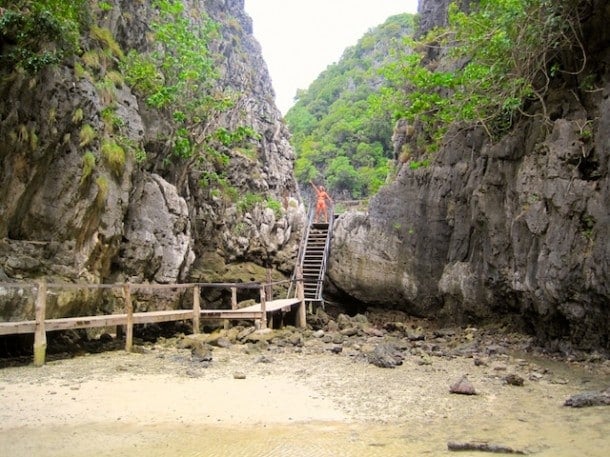 Another special memory was the adventure we had trying to get to the The Beach. Waters were treacherous due to monsoon season but we were determined to explore this other part of the island, so we hired a mini power boat to anchor us nearby. Due to the rough seas we could not make it to Bamboo Island or Mosquito Island up north. The Beach is not like the kind of beach where you can just pull up your boat.
Due to the rough waters we swam with our cameras over our head from our bobbing longboat. My boyfriend jumped and slit both his feet on the coral badly. He could barely walk for days.  As we made it to the rock cliffs, we climbed a spiderweb makeshift rope web, Peter above me with his bleeding feet while I was hanging on swaying and hoping not to lose my life so far from any form of hospital or help. I am terrified of heights so it was frightening knowing one wrong move climbing this Spiderman-like web and my fall would be deadly. As we made it to the top and climbed down the other side, Peter and I were alone surrounded by a jungle-like island atmosphere with just the warm wind whipping and the feeling that we might be being watched.
Lush tropical greenery surrounded us as we meandered through silk sandy paths. Little did we know what we were about to discover – only in our movie-like dreams, but there it was! A stretch of sand with the crystal aquamarine ocean hugged by massive soaring cliffs. Flashbacks of the shark and the blood pool attacking Leonardo DiCaprio jumped into my brain as I ran along the beach in utter happiness – doing cartwheels and frolicking in the sea.
Of course we took countless pictures to remember this moment forever. I only wish our time here could have been longer because sure enough in about 25 minutes, The Beach was no longer ours. A stream of tourists entered and took over our serene space of grandeur.  We later learned there was a cave through the rocks that you could enter, instead of our frightening climb over the rocks.
It is the simple pleasures in life that are worth the greatest risk.