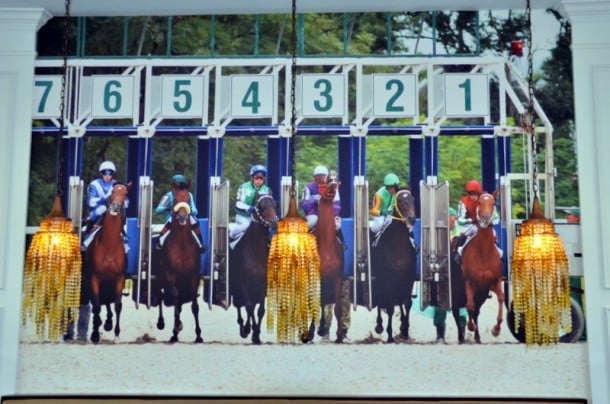 Recently the Hotel Indigo chain opened a new hotel in Del Mar, California, 20 miles north of San Diego. Knowing of the hotel group's dog-friendly policies, I suggested that I bring my dog Duncan along when I visited the hotel.
Hotel Indigo is part of the Intercontinental Group, its niche within the organization to provide upscale boutique hotels in interesting locations with the décor individualized to match the city in which it resides. Given Del Mar's horse race track, I wondered just what I would find.
Here are our top ten reasons you should consider staying at the Hotel Indigo in Del Mar the next time you travel to the San Diego area.
1. Dog-friendly staff
As soon as Duncan, my seven-year-old lab, and I checked into Del Mar's Hotel Indigo we knew that it was not just dog friendly, it was very dog friendly. By which I mean, the front desk clerk came from behind her desk, hugged Duncan and gave her a cookie. By the second day, the waiters were addressing Duncan by name and automatically brought her water whenever we dined on the balcony. She was allowed to go with me everywhere except the dining room.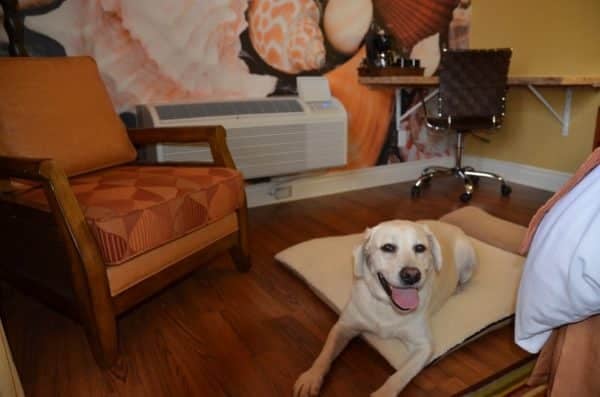 2. Pet perks
The dog loving doesn't stop there. Duncan had a big, comfortable bed and received her very own stylish orange colored bowl with the hotel's logo on it. She also received a $5 gift certificate to Dexter's Deli, a health food store for dogs located within walking distance. Our room was convenient to an area where Duncan could do her doggie duties, and the hotel gave her a special dog tag with its telephone number to wear while in Del Mar.
3. Human perks
The two-legged member of the team was equally happy with her bed and room. I had everything I needed to be comfortable: a comfy chair with a good reading lamp, a marble topped desk for my laptop, and a spa-sized shower. Got a wonderful night's sleep, too. My room, decorated in restful rust tones, featured a wall-sized mural of seashells. It had recently been redone and was spotlessly clean. I loved the hardwood floors, a welcome change from icky hotel carpet.
4. Cleanliness and amenities
In fact, both inside and out, Hotel Indigo was spotlessly clean and recently refurbished. Most rooms are positioned on the diagonal for more privacy. There are two heated pools, and some rooms feature kitchenettes. There's a business center as well as a fitness center, both open 24/7. Did I mention how quiet it was?
5. Location
While Hotel Indigo has two big, warm pools and a hot tub, it is not ocean front. I like this because it lacks that sandy, dank-smelling atmosphere that even the best ocean front hotels can't escape. Located on Camino Del Mar, the town's main street, the hotel is walking distant to the commercial center (known as the village) and is ten minutes tops from Powerhouse Park and Beach.
6. The restaurant
The in-hotel restaurant, Ocean View Bar and Grill, won my heart with its locally-sourced organic and seasonal ingredients. Executive Chef John Gabriel Palmer switches up his American-style menu based on what's fresh and features lots of seafood. With no shortage of different menu choices at breakfast, lunch, and dinner no one will go hungry. Duncan and I took our meals al fresco on the balcony fronting the dining room where I was able to gaze at the sea while dining. The balcony also has seating around fire pits that are lit every evening, the perfect place to celebrate cocktail hour as the sunsets. Better yet, enjoy one of the delicious homemade desserts on the balcony. Loved my cheesecake.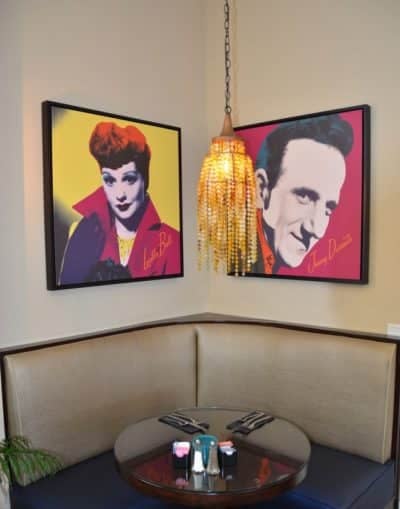 7. Racing references
Because of its world famous race track, Del Mar is called the city where the surf meets the turf. I was not sure how Hotel Indigo would combine the two, given its penchant for locally-based touchstones within its design. With a restaurant named Ocean View, the hotel wisely focused on the racing aspect, mixing some old time celebrity racing fans into a clean and modern look.
Another clever racing reference was the tiled staircase from swimming pool to the main floor featuring the names of past thoroughbred champions. The exterior's painted white with marine blue and turquoise accents, a sure reminder of Del Mar's beaches. The marine motif, this time in warm colors, continues in each room's wall-size mural. The decor, inside and outside, never jars, always soothes.
8. The spa
Spa Na'Mara (Gaelic for Spa by the Sea) operates a full-service spa within the hotel. Masseurs use organic oils and lotions while facials feature marine-based therapies. Spa Na'Mara even offers vegan nail therapies.
9. Toiletries
Nothing says upscale like quality toiletries. Hotel Indigo offers my personal favorite, Aveda, a product I use at home. I felt the love.
10. Handicap accessibility
With a family member wheelchair-bound, I know the hassle some hotels present. Not Hotel Indigo. Elevators and ramps abound, and the pools and spa are disability accessible. Most importantly, nine rooms are ADA-assisted.
Details matter.  The Hotel Indigo in Del Mar gets them all right.
More on Del Mar: Duncan Does Del Mar