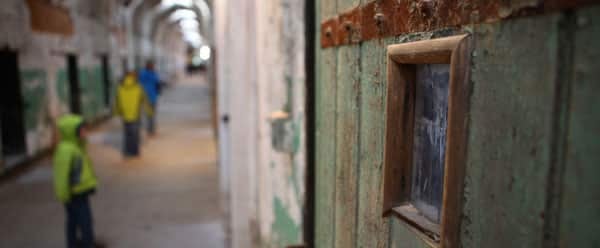 – By Dan Lantz –
As usual, during the winter months, cabin fever gets the best of me, as well as my wife and three boys.  This was just the opportunity for getting out and visiting Eastern State Penitentiary, or as the locals call it "Fairmount Prison." Its nickname came about because it's located right on Fairmount avenue, smack in the middle of Philadelphia. This magnificent castle-like structure with its half-mile, 30ft perimeter wall, and 14 cell blocks is 183 years old.
It was built in the early 1800s and closed in 1970. It sat in decay until it was re-opened as a historical attraction in 1994. Now it is one of the most unique indoor/outdoor attractions on the east coast. The coolness factor of this place is off the charts – even superstar Sting came here to photograph the cover of one of his albums!
There are several ways to explore the prison: a self-guided audio tour, a "Hands-on History" interactive tour, or the "Winter Adventure" tour.  I was very pleased to find that all tours were the same price, $12 adults, $8 kids, so I let the kids choose. "Winter Adventure" was the unanimous choice.
Fortunately, I did my research in advance and learned that tours can be booked in advance online.  This is highly recommended since space is limited for each tour, so be sure to go online first.  FYI – they have one of the best attraction websites I have ever seen. They even have virtual tours, but nothing compares to the real thing.
Upon entering the grounds, we were given the rules (it is a prison after all). "Don't touch the walls" (they are old and falling apart).  "Be careful of the ceiling" (plaster falls down at times).  "Don't wander away from the group."  Real danger!  This was already exciting – especially to the boys.  Of course, these warnings were more for the protection of the building than the people.  The mission of this historical site is to maintain its current condition, not restore, thus we are treated to a place that can only be described as Magnificent Decay.
The long hallways were lined with chipped paint.  Doors covered in thick rust. Roots from trees invade the cells.  The building was freezing.  These elements made for an incredible visceral experience, but pleasant.  No Smell. Usually, when you enter an old building, it stinks of mold and rot, but fortunately none here.   It was a perfectly dangerous, but ultimately safe experience.
A few suggestions.  Bring a camera – it is a photographer's mecca. Dress in layers – even though you spend a decent amount of time indoors, there is no climate control, so be prepared.  By the end of our tour, we were frozen to the bone, because we didn't dress warmly enough.  Otherwise, it was a truly memorable experience.
About the Author
Dan Lantz is a TV producer who lives in Philadelphia with his wife and three sons.  Dan seeks out family-friendly activities, destinations, and travel tips that can be shared with readers.

Save
Save