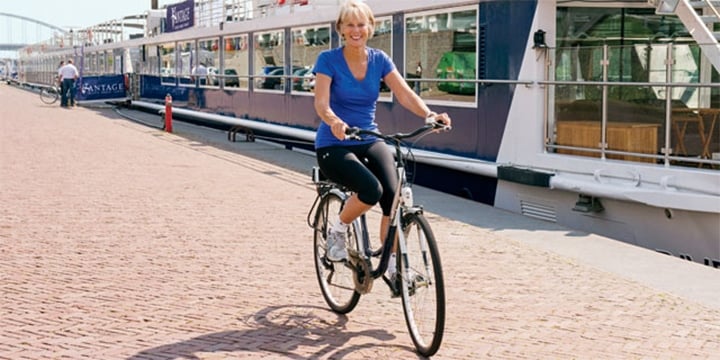 Vacations are often a time to indulge but you don't have to go overboard to the point that you return home filled with regret and anxiety about 'getting back on track'. A carefully planned vacation can mean a healthy balance between indulgence and self-care. A cruise or land excursion with Vantage Travel, for instance, offers up many ways to stay active so that you can feel less guilty when you do indulge in local cuisines and delicious desserts.
Here are five Vantage Travel itineraries with a focus on health, wellness and staying active:
France Culinary Delights: Paris to Normandy – 2018
This culinary cruise provides passengers with ample opportunities to work off all those delectable delights they're enjoying on-board the ship! The itinerary includes many chances to hike or bike, using the complimentary bicycles aboard the ship that are available to guests. You can ride to Monet's studio and garden on a self-guided bike ride that ends in Giverny or if hiking is more your speed, join local experts for walking tours in Les Andelys, Honfleur and Conflans.
Coastal Norway: The World's Most Beautiful Voyage – 2018
Norway offers visitors some of the most breathtaking scenery in the whole world and there's no better way to experience it than to get outside! On this adventure, staying active is easy as there are lots of options – from guided hikes to husky dog sled rides in the winter and kayaking in the summer.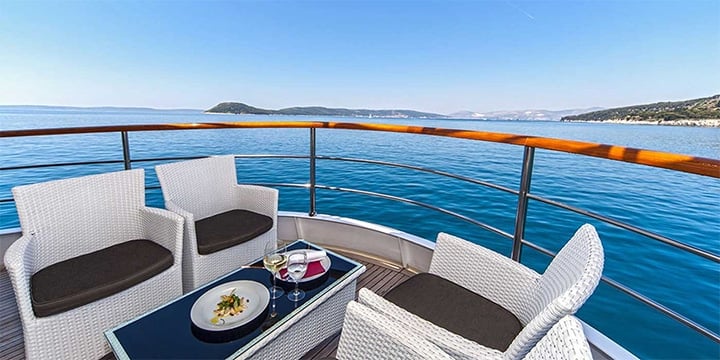 Croatia & Pearls of the Adriatic Coast – 2018
Don't forget to pack your comfortable walking shoes for this trip because you'll need them! Lace up and get ready to do a walking tour of Hvar, the Venetian port city on the island of Hvar, a walking tour of ancient Split including Diocletian's Palace, a UNESCO World Heritage Site, and a walking tour of Opatija, the "Pearl of the Adriatic," with a local guide and lecturer.
Grand Canada Adventure: Rockies & National Parks – 2018
From coast to coast, Canada is a playground for outdoor activities and this adventure that takes you through the Rockies and some of Canada's most beautiful National Parks is no exception. Enjoy whitewater rafting, boating, fishing and hiking in Jasper National Park. Or take a horseback ride in Banff National Park. Walking, canoeing, mountain biking … there's an activity for every type of traveler on this itinerary.
Italian Train Adventure: Magical Lakes, Eternal Cities & the Amalfi Coast – 2018
Some places are best seen on foot and Italy is one of them. From leisurely strolls through the botanical gardens of Isola Madre on a guided walking tour to a walking tour of Rome, where you'll see famous landmarks like the Coliseum, Roman Forum and Circus Maximus, you'll stay plenty active on your Italian adventure. Guests on this trip will also have the opportunity to take a walking tour through the backstreets of Venice as well as explore the ruins of ancient Pompeii, the Roman city buried by a volcanic eruption in 79 AD.
WIN A RIVER CRUISE Ready to hop on a river cruise? You could win a free deluxe river cruise for you and a friend with a value of up to $10,000! You'll enjoy the rivers, culture and cuisine of Europe on an unforgettable trip. Click here for full sweepstakes details, terms and conditions. Good luck!
This is a sponsored post but all opinions expressed within are my own.
SaveSave
SaveSave