Don't be afraid to roam out of bounds. There is more to Greece than the image of tourists infesting beaches like locusts from sprawling hotels. While hiking on ancient shepherd trails with my eco-minded guides, I interacted with fisherman, boat captains, and local geology and flora experts. I ventured to "Greece's Montana" to take part in a multi-country attempt to offer vacation alternatives to Mediterranean mass tourism. The Greek test program was on the northern half of seldom-visited and protected Karpathos island; these 300 square-miles lie on the southeast edge of the Greek islands. There, it was easy to connect with traditional Greek musicians while dining in old-style restaurants. Transporting visitors to another time, a final generation of traditionally dressed elder women still wear tsemperi headscarves and the traditional kavai, non-religious "habits" that make them look a bit like nuns. One of the last unspoiled islands in the Aegean Sea, Karpathos is not a show for the tourists.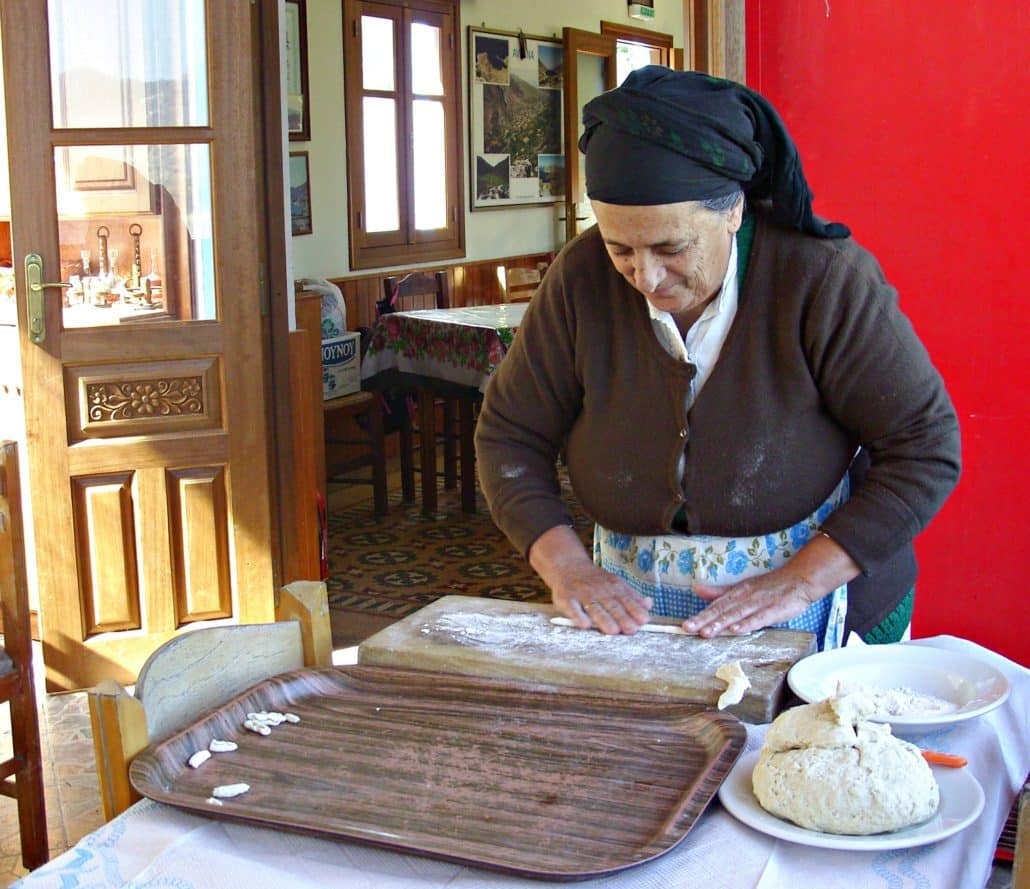 Remote Karpathos is positioning itself as an eco-tourist destination that is lightyears away from Greece's package tourist machine. And it's not merely flagging the campaign as green. The brains behind the mission is the EU-funded MEET Network, a collaborative initiative of several conservation institutions of the Mediterranean, including the International Union for Conservation of Nature. MEET unites tourism experts, protected area managers, and the private and public sectors to create new ecotourism models in 25 protected areas across eight Mediterranean countries. In simple terms, this old-is-new travel revival aims to keep it real and deliver the ultimate Mediterranean vacation—and it does.
Although some discerning Europeans, mainly returning Italian families, do summer here, you'll be hard-pressed to find any tourists in late October (that's when I was there). Having nothing to do with all-inclusive boat tours, this island offers memorable down-to-earth culinary interaction, epic hikes and a deep-seeded appreciation for ecology. Ecotourism, until now, wasn't a Greek tourism staple. A nirvana for rare, protected, and endemic plants and animals, I was guided by a local woman, her father and flora expert, a fisherman, an ecologist, and an ex-soldier. The ever-changing scenery made it difficult to focus on where my feet met the trails.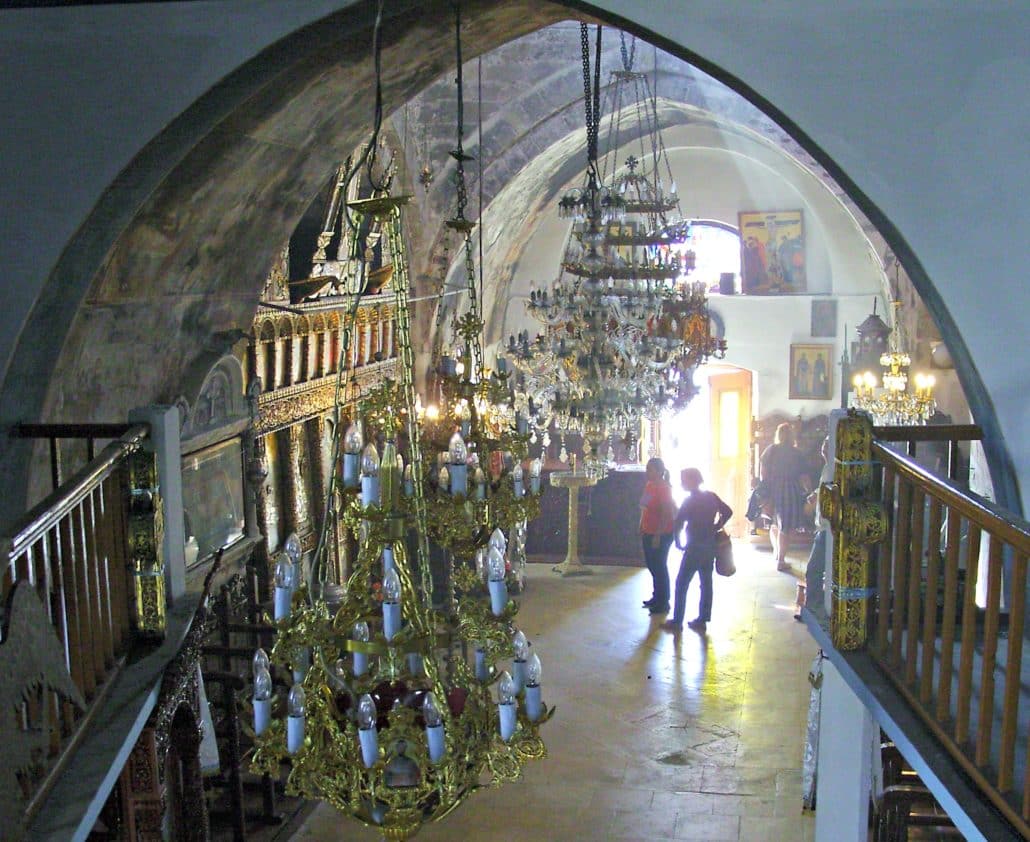 Karpathos island, located between Crete and Rhodes, has 5,000 residents on a thin (40×5 miles) landmass that's roughly four-times larger than Manhattan. Seaside Diafani, my base for the trip, has only has 200 residents. Many Karpathian expats live and thrive in the United States. They're particularly fond of Baltimore; Peter Angelos owns the Baltimore Orioles and large swaths of Baltimore's Inner Harbor. His parents emigrated from Karpathos. Quite a few expats also landed in Astoria and Jamaica, Queens. Chatty, ebullient Karpathians are not a whispering crowd. They're more zealous and celebratory like Italians, but without the traffic-directing hand gestures. But tradition here has also met modernity, as Greek Orthodox priests can marry and have families before entering the priesthood.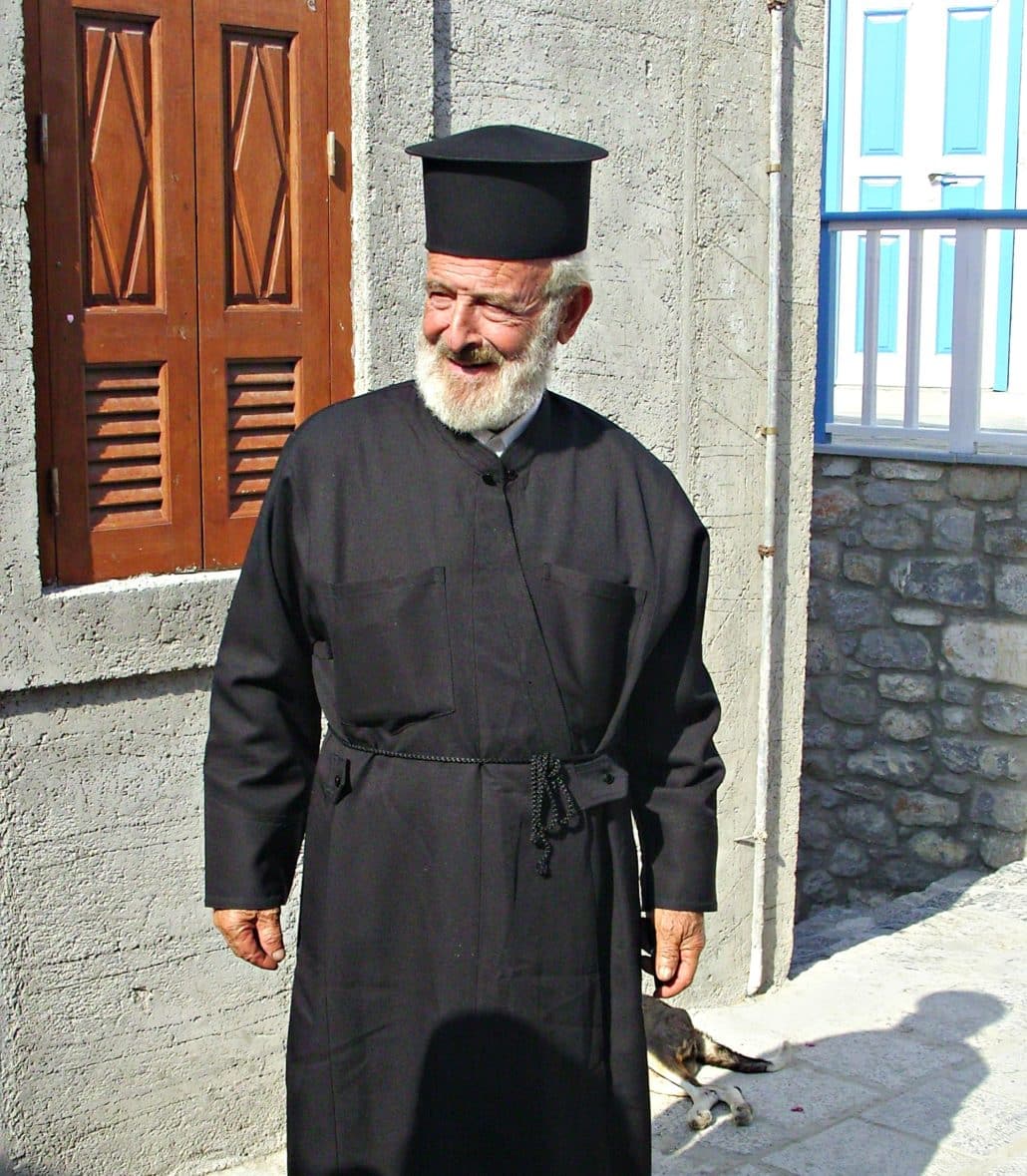 The backbone of this excursion was long-distance hiking on Karpathos and its neighboring dry-rock-mountain sister islands where Eleonora's falcons migrate to and from Madagascar. Other singularly endemic species include salamanders and a one-of-a kind frog. Each of my four cross-island, mountain-scaling, three-to-five-hour treks started or ended on either rarely visited beaches or in tiny villages.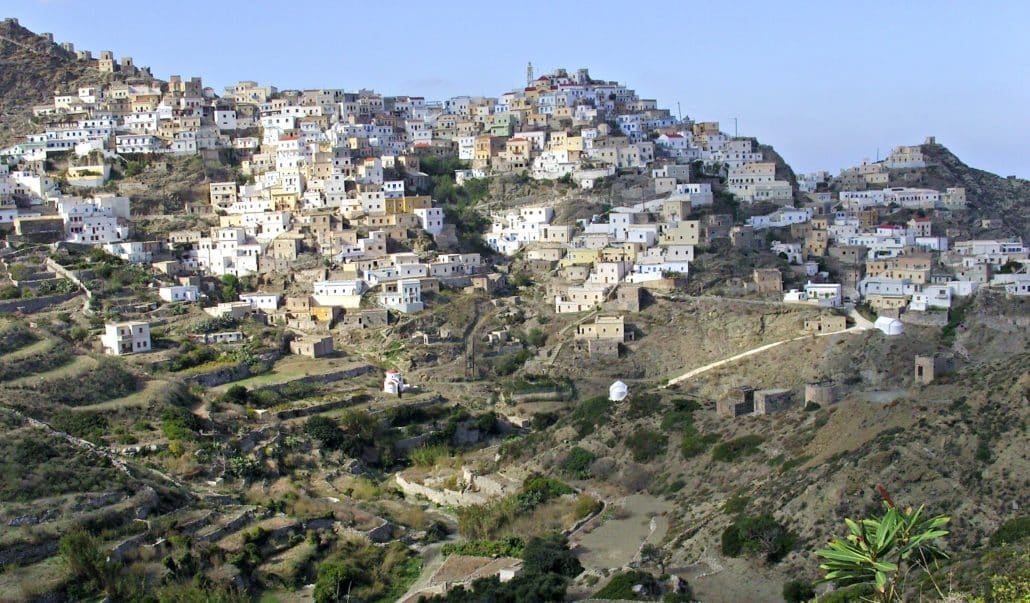 The Olympos-to-Diafani trek swerved through canyons past disused wooden windmills, outdoor community wood-fired ovens, goat herds, ubiquitous cats, terraced olive groves, and then sweeping desert-style windblown pine trees. Lunch took the form of an in-taverna cooking class that started with crafting pan-cooked zucchini flowers stuffed with rice, tomato, onions, and parsley. Next, we hand-rolled and notched makarounes, local wheat flour cum natural macaroni. In this part of the world, they still use traditional stone-wheel olive oil presses. All the ingredients used in every meal on this foray were "biological," the Euro term for 100% local organic. A huge factor in the famed Mediterranean diet is what they don't eat: cow products. Meals last hours, unlike the American bell-curve gorge. Food is pretty much everything here. For example, on public transport every conversation seems to be about food. Enter bountiful figs and pomegranate, which come at a premium back home.
The second trek was a boat ride followed by a hike on Saria island with a former inhabitant. Nobody lives there anymore due to its transition out of agricultural viability. At this point, I'm realizing that every other guy is named Menas, and that it's okay for guys like Menas to cry openly when hearing sweet local music. Five miles south to north on a single-lane path, the route shared multiple otherworldly rock formations meeting blue water horizons. Stone walls built long ago to retain soil still do their job in this lost olive-worshipping civilization. Stone houses dot the landscape as modern ruins while formerly-domesticated-but-now-wild goats and sheep in the thousands graze the rocky mountainsides living a hard, simple life—just as the people once did. Traversing this island-mountain concluded with a descent into a slot canyon and into an idyllic rocky Mediterranean blue cove for a beach barbecue of pork souvlakis, roasted peppers and eggplant, ember-roasted potatoes, and of course, garlic yogurt.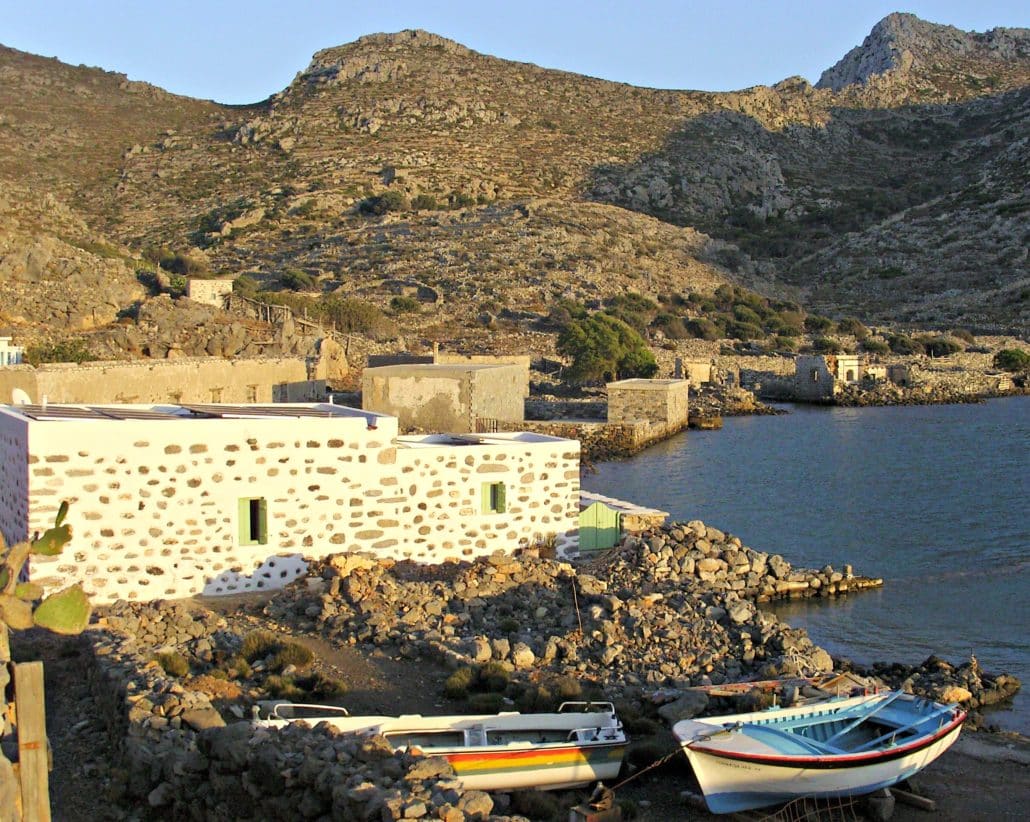 A third trek beginning in the village of Diafani first ascended into mountaintop crisp air and then gave way to gorgeous rocky valley ghost towns. We then descended further into Tristomo's secluded harbor, a charming relic of a seaside village with the new solar-powered and astonishingly green Iliahtida Villa. Designed for up to family of four (although routine Greek family slumber parties often mean five or more in one huge bed), proprietor Manolis Fountis is the fourth generation of a family that's been here since 1870. Manolis restored his family's dilapidated stone home into fabulous, unexpectedly eco-accommodations with almost any amenity you can imagine, including 10 recycling mini stations, an outdoor wood-fired oven, a grape-crusher, and a salt-water osmosis purifier.
This village is also a history lesson. A few of the 10 private homes, mostly small one- or two-room units, are still in ruins. There's no electricity, so it's all about viable subsistence living; locally sourced fish, meat and cheese, whatever vegetables you can grow, and the rooftop rainwater you can collect. They only import wheat. The largest buildings are WWII-era Italian military barracks and an officer's home. The military-base relics lie 30 feet from Iliahtida Villa. Because this is a boat-access-only village—most people don't undertake the long trek in from Diafani—it seems time will happily continue to stand still. However, I did discover a slice of Americana here: two Baltimorians with Karpathian roots restoring Tristomo's tiny church, and nearby, Olive Tree Restaurant chain owner Nick's home.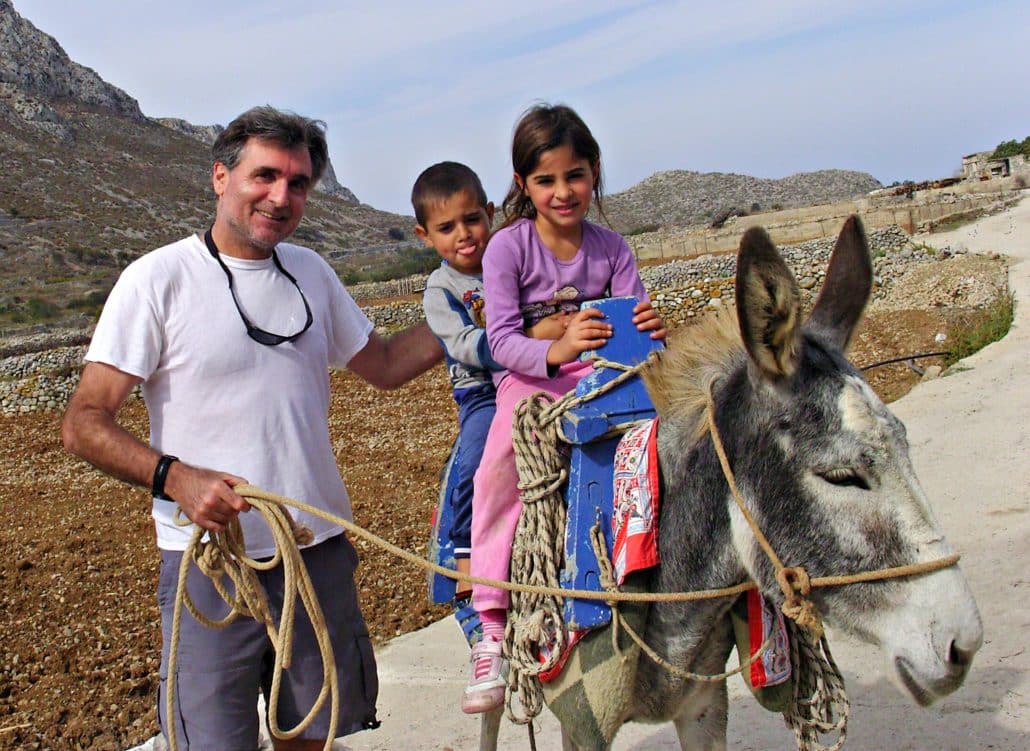 My final trek tailed two Greek donkey-riding pioneers on a pilgrimage from Vroukounta to Avlona. Vroukounta is a restored Dorian village. The Dorian tribe included Spartans, thus the remnants of ancient-ruin Lego-blocked Doric architecture. One site has morphed into an underground church and monastery with tombs. En route to Avlona, we beheld more beautiful agriculturally modified landscapes and capped off the day having lunch with a mellow stress-free rural family that still knew how to turn up the conversation volume. Bring on the ouzo.
Greek meals are chatty; volume is a Greek trait. Family-style marathons sample Mother Nature's best offerings with endless toasts. My dining finale was a live music-infused dinner on a taverna porch in Diafani that was illuminated by four- and eight-string lute players and another guy playing their version of a mini violin. It seemed like Greek blues. They all sang, too. Greeks hold Americans in high regard, as some of their best examples of international fortune made it in the US. Greece now has only nine million people, but remember, they started Western Civilization. By the way, the Greek phrase ola kala (meaning "all is good") is the genesis of okay. Timelessness defined, I tip my cap to biological family-style meals, traditional music, and unpolluted Greek fun.
---
MEET (Mediterranean Experience of Eco-tourism) develops sustainable travel awareness and strategies to support eco-tourism in Mediterranean Protected Areas, thereby supporting conservation, supporting local communities, and that ensuring sensible tourism flows. For more information about the Regional Marine Park of Northern Karpathos, Saria and Astakidonison, visit Ecotourism Karpathos and MEET.
All photos by Bruce Northam.