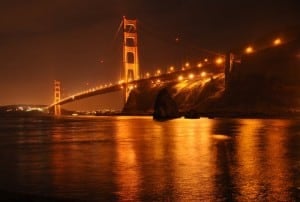 Greetings from San Francisco! Last week we completed all the international legs of our Jet Airways journey around the world when we touched down in San Francisco from China. For those of you who are just joining us, we made stops in Florida (for a Celebrity Solstice cruise), Brussels, Delhi, the Taj Mahal, central India (for a tiger safari), Mumbai (48 hours after the terrorist attacks) and Shanghai (to check out the highest hotel in the world). Once Natalie and I were both on the plane we began to fall back into "home/work" mode since we'd been away for so long. We were going to jump on our respective flights home (to Los Angeles and Toronto) but since Natalie had a few more days off from work and had never seen Cavallo Point Lodge except for the pictures of my stay a few months earlier, we made a reservation and switched our flights.
THE GOLDEN GATE BRIDGE
We took the convenient Marin Airporter to the Spencer Avenue Exit in Sausalito (30 to 50 minutes away) and Ralph the bellman was there waiting as we'd arranged. Before taking us to the nearby hotel (seven minutes away) he asked if we had some spare time to go up to the Marin Headlands – a seven-minute drive away – since the sun had just set and it was such a clear night. We did and oh my gosh, was it an incredible scene. Breathtaking, to be exact. In fact, it was so unreal he took us back the following day to see the sunset and on the way down he took us under the Golden Gate Bridge for another perspective, one which is within walking distance from the lodge. As the pictures can attest, San Francisco has to have one of the most beautiful skylines in the world. My other favorites are Sydney, Hong Kong, New York City, Cape Town, Paris, London, and Rome.
CAVALLO POINT
For one of the skyline's best views, check out the Cavallo Point Lodge, which is set in Fort Baker, a 350-acre national park just below the Golden Gate Bridge. It has 17 colonial renovated buildings that have red roofs and covered porches. Peppered throughout the grounds are a slew of Adirondack chairs and pine, eucalyptus and cypress trees, which fragrance the air. The buildings are arranged in a horseshoe shape around a huge green field with a flagpole in the center. Most of the historic buildingsare restored officers' quarters, which are the size of houses. These have sixty-eight rooms in total, then there's an additional 74 contemporary rooms in several tasteful modern structuresabove the main buildings on a hillside. If you aren't up for the short walk, they have electric golf carts to take you around.
HOTEL AWARDS
The hotel opened last summer as an upscale and environmentally sustainable 'base camp' where the city's urban edge meets the rugged Marin Coast. It became the Bay Area's first national park lodge and it's so nice that Travel + Leisure Magazine has named it one of America's top new national landmarks. Its restaurant, Murray Circle, has received a Michelin star and its spa will be earning even higher marks in the months to come.
HISTORY OF FORT BAKER
For the history of Fort Baker I got some help from the National Park Service, which oversees the area. "In 1866, the US Army acquired the site for a base to fortify the north side of the Golden Gate and it played a key role in the defense of the San Francisco Bay for more than a century. Fort Baker took shape between 1901 and 1915, and the post remained active through World War II. In 1973, Fort Baker was listed as a Historic District in the National Register of Historic Places. When the Golden Gate National Parks were established in 1972, Fort Baker was designated to be transferred to the National Park Service when no longer needed by the military. In 2002, Fort Baker transferred officially from post to park. For more on the history of Fort Baker, please visit: NPS.gov/goga/historyculture/fort-baker.htm.
THE NAME CAVALLO
The name dates back from 1775 when a rocky point with wild horses near the hotel was named "Punta de Caballo" by the commander of one of the first European ships that sailed into the bay. "Caballo" is the Spanish word for "horse" and since the "b" and "v" in Spanish are pronounced very closely, early California settlers began calling the area "Cavallo".
MIKE FREED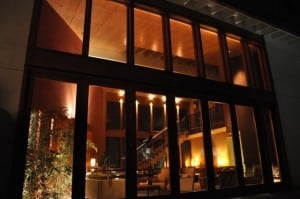 This five-star escape is a member of Preferred Hotels & Resorts and was made possible from the blood, sweat and tears of my good friend Mike Freed and his business partners, including the National Park Service. I met Mike several years ago at his Jean-Michel Cousteau resort in Fiji; he also owns the award-winning Post Ranch Inn and Sea Ranch Lodge, both in Northern California. Cavallo Point took years to make a reality but as you'll see from the pictures (and hopefully in person) it was well worth the effort and endless dedication.
THE COOKING SCHOOL
The first thing Natalie and I did after checking in was go up to the cooking school to say hello to Mike, who was taking a class with some colleagues and friends. Kelsie Kerr, a well-known local chef who has also done a long stint at the famed Chez Panisse restaurant, runs the cooking school. The cooking school is 1,200 square feet, holds between 20 and 30 students and has two large flat screen TVs for an up-close look. Classes are open to the public but guests get first dibs and all the programs featureproduce from organic farms, artisan producers, vineyards andinnovative chefs.
FARLEY BAR
Below the cooking school is the Farley Bar, which is named in honor of the late Phil Frank, the beloved local cartoonist whose comic strips ran in the San Francisco Chroniclefor 32 years. Phil's picture hangs above one of the two historic fireplaces and it definitely adds warmth and personality to the bar's atmosphere. With dark leather comfortable furniture and an informal menu, the bar is a great place to hang out with friends and family. I've eaten there a number of times and their grass-fed beef burgerwith artisan cheddar and hand cut fries ($16) is insane. That's actually what Natalie and I ordered on our first night but we had it delivered to our room since we were tired of restaurants and wanted something more intimate.
THE ROOMS
On my two separate stays, I stayed in both the historic and contemporary accommodations. Back in October, I slept in one of the new rooms, which I loved. It had an incredible view of the Golden Gate Bridge and was filled with bamboo trimmingsbecause it's the most sustainable wood. This trip, Natalie and I stayed in one of the historic rooms, which felt like our own little apartment. It was on the bottom floor of one of the original officer's barracks with original mirrors, floors and tile. It had twobedrooms, two gas fireplaces (with a blower and a two-hour timer), a living room, flat screen TV, a plush bathroom with an environmentally friendly dual-flush toilet and Bonny Doon Farm clean and natural-smelling bath products. While working at the desk, I found myself constantly peeking out the glass pane window for an incredible view of the San Francisco skyline. It was even more outrageous when I woke up at sunrise (from jetlag) and the bridge was still lit up. Stunning!
FREE WI-FI
Both rooms were fantastic and it was so nice not to have to worry about the water and brushing our teeth, like we did in China and India. In the shower, I would just run the water through my mouth and gargle. Aaah! Each room featured a cozy bed with soft organic cotton sheets and towels, comfy furniture, toasty gas fireplaces and windows that open to crisp bay breezes. What I really found nice here is that they don't try to nickel and dime you. They offer free Wi-Fi (it's a tad slow), all 800- and local calls are free. And what it costs them to call Europe is what they charge you; I was quoted just 10 cents a minute. On top of that, there's a mini-fridge stocked with free treats. Ours had a Kashi peanut butter bar, Charles mocha java chocolate bar, a couple cans of San Pellegrino Limonata and Ginger Beer. It also had a Brita filter water dispenser (I occasionally had to remind the cleaning staff to refill it).
THE ART SCENE
Throughout the hotel and in the rooms you'll find some of the most impressive original and contemporary art in any hotel around. There are works from renowned and emerging artists. In fact, there are 801 pieces (470 in the rooms) that range from Bay Area artists to national and international artists including Richard Barnes, Linda Connor, Lukas Felzmann and David Maisel. In Murray Circle there's a special exhibit of over 50 vintage photographs by Imogen Cunningham but the most special are the seven select photographic works from Gregory Colbert's acclaimed exhibition Ashes and Snow.
MURRAY CIRCLE
You know a restaurant is good when most of the diners in there are locals. All of my friends who live in the region love the Michelin one-star eatery. The only complaint I heard was that the service was sometimes patchy. I didn't experience it the three times I've eaten there but that's probably because I was with Big Mike (who's gonna mess with the boss?). One of those mealswas with Charles Veley, the world's most traveled man and Chris McGinnis, a real travel guru. The Executive Chef is Joseph Humphrey who offers a California menu with a French accent. For a starter, I had the Dungeness crab with sunflower seeds, vanilla, d'anjou pear, jalapeno ($15) and for my main course, the grass-fed beef ($17). To finish the night, pastry chef Ethan Howard makes incredible American-themed desserts.
WINE LIST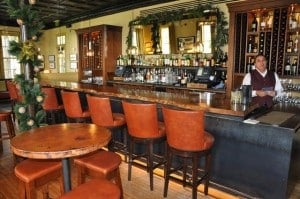 I'm not a wine guy but Charles Veley is and he said Murray Circle has an exceptional and extensive wine list. The wine director Dan O'Brien is originally from Rhode Island but he moved out West and put it together. What's cool is that Dan chooses small independent wineries to reward them for helping the environment … and the prices aren't jacked up.
JANUARY JANSEN
There are so many memorable faces at Cavallo Point that I couldn't possibly name them all. But one of the people with the most interesting backgrounds has to be January Jansen. He's one of the chefs and was Jim Morrison's right-hand man (and tailor). He traveled everywhere with The Doors and will tell you stories that will make your jaw drop. My brother Frank and I both sat down and chatted with him and Frank wants to post his interview, which we will do shortly so stay tuned.
SPA
Many locals come to Cavallo Point to get a treatment at the spa, which is over 11,000 square feet. All guests have access to the Healing Arts Center & Spa, which includes a gym, warm basking pool, steam room and a tea bar that serves healthy snacks and smoothies. There are 11 treatment rooms and a wide variety of treatments. I had a basic one-hour Swedish massage ($140) which was everything but basic. The masseuse was unreal. It's difficult to explain but she was one of the few therapists who could actually work the knots out of me. She would pull my ear or rest her elbow on certain pressure points; it was incredible and I felt so much better afterwards. Practically each night we would get a massage and then sit around the open fire, staying toasty from the bay's cool winds and tell stories.
CAVALLO
The last night we were there, I asked Natalie how she liked the lodge. She said she loved it because it felt like home. I said, "You're right except it feels more like home than my home." There is a real warmth here, a joie-de-vivre that emanates from the staff and the feeling of contentment is contagious. Rates start at $230. Cavallo Point, The Lodge at the Golden Gate, 601 Murray Circle, Fort Baker, Sausalito; (415) 339-4700.
SIDE TRIPS
There's so much to do in Marin that it would take months (if not years) to experience it all. I spent a short five days there and it wasn't nearly enough time. I didn't even get to do all the things that were within walking distance of the lodge – including visiting The Bay Area Discovery Museum, a kids' favorite. The only thing Natalie and I really did was go with Ralph in the van(free of charge) to Sausalito so we could have breakfast at theBridgeway Cafe (Tel: 415-332-3426) and then walk the two miles back, exploring some of the nearby hiking trails on our way.
ALCATRAZ
The highlight side trip was getting a private tour by Mike's good friend Nicki Phelps who's in charge of the Golden Gate National Parks Conservancy. She took Natalie, my brother and me to Alcatraz Island. I'm sure you know Alcatraz was an islandprison. But did you know it started out as the site of the West Coast's first lighthouse? Then it became a military fort (1850 and 1933) and then it became a federal prison (1934 to 1963), which once held the likes of gangsters Al Capone and the Bird Man. When that was abandoned, Native Americans occupied it (1969 to 1971) and it was the birthplace of the Red Power movement. In 1972, it became a national recreation area and now it's a National Park.
WHERE TO GET TICKETS
To get there, we took one of the Alcatraz Cruises from Pier 33, which operates every 30 minutes or so. The boat holds up to 350 passengers and the ride takes 25 minutes. There are gardens, tidepools, nesting birds and incredible views. Alcatraz is the city's most popular attraction and each year, more than 1.4 million people tour the old fort. There's nothing like getting an insider's tour but the cell house audio tour (which is included in the price of admission and is available in multiple languages), is the second best thing). TIP: If you want to visit between June 15 and mid-September, you should book 10 days in advance because it gets sold out every day during the peak season. For tickets and tour schedule information, visit AlcatrazCruises.com or call (415) 981-7625. The Day Tour operates year-round. Tickets are $26 for adults and juniors (ages 12-17), $24.50 for ages 62+, $16 for children ages 5-11, and $79 for a family (two adults and two children, ages 5-11). Children under age 5 are free.
WARMING HUT
To finish off our afternoon, Nicki took us to the Warming Hutfor some tasty organic sandwiches and we ate them up in the Marin Headlands for a daytime view of the bridge and the city.
SAUSALITO TO SAN FRANCISCO
My first trip to Cavallo Point was back in October when I was in town for a convention. I came in a day early to see Mike and sneak a peek at his new hotel but my convention was being held in the city at the Hilton. After being at Cavallo, I didn't really want to go to another hotel but it would have been a chore to commute back and forth each day. Besides being time consuming, it's not cheap. A taxi costs $38, the ferry is $7.45 but getting there requires a taxi or some serious walking. If I'd rented a car, parking would have been a total rip. The garage the Hilton uses charges $52 for self-parking and $56 for valet and that's to park between three and 24 hours! I got spoiled because Mike arranged for City Connection Car Service (888-880-1055) to pick me up. Sam from Lebanon is a real character.
HILTON SAN FRANCISCO
The San Francisco Hilton is the largest hotel in San Francisco with 1,908 rooms. It has three towers and one of them is 46 stories. Although this place is like a small country, it's the way to go if you're in the city for a convention, especially if it's in the hotel. First of all, the elevators are fast. I don't think I ever waited more than 10 seconds for one, which is remarkable. The roomsare comfortable and now come with a 28-inch flat screen TV. It has good restaurants (their newest one is from the guys from Aqua). They have a new fitness center, a spa, Starbucks, a FedEx, airline check-in kiosk and best of all, it's centrally located. Two blocks from the cable cars and from the shops in Union Square, three blocks from Chinatown and a slew of restaurants. The only thing I didn't like besides the outrageous parking (it's operated by an outside company), was that Internet access cost $14.95. But you can sidestep this fee like I did by using a Sprint wireless card, which you can rent for as little as $5.99 a day and not get locked into a two-year contract by going to RovAir.com. Hilton San Francisco, 333 O'Farrell Street, San Francisco; Tel: 1-415-771-1400.
SAN FRANCISCO TO THE AIRPORT (SFO)
From the city to SFO, a taxi will run you between $35 and $45. A shuttle van costs about $15 and if you don't have a lot of luggage, take BART (Bay Area Rapid Transit) like I did. It operates from the Powell Street Station about two blocks from the hotel and costs just $5.15. It's noisy as can be so bring your iPod … but you don't have to worry about traffic.
VIDEO
Here's a Johnny Jet video of my trip to San Francisco. Since we are just ending our around-the-world journey, here are all the videos from the trip:
Celebrity Solstice cruise in Florida
Brussels
Delhi
The Taj Mahal
Tiger safari in central India
Mumbai
Shanghai
We also have all the other Johnny Jet videos ever made on YouTube.
NEXT WEEK 
Next week we'll be coming from somewhere in the U.S. I'm staying home for a while … but we'll see if that's true!
Web Resources
Note: This trip was sponsored in part by Cavallo Point Lodge and Hilton San Francisco.