To get to Phoenix I flew United Express, though it was really United's partner airline Skywest (you can always tell what airline you are on not by the plane's paint job but by the safety card in the seat-back pocket). The sole flight attendant on the 50-seat CRJ200 was named Katie. From her innocent smile while reading the flight instructions, I knew she was a newbie, and it confirmed it when she slowly rolled the cart down the aisle, making sure not to bump into elbows. I later asked how long she's been a flight attendant, and she said, It's that obvious, huh? It was her second trip. I really hope she doesn't lose her excitement or politeness.
AIRPORT PARKING TIP: One way to save on airport parking is to Google your favorite parking garage (or just put in an airport city code along with "airport parking") to see if there are any coupons or special offers. I did just that and ended up paying just $18 for three nights at a place that was only a quarter of a mile from LAX with a free shuttle!
Car Rental Facility at Phoenix Airport Sky Harbor
You don't want to take taxis around the city of Phoenix–they are expensive. The best thing to do is rent a car; I paid just $10 a day (before taxes). I usually make a low bid on Priceline, but I found this deal at Budget.com. To get to the car rental area, everyone needs to jump on a shuttle bus for a good 10-minute ride. I can't wait until the Sky Train is up and running to make it a smoother, more comfortable ride with less pollution.
GOOD TO KNOW: My Ford Focus had the trunk button in the funkiest of places–I had to ask the attendant where it was. Here's a picture so you don't have to look like an idiot like me.
Ritz-Carlton Phoenix
I checked into the 286-room Ritz-Carlton Phoenix. This business hotel stands out for its level of service. You immediately see it when you pull up and the friendly doorman and bellman open your door, offer to take your luggage, and address you by name for the rest of your stay. FYI: The hotel is 4 miles from the airport and rates begin at $199 a night.
Ritz-Carlton's Service
For their VIPs and frequent guests they offer treats and services like no other. First of all, I was blown away to see an iPad for me to use, not keep in a stand by the bed. Loaded on it were photos of me and my family switching through for a slide show (they captured them from my website). Then the homepage was set to JohnnyJet.com and the desktop was what's on my computer desktop–the photo of my mother and me. How incredible is that? To top it off, the pastry chef made my mom's Mississippi mud cake as an in-room amenity (they got the recipe off the dedicated webpage I made of her with all of our eulogies). I was blown away.
FYI: Internet costs $9.95 a day. They just created a business center off the lobby with Macs and PCs that are free for guests to use.
Bathroom at the Ritz-Carlton
To give you a little bit more of an idea on the Ritz-Carlton's service as a whole: when I was staying at their Palm Beach property I ran out of Glide dental floss, and they went out and bought me some. Then they must've put a note in the computer that I use Glide, as there was a new packet sitting next to all the luxurious Bulgari toiletries on the sink.
FYI: The bathroom has really soft towels.
Bistro 24
There are 15 restaurants within a five-minute walk of the hotel, and when I arrived I decided to go to the closest one of them all: Bistro 24 in the Ritz-Carlton's lobby. The hotel's general manager, George Munz, invited me, and I was so hungry I took him up on it. The restaurant is elegant yet casual and has a really relaxed atmosphere. The food served is a variation on classic French bistro fare. We started off with some edamame with charred shishito peppers, lime, and sea salt ($9), and we split the special of the day: chicken with pasta and vegetables and steak au poivre with garlic-olive pommes frites and a peppercorn-cognac sauce ($37). What's nice about the restaurant, besides the friendly service, is that they feature produce from local, organic McClendon Farms and local prime beef from Cedar River Farms.
Did you ever notice that when you ask for the bathroom at any Ritz-Carlton, instead of the worker telling you where it is, they always walk you there instead? The waitress did it here as well.
View from My Room
Here's the view of the Camelback Mountain from my room at sunrise. Across the street from the hotel is Biltmore Plaza, where most of the nearby restaurants are located. My room had fantastic blackout curtains, and the only reason I was able to catch the sunrise was I just came in from Europe a few days earlier so I was jet lagged in a good way. The only thing I didn't like about my room was that the walls were kind of thin–I could hear my neighbor's wake-up call, which was a bummer.
Ritz-Carlton Phoenix Club Room
I had access to the club level, which is on the top floor, and where all those special guests can have a complimentary breakfast buffet (they had monkey bread French toast one day!) and light snacks throughout the day. My favorites are the glass jars filled with old-school candies and homemade cookies. The cookies don't have signs; at the bottom of each glass jar are the ingredients the cookie is made of, like chocolate chips, white chips, peanuts, oatmeal. A great way to get to the club level for cheap is to buy one of their package deals. I didn't even mention that the club room has dedicated concierges, computers, and free drinks.
Pool and Fitness Center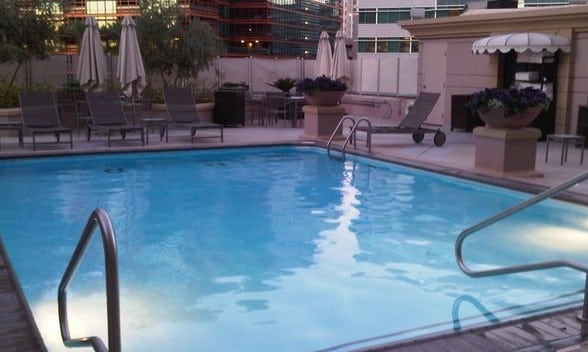 Don't go to the Ritz-Carlton Phoenix if you want a really good pool and gym. Both are small and rather disappointing, but at least they have them, I guess. The other slight bummer is that the elevators are a bit too slow.
Ritz-Carlton Conference Room
Do go to the Ritz-Carlton Phoenix if you have an important meeting. I met with my small webmasters group (Sean Keener from Bootsnall.com, Max Hartshorne from GoNomad.com, Charlie Leocha from Consumer Travel Alliance, and Tim Leffel from Perceptive Travel). We were all blown away by the Ritz's set up, amenities, and of course service. We ordered lunch from our seats and had tea and desserts delivered to the room. Good to Know: Their warm chocolate peanut butter cake with banana ice cream is outrageous.
Jeffrey's Tea
One unique worker the Ritz-Carlton Phoenix employs is Jeffrey Hattrick. He's the Afternoon Tea maître d', and he even has his own line of teas. My favorite was his Autumn Blend, an organic white tea blended with jasmine flowers and natural peach flavor. You can buy some of them at his online store.
Tommy V's
My last night in town, I was talking to my GM buddy George Munz about where one could get some good pizza in Arizona. The next thing I knew we were in the hotel's Suburban, driving about a mile down the road to Tommy V's, a traditional Italian Osteria (tavern) that serves homemade pastas and wood-fired pizzas. It has a warm, casual setting. We sat at the bar and ate thin-crust individual pizzas. I had a darn tasty Margherita for just $9. It's not as good as in Italy or NYC, but it might've been the best I had out west. Not a bad way to close out my trip to Arizona. (FYI: I did eat some Southwestern food during my stay, so don't give me any grief).